© 2023 Blaze Media LLC. All rights reserved.
How This 'Gun Rights Group' Is Profoundly Damaging Your Second Amendment Rights
Do you know who Mike Rothfeld is? No? Here's why you should shun his politics of distortion, misinformation, and fear.
The depiction of human motivation in Victor Hugo's classic, "Les Miserables," offers a timeless lesson for the audience of modern-day political battles.
There are those motivated by grace, love, the desire to improve society for others, justice, and redemption. And then there are the Thenardiers — the greedy and unscrupulous characters who defraud, loot, and pilfer their way through life, apparently untouched by the finer aspects of human nature.
There are people and organizations like this operating in the political realm today. There are pesky ankle-biters, seemingly content to nip at the nobler people and organizations around them who actually seek to accomplish some worthy purpose. To borrow an apt phrase from Washington Times writer Kelly Riddell, these groups are all about "stoking the fears of the less-informed for profit."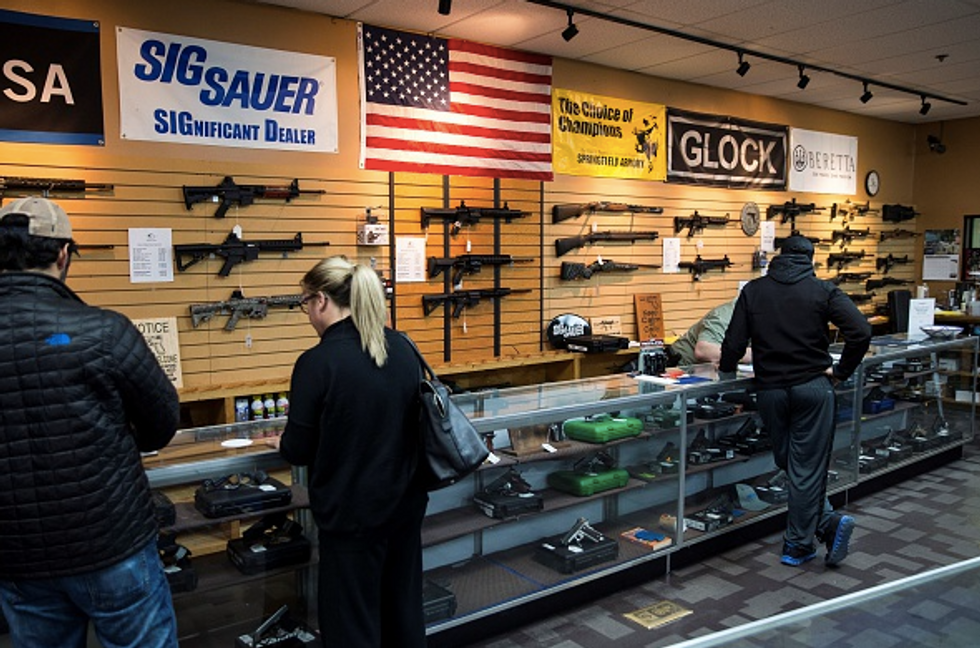 Customers shop at Blue Ridge Arsenal in Chantilly, Va., USA on January 9, 2015. (Samuel Corum/Anadolu Agency/Getty Images)
She was describing the National Association for Gun Rights, (NAGR; appropriately pronounced "nagger"), led by Dudley Brown and the squirrely Mike Rothfeld.
As the article explains, NAGR paints itself as the champion of the Second Amendment, but its primary activities appear to consist of attacking the bigger, better National Rifle Association as not sufficiently conservative or sufficiently protective of the right to bear arms.
And the NAGR doesn't stop with sniping at another organization. Its e-mail blasts regularly rail against legislators who have earned perfect records from the NRA. In other words, the ankle-biters are nipping at the actual guardians of our Second Amendment rights — even as those guardians are taking hits from the real enemies of this core civil liberty.
I learned about NAGR and its deplorable tactics in the course of my advocacy for the Convention of States Project (another target of concentrated NAGR attacks). As it turns out, NAGR is just one of a pack of ankle-biter groups, all of which trace back to Mike Rothfeld. Among this web of Rothfeld groups are Campaign for Liberty, Foundation for Applied Conservative Leadership, and Council for Freedom and Enterprise.
Nice names. What they all share is the Rothfeld secret sauce — best described by the wizard himself:
"I am a professional junk mailer. I am a professional telemarketer. I'm a professional spammer — like, a hundred million pieces of emails a month. And I'm a professional negative campaigner. And I'm damn proud of all four."
While most of us abhor negative campaigning, we can at least understand it as an effort to induce people to choose Option A over Option B. But that isn't the game Rothfeld and Dudley Brown are playing.
Their smear campaigns against good, honest legislators — and against grassroots organizations actually working to achieve worthwhile goals — don't appear to be aimed at inducing anyone to choose something good. They appear to be aimed at tearing down what others are building, and, of course, raking in cold, hard cash along the way.
Riddell's article recounted one instance in which an NAGR Mississippi e-mail blast solicited funds to help them fight against an ammunition registration bill. The only problem was that the bill had died in committee a month before the e-mail was sent.
As I point out in this detailed, line-by-line response to one of NAGR's most recent smear campaigns (against our Constitution!), truthfulness doesn't appear to be among those attributes that makes Rothfeld "damn proud."
His groups are so bent on preserving their reputation as negative campaigners that they will not shrink even from the most outrageously ironic, contradictory claims. They'll claim reverence for the Constitution as the very reason we should scoff at the Constitution's Article Five convention process. They'll express the highest esteem for the wisdom of the Founding Fathers, even as they mock a process approved by those Founding Fathers unanimously. They'll rail against the idea of proposing constitutional amendments ("The Constitution isn't the problem…") while forgetting that their whole ostensible purpose is to defend an, ahem, AMENDMENT (the Second one). Really?
I implore you today: don't feed the ankle-biters. Don't feed them by handing over your hard-earned dollars to fund their campaigns of distortion and fear, and don't feed them by condoning their tactics of preying on the poorly-informed. Just hit "delete."
Rita Martin Dunaway serves as National Legislative Strategist for the Convention of States Project. Contact her at rdunaway@cosaction.com, or follow her on facebook.
–
TheBlaze contributor channel supports an open discourse on a range of views. The opinions expressed in this channel are solely those of each individual author.

Want to leave a tip?
We answer to you. Help keep our content free of advertisers and big tech censorship by leaving a tip today.
more stories
Sign up for the Blaze newsletter
By signing up, you agree to our
Privacy Policy
and
Terms of Use
, and agree to receive content that may sometimes include advertisements. You may opt out at any time.