Listen up, candidates.
Women voters in a key swing state are giving you the secret codes to winning the 2016 presidential election.
As GOP candidates take to the debate stage again this week in an effort to woo women voters, the leading women's coalition in the battleground state of Colorado shared results from an in-depth survey of Republican female voters which could be the key to victory.
The Colorado Women's Alliance, in conjunction with independent polling firm Magellan Strategies, conducted a focus group of nearly 20 registered Republican female voters of which 50 percent remain "undecided" in the 2016 presidential elections.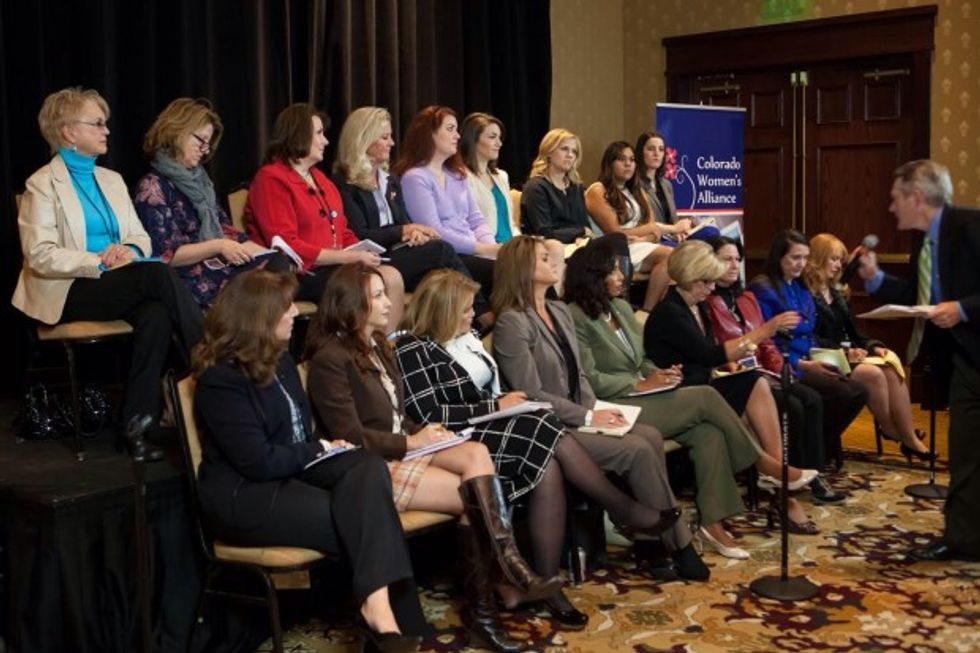 Swing state women voters share their views about the 2016 presidential candidates. (Courtesy of Colorado Women's Alliance)
The focus group was convened following the controversially-moderated CNBC debate in Boulder, Colorado and it measured women voters' opinions on the field of GOP candidates, debate performance, and key issues to women voters for this election cycle.
Debbie Brown, founder of the Colorado Women's Alliance, said the intent is to call attention to the importance of women and their decisive role in the 2016 presidential election.
"The fact is, there is one voter group that will play a significant role in determining who wins the Oval Office: women," said Brown. "Women are not a homogeneous voting block, but they do constitute a majority of likely voters, and women turnout to vote at higher rates than men. Their turnout rate has surpassed men's in every presidential election since 1980."
"The 2016 presidential election is now one year away. Donald Trump, Hillary Clinton, and every other candidate needs to take women seriously. Women will decide their fate in the election, and ultimately the fate of our country," she added.
The women in the focus group are some of the same women voters in Colorado who are credited with putting an end to the so-called "War on Women" after the 2014 midterms when that state's then-Sen. Mark Udall gained the nickname "Mark Uterus" and was ousted for his over-the-top focus on women's contraception.
As for the 2016 focus group, the women voted in at least one of the last four primary elections; ranged in ages 24 to 74; ranged in professions from non-profit, corporate, part-time, homemaker, semi-retired, to retired; and ranged in support from Sen. Marco Rubio to Carly Fiorina to Sen. Ted Cruz to Jeb Bush and Sen. Rand Paul.
Five of the 18 women changed their minds after the CNBC Debate in Boulder, shifting slightly toward Rubio and Cruz; however, the majority reported their support for one particular candidate remains fluid - suggesting to candidates there is plenty of room for persuasion of women voters.
Among the candidates seen as favorable, Rubio won praise for running against Hillary Clinton and not the other opponents in the last debate.
Among the candidates seen as less favorable, Carly Fiorina fell in their view after she failed to meet expectations set after her strong performance at the prior debate held at the Reagan Library.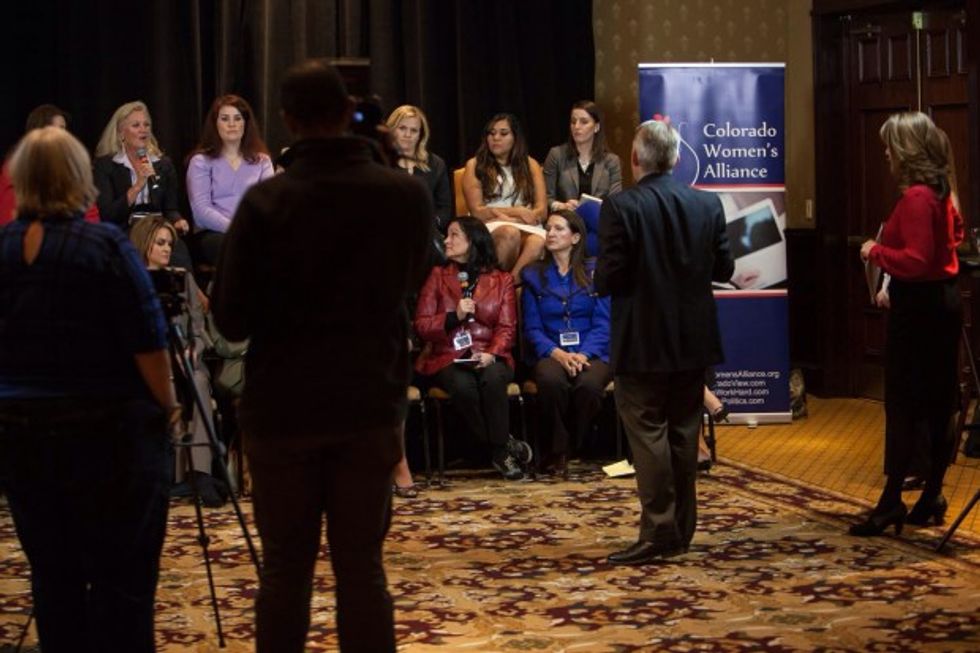 Swing state women voters share their views about the 2016 presidential candidates. (Courtesy of Colorado Women's Alliance)
Women voters also stated they care more about specific issues, proving that women are issues-based voters - although not single-issue voters (read: contraception) as Democrats would like the public to think.
Specifically, women voters care about these specific issues:
1. Jobs - 17 out of 18 of the women agreed with the statement, "I'm worried that too many Americans are out of work and that our economy can't create enough good paying jobs for families to keep up."
2. Government Spending - 16 out of 17 women agreed, "I'm worried that government spending is out of control - burdening our children and grandchildren with a mountain of debt they will never be able to repay."
3. Taxes - 14 of 18 agreed, "I'm worried that my taxes will go up. We are already taxed too much, and we can't afford to pay more."
4. Cost of Life - As the primary budgeters of day-to-day activities, 13 of the 18 women agreed, "I'm worried that the daily costs of life - gas, groceries, and electricity will continue to rise."
5. Cost of Healthcare - As the primary healthcare decision-makers, 13 of the 18 women also agreed, "I'm worried my family and I will pay more and more for insurance that covers less and less, and that government will increasingly restrict my healthcare choices."
6. Entitlements - Only 10 of 18 agreed, "I'm worried that Social Security and Medicare won't be there when we retire, and we will not be able to support ourselves in retirement."
7. Income Inequality - And surprisingly, only 4 of 18 agreed with the statement, "I'm worried about the widening gap between the haves and the have-nots. A society segmented by how much by how much money you make is contrary to the American ideals of justice, fairness and equality."
As women once again become a political football in presidential election year politics - everywhere from the Sunday morning shows to "The View" - it's valuable to have these insights into women voters' views.
Given that turnout for voters is now consistently higher among women than men, this precise insight into women's viewpoints could be the key to winning the White House in 2016.
–
TheBlaze contributor channel supports an open discourse on a range of views. The opinions expressed in this channel are solely those of each individual author.