Last week, the two remaining Democratic presidential candidates met in a town hall meeting in New Hampshire, making last ditch efforts to appeal to the state's voters.
As Hillary Clinton was taking questions on issues of importance during the upcoming election, the topic turned to the nomination of Supreme Court justices. She was asked if she would employ any litmus tests for Supreme Court nominees, and embedded in her response was this:
"We've got to make sure to preserve Roe v. Wade, not let it be nibbled away or repealed."
There you have it.
One of the most important considerations Clinton will give to a Supreme Court nomination is whether the person in question will continue to support a woman's right to dispose of her child. She wants someone "rooted in the real world" who will continue to support abortion. This would be amazing if it weren't so predictable.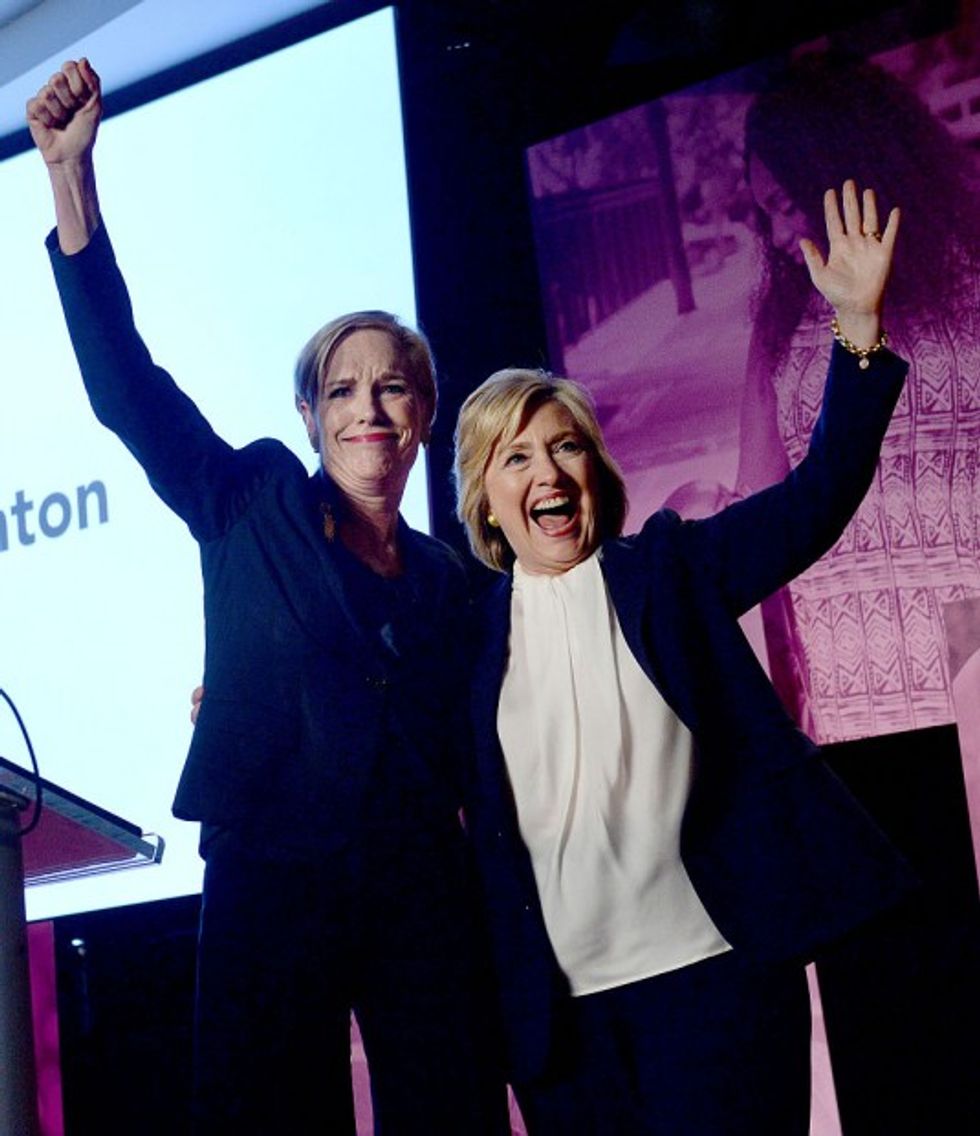 Cecile Richards, Planned Parenthood Action Fund President, introdces Democratic Presidential candidate Hillary Clinton at an endorsement event at Southern New Hampshire University January 10, 2016 in Hooksett, New Hampshire. This marks the first time the organization has ever given an endorsement in a primary race. (Photo by Darren McCollester/Getty Images)
It bears noting that this would have been a perfect time for Clinton to bring up the Constitution, freedom, or liberty. Unsurprisingly, none of those words appeared anywhere in the entire transcript from the Democratic town hall event, much less in her answer regarding the nomination of Supreme Court justices.
Moreover, not only does Hillary want to uphold Roe v. Wade, she wants to make sure that no legal restrictions are placed on it at all. According to Clinton, abortion should be legal at any stage of pregnancy and for virtually any reason. All the power is given to the mother and none to the unborn child. And the powerful hold the rights, while the powerless have none.
This is consistent with the Democratic party line, which supports a woman's right to choose to dispose of her child up until the time the baby is born.
Who could forget when Democratic National Committee chair Debbie Wasserman-Schultz was unable and unwilling to acknowledge that her children were human before they were born? Of course she couldn't acknowledge that fact, as it would undermine the entire Democratic platform on abortion. But her unwillingness to answer the question demonstrates just how extreme and dangerous the Democratic platform really is.
The right to life, according to Democrats, doesn't begin until after the child is born. Clinton has repeatedly tried to take a moderate stance on abortion using the phrase "safe, legal and rare," but any stance that advocates for the killing of innocent human beings is extreme, not moderate.
The fact that she gained a ringing endorsement from the nation's largest child slaughterhouse demonstrates that she doesn't have any qualms about allowing the death of unborn children. Again, the rights go to the powerful, and the defenseless end up with none.
[sharequote align="center"]Again, the rights go to the powerful, and the defenseless end up with none.[/sharequote]
Further, Clinton has repeatedly claimed that the government should have no role in the abortion decision, and that the same decision should be left to women alone. Her "any time, any reason" position is a dangerous stance, for two incredibly important reasons.
First, there really is not any further debate on the fact that life begins at conception. As a result, it's accurate to say that from the moment of conception, there is a human life growing inside the woman. Clinton has referred to unborn children as "potential lives," but this is nonsense. If they are growing and developing, they are alive. If they are alive, they are human.
If a candidate is unwilling to stand up and protect human life at one stage, how can anyone be sure that the same candidate will support life at any other stage? If the candidate won't protect the most innocent and defenseless among us, there is no guarantee that he or she will protect you if you become unable to protect yourself.
Indeed, any candidate who is unwilling to recognize the humanity of a certain demographic of human beings should scare the daylights out of voters. This includes Clinton, who has already proven that she will change her stance on an issue if it becomes politically expedient. There is little question that if it becomes expedient to remove protection from any other demographic of people, she will do just that.
The second reason that Clinton's stance is so dangerous is that when we allow a mother the right to kill her child up until the time of birth, we are literally only one half hour away from allowing a mother the right to terminate her child after the child is born. There is very little difference between a child the day before birth and a child one hour after birth. Indeed, the primary difference is the location of the child.
If you think that's never going to happen, look at other "progressive" countries. The Netherlands allows the euthanizing of children under certain conditions. They have gone from aborting unborn children to euthanizing born children.This is where progressivism gets us.
In fact, the entire concept of "progression" denotes a pushing of the envelope, a "further and further" mentality that will almost surely lead the U.S. to where it has lead other parts of the world. What right will we come up with to guarantee that parents have the power to take the lives of their born children? It's a question worth thinking about because if progressives continue running the show in the United States, this is where we're going.
This is what makes Clinton's stance on abortion so dangerous and extreme. If she nominates Supreme Court justices with a similar progressive stance on abortion, unborn children will continue to lack the protection they deserve. When we cease to guarantee the protection of all human life, it's anybody's guess as to which demographic of people will be the next to lose protection.
It is in our best interests as voters to support candidates that will protect and defend life at any stage.
You never know when you might need that protection.
Cullen Herout is a pro-life, pro-family writer. He has a passion for writing about life issues, Marriage, fatherhood, and creating a culture of life. Follow him on his new Facebook page at www.facebook.com/cullenheroutwriter.
–
TheBlaze contributor channel supports an open discourse on a range of views. The opinions expressed in this channel are solely those of each individual author.