North American fur ranchers, seeking to increase trade in the early 20th century, imported a large, herbivorous, semi-acquatic rodent from South America known as nutria. But when the increased fur trade failed to materialize, ranchers released the animal into the wild. Today, its destructive feeding and burrowing behaviors wreak havoc on U.S. wetlands.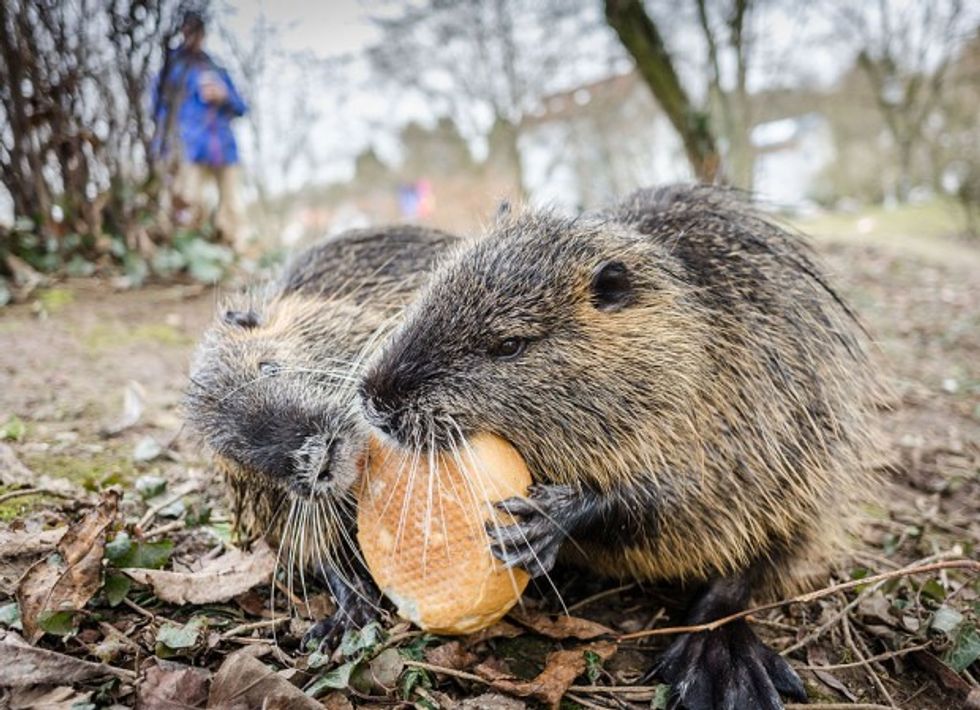 (FRANK RUMPENHORST/AFP/Getty Images)
Nutria's transition from a potential fur trade boom to an invasive species is an example of the law of unintended consequences. This law arises when an act fails to have its intended impact or, even if it does, generates a far worse unintended, negative consequence.
It is a law Congress should heed concerning legislation it is now considering.
The "Justice Against Sponsors of Terrorism Act" (JASTA) bill was written with good intentions. It seeks to hold nations accountable for their actions in support of terrorism. Its motivation was 28 still classified pages of the 9/11 investigative report that purport to detail possible complicity by some Saudi officials in the attacks.
Congressional anger over such complicity is understandable. The bill seeks to give victims of an act of terrorism, and their families, the right to sue any sovereign government supporting that act.
The bill passed unanimously in the Senate and is now before the House. President Barack Obama, however, has threatened to veto its passage, an action the Senate would likely have the votes to override.
JASTA's intention to hold nations financially accountable for supporting terrorism is noble, but JASTA cannot be viewed in a vacuum. If enacted, it will have consequences upon which Congress seems unfocused. These include:
Creating an enemy where, especially at this time, it would be disastrous for U.S. national interests to do so. JASTA is an economic declaration of war against Riyadh. It will only serve to drive another wedge between an-already-soured relationship between Saudi Arabia and the United States.
Enhancing the standing of Iran - our true enemy in the Middle East and one recognized by the State Department as the world's leading state sponsor of terrorism. This is true, regardless of Obama's assertions otherwise, as evidenced by a U.S. court decision finding Tehran's government complicit, not just a few officials as with Saudi Arabia, in the 9/11 attacks.
Creating a chilling effect, both on foreign investment in the U.S. and on foreign investments by U.S. companies fearing assets might be seized in a JASTA-sanctioned lawsuit.
Supporting enforcement of billion dollar judgments against the U.S. under foreign JASTA-like laws already rendered by nations like Iran and Cuba.
Undermining the long-accepted international concept of sovereign immunity, crippling U.S. counter-terrorism efforts and subjecting our troops to liability in foreign lands.
Also, we should not lightly dismiss concerns the Saudis might offload an estimated $750 billion of U.S.-based assets should JASTA become law. While Riyadh claims reported threats of such divesture are "ridiculous" as the Kingdom does not use economic policy for political purposes, reality requires we not ignore the possibility it may reverse this policy.
Congress should also consider the positive direction of Saudi Arabia's current counterterrorism policies.
A recent Saudi government White Paper, while steering clear of the 9/11 issue, details counterterrorism actions it has taken - steps the West would do well to emulate. For example, the Saudis are keeping over 20,000 mosques under close surveillance and arresting clerics preaching violence. The government is also going after charities funding extremism.
U.S. national security interests lie, not in further disrupting our existing relationship with the Saudis by passing JASTA, but in forging a closer counter-terrorism working relationship with them, encouraging Riyadh's continuing efforts against the spread of radical Islam.
The White Paper has caused several members of Congress to reconsider their JASTA position. It perhaps influenced Ted Poe (R-Texas), chairman of the Foreign Affairs Subcommittee on terrorism, to retitle his hearing from "Terrorism and the Saudi Royal Family" to "The U.S.-Saudi Arabia Counterterrorism Relationship."
Obama's pro-Iran stance has already caused Riyadh to take initiatives that will have long-term negative impacts on the U.S. economy. Worried about its access to U.S. defense materiel in the future as well as Iran's military capabilities and aggressive actions, the Kingdom is planning to build up its own defense industries. And, JASTA's passage will extend such negative economic impact beyond just the U.S. defense industry sector.
The nutria initiative failed to take into account the law of unintended consequences, paving the way for environmental disaster. JASTA will have the same impact on the U.S. economy, on America's national security interests in the Middle East - and beyond.
–
TheBlaze contributor channel supports an open discourse on a range of views. The opinions expressed in this channel are solely those of each individual author.