The weight and anxiety of the weekend events in Orlando, Florida first hit me on Saturday morning when I turned on the news and two anchors reported the troubling story that 22-year-old singer Christina Grimmie had been shot dead by a deranged man as she signed autographs following a concert of hers.
One of the anchors displayed a selfie she had taken with Grimmie recently when the singer and former TheVoice contestant visited their station. In it was a beaming Grimmie, so full of life, so full of hope. The image caused me to get choked up.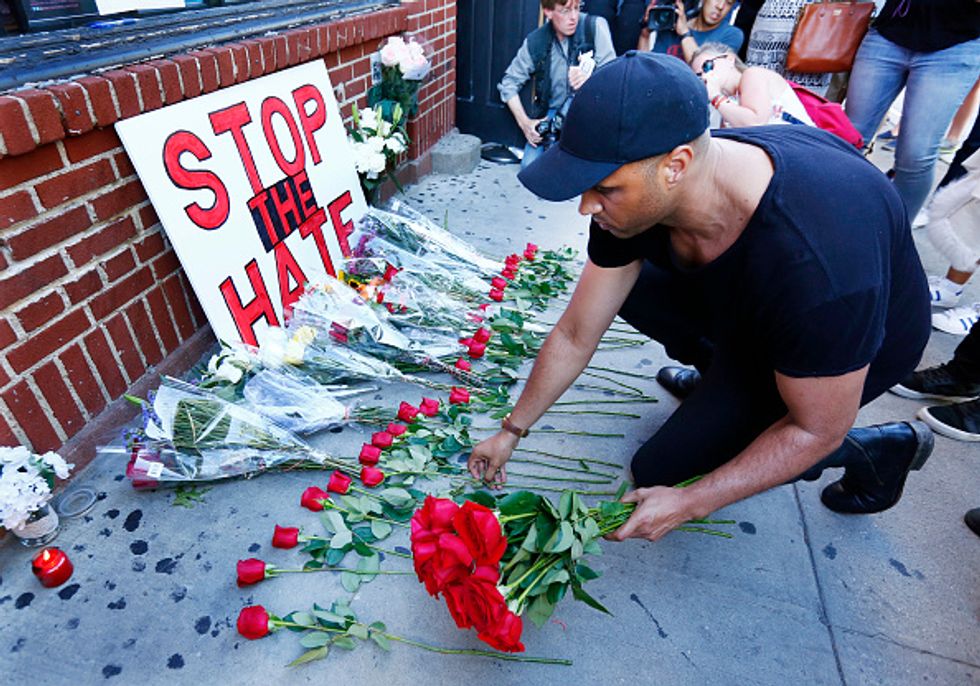 NEW YORK, NY - JUNE 12: A man lays down 50 roses to honor each victim of the gay Orlando night club shooting as people gather outside of the Stonewall Inn as a vigil is held following the massacre that occurred on June 12, 2016 in New York City. A gunman who allegedly pledged allegiance with ISIS opened fired in the gay nightclub in Florida killing over 50 people. (Photo by Monika Graff/Getty Images)
They would go on to share details throughout the broadcast that caused even more tears to fall from my eyes as it was clear just how heinous and evil the murder was, and all done in front of the young artist's fans.
The next morning I awoke to hear from the same anchors that a terrorist had shot his way through a nightclub, also in Orlando, and savagely killed and injured scores of innocent people.
The news and details of both of these events only amplified as the hours and day went on. I was already sad and now I was in pain. It felt like a ton of bricks had been dropped on my chest. The outpouring of emotion on social media added to the pressure and then came the political and conspiracy theory arguments before the blood could even be cleaned up.
But in the modern era you cannot escape it. When you used to have to wait for the 11 o'clock news before you heard about the issues of the day it was easier to consume it. It didn't dominate your day. Now you can't pick up a phone, listen to the radio or turn on the TV that the latest trending topic isn't inundating you with information, analysis and all of the images and soundbites that go with it.
With all of this coming at us around the clock now, it can become quite easy to feel as though the world is going to hell and we have a front row seat. But in the heat of the moment, it always feels that way, and while I am in no way discounting or downplaying the tragic ramifacations of these incidents, I am saying that there are more good people and acts happening right now than we realize.
When stories are this dark and distrubing, it's like tunnel vision sets in and suddenly all of the good being done doesn't seem to exist. Which is why it's important to do as I did this weekend and seek out the good to remind myself that love and light exist and are still firing on all cylinders.
I searched for uplifting news in Orlando and found video of hundreds of good Samaritans wrapped around a park waiting to donate blood to help those who had been injured at the hands of the terrorist at the nightclub.
Later I uncovered that a man who was able to escape the nightclub carnage actually put himself at risk by saving another patron who had been shot by getting him to safety.
A GoFundMe page was launched to support those involved in the mass shooting and within the first day was on its way to $2 million dollars raised.
The hashtag "OrlandoStrong" showed the solidarity and love of good, decent people all around the world as they tweeted and posted messages of courage and kindness.
Employees from Orlando area Chick-fil-A restaurants went in on their day off to prepare food and services for those affected and for those who were doing what they could to be supportive.
Seeking out these examples of good still going on even as the world felt like it was falling down was helpful, but I knew I needed to kick it up a notch. I am a firm believer that for every negative, hateful or evil act, an act of love can help heal such an act.
So as I went about my day, with my heart weighing ever so heavy, I knew that I needed to do something more than just donate money. I needed to be a walking expression of love and kindness to others.
And whether it was as simple as holding a door open for someone, allowing a car to proceed even though I was at the four way stop first, or paying for someone's food order, I did what I could to show others that good people still existed even in the wake of terror and pain.
When I got home I spent time writing messages of gratitude to family and friends, letting them know how much I appreciate them and why they are important in my life.
I share these examples with you not because I am looking for praise, but because they helped me heal. Because I know if I was feeling down and depressed about recent events as a seasoned media guy, then there's a pretty good chance you were feeling the same way or worse.
Every once in a while it's good to disconnect, reflect and seek out the good that is occurring all around you and even take part in it by creating your own moments of love and kindness.
Don't be afraid to shine your light. The world needs it now more than ever.
Wade Heath is a speaker, columnist and host of The Millennial Report. Contact him: Facebook.com/wadewire
–
TheBlaze contributor channel supports an open discourse on a range of views. The opinions expressed in this channel are solely those of each individual author.