It is now abundantly clear that Apple doesn't get it.
The decision to prevent the FBI from continuing to exploit a dead terrorist's cell phone is wrong, and pretending to protect American's privacy rights, is borderline insulting.
Apparently the 400 miles that separate San Bernardino from Silicon Valley was not close enough to wake Tim Cook from his proprietary stupor. In an attempt to take an ideological stand and protect American's privacy, Apple has diminished the physical security of Americans while, simultaneously, aiding the extremist ideologues.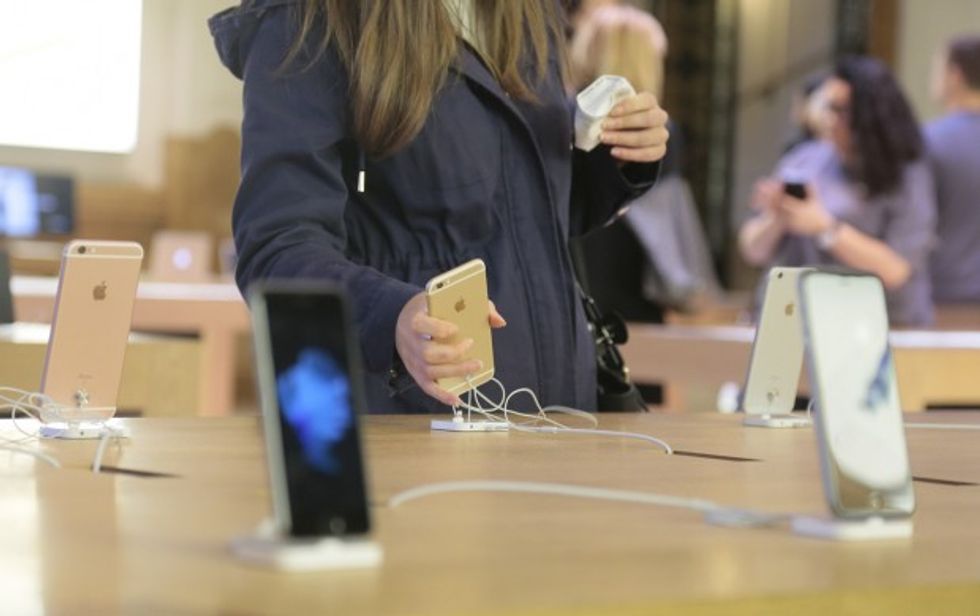 JACQUES DEMARTHON/AFP/Getty Images
In an email to his staff, Cook wrote:
"Apple is a uniquely American company. It does not feel right to be on the opposite side of the government in a case centering on the freedoms and liberties that government is meant to protect."
It's a nice sound bite—claiming to be a uniquely American company while outsourcing manufacturing all over Asia. It's cute to pretend to be "all-American," while employing over 700,000 workers in Asian sweatshops. Newsflash, Mr. Cook, that stopped being "all-American" with the death of colonialism, and there is nothing "all American" about hindering a terrorist investigation.
All the FBI wants is the information that is on the dead terrorist's iPhone.
Proponents of this request will point out that the FBI's claim that it is only concerned with this iPhone is false since there are currently 12 other active cases involving iPhones and iPads running iOS 6 to iOS 9. Others believe this will establish a legal precedent that will increase the government's reach over time.
Others have a more pessimistic outlook on the debate. Billionaire Mark Cuban recently opined on the subject of the Apple vs. FBI controversy and stated:
"Even if they were able to unlock the phone, there is no assurance that any third-party applications that the terrorists used were not still further encrypted and not defeat-able. The FBI would be able to get into anything hosted by Apple's apps and systems, but not necessarily the third-party apps or systems. So while Apple has taken on the responsibility of the first step, theirs is potentially not the last step."
Sorry Mark Cuban, but an argument that seeks inaction based on the assumption that there is a possibility of third-party encryption is invalid. Investigations don't stop because investigators think there may be a dead end. When targeting terrorists, exploitation is an exhaustive process that a defeatist like Cuban apparently doesn't have an aptitude for.
There is, however, a host of intelligence professionals and technology subject matter experts—like Bill Gates—that esteem protecting Americans from future terror attacks, over the privacy of a dead sociopathic murderer.
What if the device belonged to a Sept. 11 hijacker? Would the outcry not be overwhelmingly in favor of Apple assisting the FBI? I think so.
Not much has changed since Sept. 11. Fifteen years later we are still seeking to protect ourselves from the threat of violent Islamic extremists. And to the government's credit, San Bernardino has been the largest single terrorist attack in the U.S. since 2001. Let's not forget that this success was the product of a concerted effort by law enforcement and intelligence agencies to streamline their collection methods, processes, and collaboration. This accomplishment was the result of an increased interoperability, which included occasional assistance from corporations— particularly cellular networks.
Unfortunately, after almost two decades of success, Apple has determined that a low body count in San Bernardino gives them a legitimate reason to push back on assisting in a terror investigation.
There are understandable concerns that the priority of intelligence has the potential to transform traditional western democracies into pseudo police states.
But let's not deceive ourselves on the nuts and bolts of this issue. This isn't about protecting American's privacy rights. This is about a corporation drawing a line in the sand that lets terrorists around the world know that Apple's iPhone is the preferred communication device for would be genocidal maniacs.
Apple has now branded itself as the protector of terrorist's privacy rights. This asinine stance will see its trademark symbol join the other famous fruit that began the decline of the human race—that being the fruit from the tree of the knowledge of good and evil. When we look back a generation from now, it will be Tim Cook's commitment to protecting terrorists that will be credited as the moment in time where the non-state actors—with infinitely fewer resources—gained the advantage. Congratulations Tim Cook, you will be remembered as the serpent that facilitated this paradigm shift.
In an attempt to further absolve the company from the responsibility to assist the FBI, Apple is now reportedly working on security measures that would be impossible for even the computer giant to break. Apparently Apple believes that their ability to write a code that considers "itself as the vulnerability" will render future requests from the federal government moot. But Americans will never forget that the motivation for this 'enhanced security' had nothing to do with technological chivalry, and everything to do with self-exoneration.
Fortunately, it's not too late for Apple to change its stance. Tim Cook can put out a press release tomorrow. Here are some suggestions for talking points.
Apple is more than a technology brand. Apple has become a part of the cultural fabric of the United States. As a company that has, from its inception, remained committed to continually improving user experience and privacy and prides itself on being 'uniquely American,' we cannot—in good conscience—extend our commitment to safeguarding the information of customers that use Apple devices in the conduct of radical Islamist extremism. On behalf of Apple, I would like to apologize for our brief lack of judgment on this issue.
Since the majority of Americans agree that Apple should assist the FBI, I don't see it being that difficult of a position to reverse. Also, Cook recently predicted that total company revenue would be down for the second quarter of 2016 and that iPhone sales will probably hit their first slump ever.
Now is not the time to take on a negative outlook from American consumers. Change your position Apple, if not on principle, do it for your bottom line.
–
TheBlaze contributor channel supports an open discourse on a range of views. The opinions expressed in this channel are solely those of each individual author.