Have veterans finally found a presidential candidate to support their cause?
Not a lot has been heard in the mainstream media since the scandal within the Department of Veterans Affairs first made headlines. You may recall that veterans were placed on wait lists for medical care for long periods of time until some them died before they could be seen for treatment.
Subsequently, many promises were made by President Barack Obama and his newly appointed Secretary of Veterans Affairs Robert McDonald, to rid the VA of the issues that have long plagued them.
Veterans Affairs Secretary Robert McDonald speaks at a news conference at the Veterans Affairs Department in Washington, Monday, Sept. 8, 2014. McDonald discussed his visits with VA facilities across the country and outline his priorities. (AP Photo/Manuel Balce Ceneta)
However, it appears that many veterans and even members of Congress aren't happy with the job that McDonald is doing and have at times come to verbal blows over their frustrations.
At the end of the day, the continuing conflict between the politicians and McDonald don't seem to be helping veterans.
Many veterans may be wondering if there is anyone who really cares about their issues.
They may have finally found their advocate in GOP presidential candidate Donald Trump.
On several occasions now, Trump has not been shy about his feelings regarding how he perceives our veterans have been treated.
In July, Trump announced that his campaign was formulating a new coalition called "Veterans for Trump" and he discussed what he hoped to achieve for them.
"Our Veterans are incredibly important and I'm proud to have the support of this coalition, especially in New Hampshire, where if I am elected I will build a full-service, first-class VA hospital to ensure all New Hampshire Veterans receive the care they deserve," Trump said in his statement.
Trump even went so far as to release an email address and veteran hotline information so that veterans could share their stories concerning their medical and psychological issues within the VA.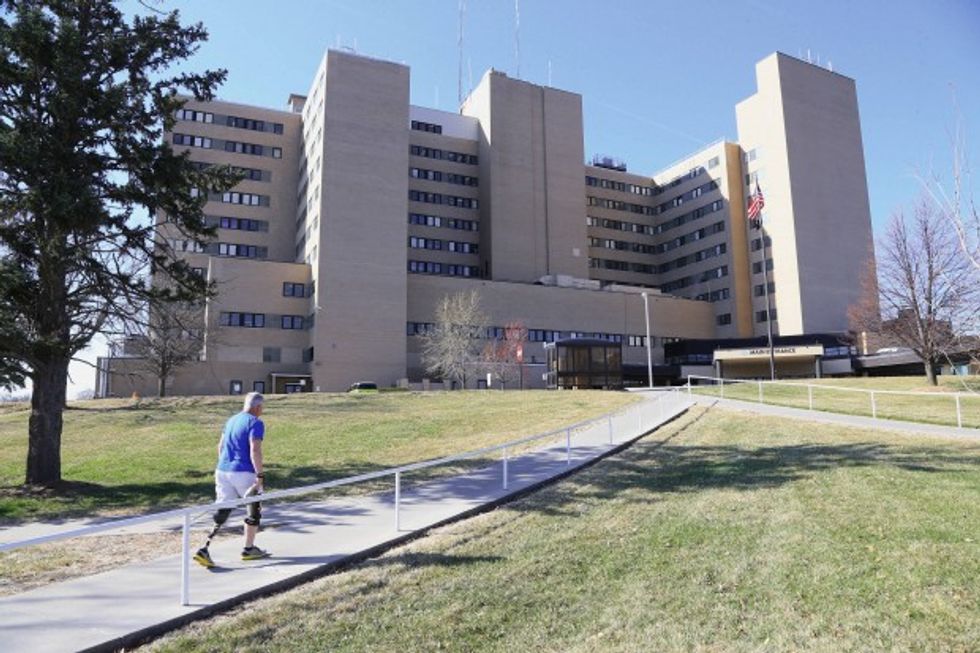 In this April 1, 2015 photo, an unidentified person with a prosthetic leg walks to the VA hospital building in Omaha, Neb. Nebraska's veterans are much more likely to quickly see doctors and other health care providers at the state's VA facilities than their counterparts around the country. (AP/Nati Harnik)
To my knowledge, no other presidential candidate so far has reached out to the veteran community in a similar way. Although, recently GOP presidential candidate Sen. Ted Cruz (R-Texas) did have a town hall meeting in New Hampshire and discussed veterans' issues. Is it possible that he will take up the cause for veterans like Trump?
Trump has also contended that illegal immigrants are treated far better than our own veteran American citizens when he said "illegal immigrants, in many cases – not in all cases, but in many cases – are treated better than our veterans, who are the greatest people we have."
Trump also told the press about the hardships that veterans have endured in trying to get medical attention and made a commitment that veterans would be treated like first-class citizens under a Trump presidency.
Great words and perhaps great actions would result from electing Trump should he receive the presidential nomination.
However, veterans have been disappointed before when they were hopeful that they could find a presidential candidate who was in their corner.
I recently interviewed disabled veteran and veterans' advocate Attorney Benjamin Krause on my radio show, Stand For Truth Radio, about the VA and veterans' need to find someone who could help them get the medical care they were promised by Congress.
Krause mentioned his thoughts about the previous 2012 presidential debates and how he and other veterans had been hoping for a leader to step up and make veterans' issues a priority. He seemed disgusted by what he saw during the debates in 2012 and wrote about his frustrations.
"So far in the debates, Big Bird has been mentioned the same amount of times as veterans, Afghanistan, and military … Yes, part of it is the question, but it is not difficult to work veterans into questions involving jobs, the economy and education. Yet, neither candidate has stepped up to the plate and taken the reins in making veterans a priority in their answers," Krause wrote.
Veterans have also felt ignored by their president.
Earlier this year, Krause wrote that he and other veterans, including Sen. John McCain (R-Ariz.) felt "snubbed" when Obama made a trip to Phoenix, Arizona but failed to stop at the VA Hospital where veterans were killed by an illegal and fraudulent wait list delay practice of VA employees.
Could it be that by electing Trump as the next president of the United States, veterans' issues could become a thing of the past?
There are certainly a number of issues facing veterans when it comes to their medical and psychological care that don't appear to be easily resolvable due to various factors such as the number of veterans affected and the length of time that these problems have existed.
It may even be difficult for an unabashed person such as Trump to solve all of the VA's problems, but only time will tell.
In the meantime, Krause had plenty to say during his interview about the number of alleged violations still going on within the VA that have not gotten better.
Hear the complete Stand For Truth Radio interview with Attorney Benjamin Krause of DisabledVeterans.org and the issues that our veterans must cope with when seeking treatment.
–
TheBlaze contributor channel supports an open discourse on a range of views. The opinions expressed in this channel are solely those of each individual author.