Many of us watched in horror as Paris was attacked by those who would later claim to represent the Islamic State.
In all, 129 innocent lives would be tragically taken from those whose only "crime" was enjoying a late night concert or eating dinner at a local Parisian restaurant.
The slaughtering of innocent lives once again took center stage on global news networks.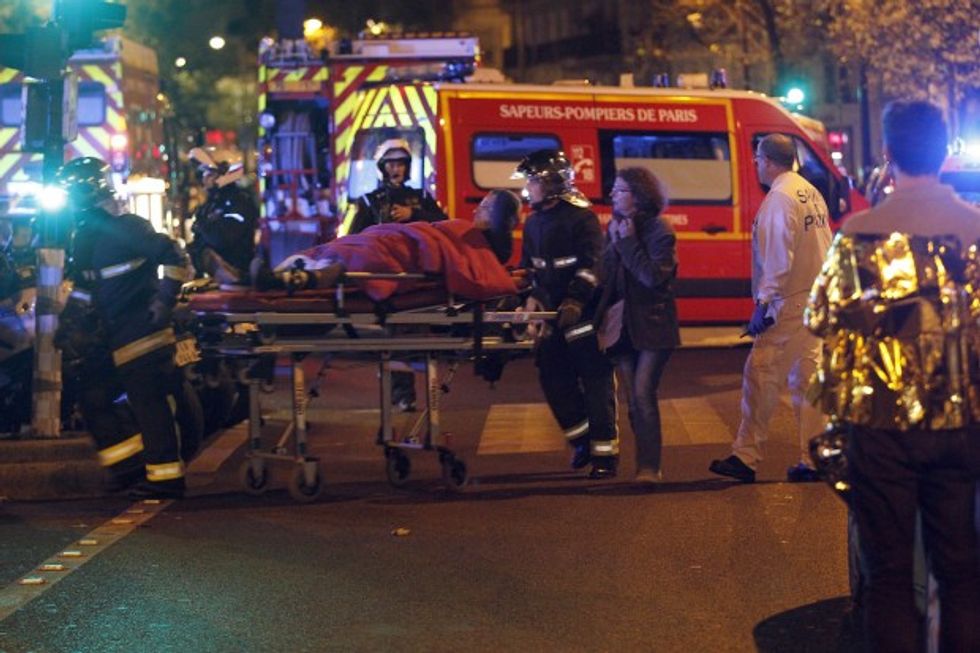 Thierry Chesnot/Getty Images 
Most Americans can empathize with what France is going through because we have experienced the same numbness, sadness and utter loss for words that come after being blindsided by an enemy. Our enemy attacked us as the world watched, on Sept. 11, 2001.
The current enemy is not just France's enemy. The adversary in this case is the world's enemy. Some are just beginning to wake up to this realization.
It would appear, however, that France, at least for the moment is wide awake.
Approximately two days after its citizens were attacked, France launched an assault on Raqqa, Syria, taking out an Islamic State "command post, jihadist recruitment center and weapons ammunition depot." The second, target "was a terrorist training camp," according to the Defense Ministry.
Perhaps no one expected France to act so quickly. It took the U.S. almost two years to seek retribution against those who had attacked American citizens on Sept. 11, 2001. Many now question why France, if they possessed the capabilities, didn't choose to bomb Raqqa before now.
I believe the answer may lie within the fact that the coalition in Syria is a U.S.-led coalition. I would question whether prior to the Paris attacks, the U.S. would have sanctioned any such action by France, even if France had suggested it. It is one question that may go unanswered.
So then what is next for those on American soil whose government leads the coalition of countries against the Islamic State? Is there anything for us to be concerned about?
We have been told by the White House that there is nothing to worry about in the U.S. because the Islamic State may have the ambition to do us harm, but "likely" lacks the capabilities to attack us here. These "reassuring words" are coming from the same administration who only hours before the Paris attack, told George Stephanopoulos that the Islamic State had been "contained."
Poland has now decided that it will no longer accept Syrian refugees in its country, following the attacks on Paris, unless there are security guarantees. This can be interpreted to mean they will no longer accept the refugees because security most likely cannot be guaranteed.
Prior to the Paris attacks, President Barack Obama opened up new centers to speed up the vetting process so that more Syrian refugees could enter the U.S. while Republican presidential candidate, Sen. Ted Cruz (R-Texas) called for the suspension of further processing due to concerns arising out of the Paris attacks.
Syrian families wait their turn to register at the UNHCR center in the northern city of Tripoli, Lebanon, Wednesday, March. 6, 2013 (AP Photo/Bilal Hussein) 
It seems preposterous that a member of the U.S. Congress must take "common sense" measures to protect us from the enemy while the current administration takes no action to stop the flow of Syrian refugees into our country.
When will we demand that our government close the borders to Syrian refugees? Must we wait for a Paris-style attack to be carried out in America before we demand it?
We've discovered over the last couple of days that there are 1,000 active investigations of the Islamic State within the U.S. that are currently being conducted by the FBI.
Also, it is clear from evidence learned following the attacks that at least one of the attackers came to France with other Syrian refugees through Greece. One or more Islamic State operatives could easily hide among Syrian refugees allowed into the U.S.
We simply can't afford to sit around much longer and complain that the president doesn't understand what is happening or question whether he has another motive.
Case in point, while we were focused on Paris, the Obama administration quietly transferred five "lower-level" Yemeni detainees from Guantanamo Bay to the United Arab Emirates. Their "lower-level" classification overlooks their Taliban or other terrorist connections. Will we see them in the U.S. or elsewhere in a few years? Is there anyone who thinks this was a wise move by our administration considering what just took place in Paris?
In my opinion, our very lives and those of our children are at risk because we are leading the coalition in Syria, making decisions that are not necessarily in our best interests and are allowing people into our country that aren't properly vetted. Many Americans have expressed the same sentiment. I pray that we are wrong but I don't think we are.
It is time for a leader to step up and protect the lives of American citizens. We need that person or persons to act now before it's too late.
If there was ever a time for a bi-partisan Congress to come together and stand in solidarity, it is now. We must prevent any further Syrian refugees from coming into our country because the risk is too great.
You took an oath to "support and defend the Constitution of the United States from all enemies, foreign and domestic." While the president basically took the same oath, it appears that he may not be on the "same page" with the American people.
If there exists an imminent threat to American citizens then you "must" act to protect us or will you choose to take no action and God forbid, wait until another mass terrorist attack occurs in our country?
Time is running out.
Feature Image: Halil Fidan/Anadolu Agency/Getty Images
–
TheBlaze contributor channel supports an open discourse on a range of views. The opinions expressed in this channel are solely those of each individual author.