© 2023 Blaze Media LLC. All rights reserved.
Donald Trump's campaign has a strategy for beating Hillary Clinton in November -- even if the media is unable to recognize it at present.
By David Bergstein, for TheBlaze
Editor's Note: The article is satirical and hypothetical, though time will tell if it proves to be prescient. It is a follow up to an earlier article published in the same tone.
Shortly after the nomination was clinched in the Spring, "The Donald" met with his top media guys including Roger Ailes and Donny Deutsch, his double-secret-probation advertising guru. For good measure, there were a couple of black ops guys around as well, just in case people had to be "incentivized," to follow the plan that they were hatching on that fateful day.
The plan was wonderfully simple. No one knew better than Trump that ultimately, all publicity was good publicity. So the question on the table that day was: "How do we keep an overwhelming advantage by ensuring that Trump's media coverage far exceeds Hillary's coverage?" In fact, the group thought it was possible for Trump's coverage to not only far exceed Hillary's coverage, but in fact blot out the effect of those hundreds of millions of dollars she was spending on television ads throughout the country.
The first task was to convince the Clinton campaign that their best bet was to broadcast ads showing Donald Trump doing or saying things that Hillary and her liberal pals deemed embarrassing for Trump (or made him look foolish or dangerous). The Trump people thought that this might be difficult, but when the idea was merely suggested to Jennifer Palmieri, she enthusiastically seized on it.
No unfriendly persuasion would be necessary. As a result, almost every Hillary ad has been displaying the Donald in his full rhetorical regalia. Hillary thinks that when she shows Donald saying, "We will bomb the hell out of them," or throwing people out of meetings, or using profanity to emphasize a point, she's convincing people not to vote for him. In fact, what she is doing is giving Trump more of the same media coverage that made him a viable candidate in the first place. Trump deals in bombast and bullshit, and by and large the American people seem to love it.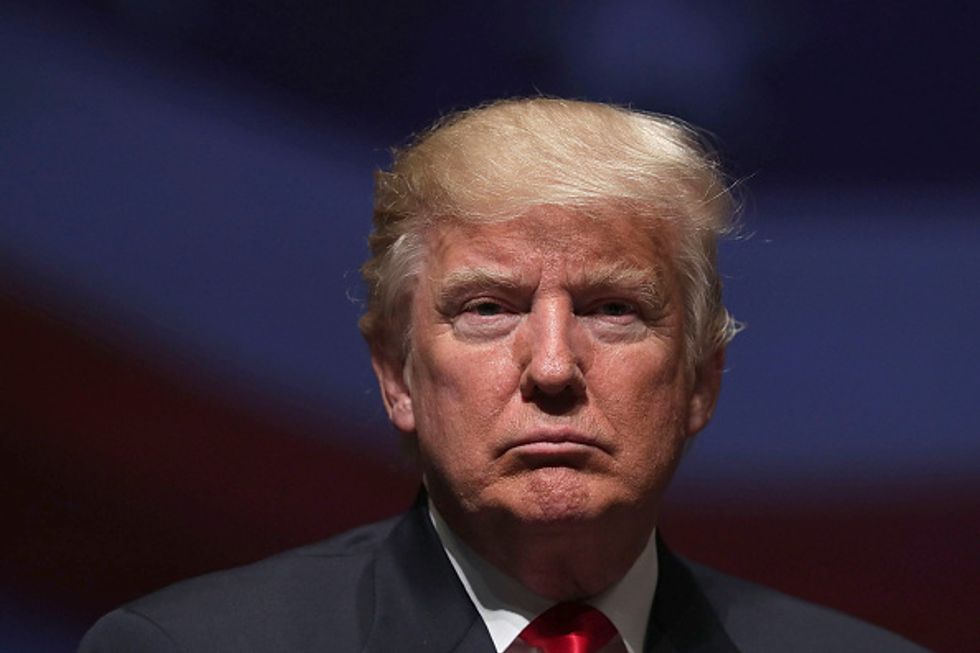 (Photo by Alex Wong/Getty Images)
So if the first task was easy, the second task was even easier. The plan was to carefully coordinate Trump histrionics, or threats, or even outright lies so that the largely liberal media would keep covering what he was doing and saying -- thereby taking the focus off of what Hillary was doing and saying. Although Roger Ailes thought this might be difficult, Deutsch knew that American media enjoy bashing and bemoaning more than beautifying. And so the second part of the Trump plan has been very successful.
The net result of all this is that most every card Hillary plays is really a Trump card, and the American public -- whether they are watching TV news or "Seinfeld" reruns -- keep seeing and hearing the Donald. Most recently, Trump promised a major announcement, finally admitting that Barack Obama was actually born in the United States. Thus, he managed to garner nearly an hour-and-a-half of continuous TV coverage on the 24-hour news channels. Most of said coverage did nothing but show off Trump's new hotel in Washington, D.C., and tout a parade of generals proclaiming that what we needed was a "tough guy" military posture, and that Trump was the only tough guy running (in fact, the only guy running). In actuality, the "major announcement" lasted about all of 10 seconds.
In the 2012 presidential election, only 57.5 percent of eligible voters actually cast a ballot. But in 1876, that number was 81.8 percent. In other words, it is certainly possible that, in 2012, nearly 30 million votes were left on the table. The combination of his saturated TV coverage (clearly aided and abetted by both the Clinton campaign and the media as a whole), together with his pre-existing celebrity business presence in many places around the country, gives him a very good shot at seducing those 30 million voters, and inducing them to vote Trump.
Of course, no one is exactly sure who that 30 million figure represents. Nevertheless, it's a good bet they're not studying philosophy or reading the New York Times. Rather, they're probably going to church and carrying guns. They are also probably dissatisfied with the "deplorable" antics in Washington over the last eight years, and they probably know someone who is out of work. And maybe they're starting to do something that they didn't do before -- like responding to a pollster's questions.
In the meeting last spring, The Donald stopped for a minute to relate a personal story of his childhood. His father had told him that all publicity was good publicity, and of course lent him the now notorious $1 million. But it was his mother who gave him the advice most relevant to his current political success. "Whatever you do, if it doesn't embarrass you, ultimately it can't be used against you. However much you are attacked, if you are not embarrassed and stick to your guns, you will always eventually win."
And so The Donald is winning by telling those disgruntled, hidden voters just what they want to hear -- in terms that they are used to hearing. And not only does he not give a damn about what politically correct candidates or commentators might say about him, he makes great use of their fatuous invective. They are all his secret surrogates.
Of course, if The Donald wins the election this year, it will really be because PT Barnum is no longer around to run.
David Bergstein is a financier and CEO of Cyrano Group. He is known for his talent in accurately predicting trends and recognizing opportunities to restore and reposition businesses. Bergstein is a leading expert in the field of financing.
–
TheBlaze contributor channel supports an open discourse on a range of views. The opinions expressed in this channel are solely those of each individual author.
Want to leave a tip?
We answer to you. Help keep our content free of advertisers and big tech censorship by leaving a tip today.
more stories
Sign up for the Blaze newsletter
By signing up, you agree to our
Privacy Policy
and
Terms of Use
, and agree to receive content that may sometimes include advertisements. You may opt out at any time.