"Donald Trump is not a legitimate candidate."
If I had a dollar for every time I've heard that, I'd be almost as rich as I already am. The other one I hear a lot, which is always dripping in condescension, is, "Who's supporting Donald Trump? I'm not, and none of my friends are."
Trump supporters have long been shamed into thinking they're gullible idiots. It seems like the only people who get treated worse by the media these days are Christians.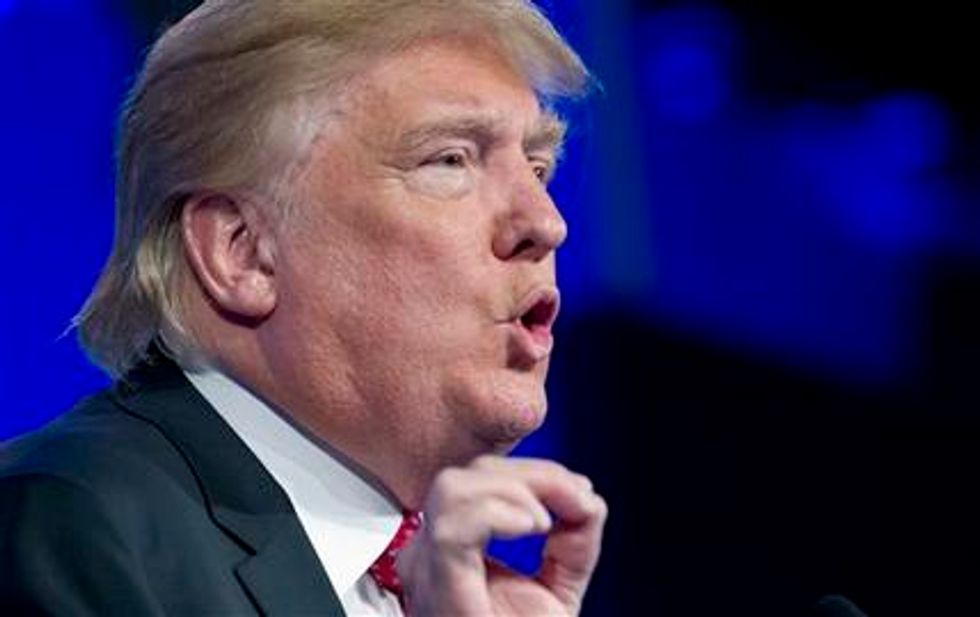 In this Sept. 25, 2015, file photo, Republican presidential candidate, businessman Donald Trump, speaks during the Values Voter Summit, held by the Family Research Council Action in Washington.  (AP Photo/Jose Luis Magana, File)
Sure, sure. Polls are bunk, they say. The only people participating in these polls are old folks who can still get out of their La-Z-Boy to answer their landline phones, as long as the call isn't during Hannity. Then, they'll let it go to the answering machine.
Well, this week, a new AP-GfK poll on electability confirmed that 70 percent of Republican voters now think that Trump can win the nomination. This highlights a huge contrast between the people and many of the career pundits, who have long maintained that Trump is unelectable.
This is just the beginning of a fundamental change: it's no longer socially unacceptable (as it has been in many establishment and elitist circles) to admit to being a Donald Trump supporter.
It's safe for Trump supporters to come out now.
Billionaire investor Carl Icahn is proof of this. Ann Coulter is another great example. She was early on the Trump bandwagon, probably just happy that he was talking about immigration and helping her sell books. In the face of questions over his sincerity and viability, she could relish the part of troll, while also making the valid point that Trump was changing the conversation. Now, she's 100 percent Trump.
So am I, and here are a dozen or so reasons why:
1) He says what's on his mind, unapologetically thumbing his nose at political correctness. By comparison, Jeb Bush had instructed his staff not to use the term "anchor baby." Then, when he saw how Trump's message was resonating, he changed his mind. I don't want a president like that.

2) Trump is patriotic and into American exceptionalism. Remember when Michael Moore called Chris Kyle a coward? Remember when the University of California removed the American flag? I don't necessarily like the aesthetic of Trump's hats, but I love the idea of making America great again, and restoring a stronger sense of pride in our country.

3) Trump works hard. He doesn't drink. He doesn't take vacations. And he's still a better golfer than Barack Obama.

4) He's a Washington outsider. This needs no explanation.

5) He's got business acumen. You can pick apart his track record all you want, but there's no other candidate with any kind of real-world experience. (I'm excluding the bed and breakfast that Lindsey Graham has probably been running for the last 30 years.)

6) The establishment hates him. Karl Rove called Trump a "complete idiot." I think that's a huge compliment. They hate him because he's going to put them – consultants, moneymen, power brokers, etc. – out of a job.

7) He's got a great family. All of his kids work hard, have nice families, and are heavily involved in charitable initiatives. Isn't the true measure of a person how their kids turn out?

8) He's not beholden to special interests. It's been nice to have the Koch brothers around to keep step with George Soros, but now, we don't need them.

9) Immigration. Sure, Trump is hyperbolic at times, and smart enough to know that you can't literally round up 11 million people and bus them out of here. But we have serious problems, and Washington has been doing nothing about it for a generation.

10) He's "really rich" and not afraid of his success. Remember when Mitt Romney wouldn't release his tax returns and apologized for his wife's many cars? It's not that we view his wealth differently, he was just a huge wimp about it.

11) Trump is unafraid to deviate from outdated GOP principles. Remember in 2012, when every single GOP candidate promised not to raise taxes, period. It's refreshing to see Trump say, "That's idiotic! What about the carried interest loophole for hedge funds?"

12) He's not a phony. Am I the only one who gets creeped out by hearing Marco Rubio talk about how much he loves listening to Nicki Minaj?

13) Who else are you going to vote for? Ben Carson doesn't have any experience outside of a hospital. Rubio is a dork with more credit card debt than hair plugs. Jeb can't even get his wife to speak English. And Ted Cruz was that kid in school who always reminded the teacher when she forgot to assign homework.
–
TheBlaze contributor channel supports an open discourse on a range of views. The opinions expressed in this channel are solely those of each individual author.