As the race for Speaker of the House heats up, House Oversight Committee chairman Jason Chaffetz (R-Utah) has thrown his hat into the ring in a surprise challenge to the all-but-confirmed GOP Majority Leader Kevin McCarthy.
Tea Partiers believe that Chaffetz is the conservative choice for speaker.
However, conservatives might be surprised that Chaffetz was a Democrat for much of his life. In fact, he only became a Republican in 1990.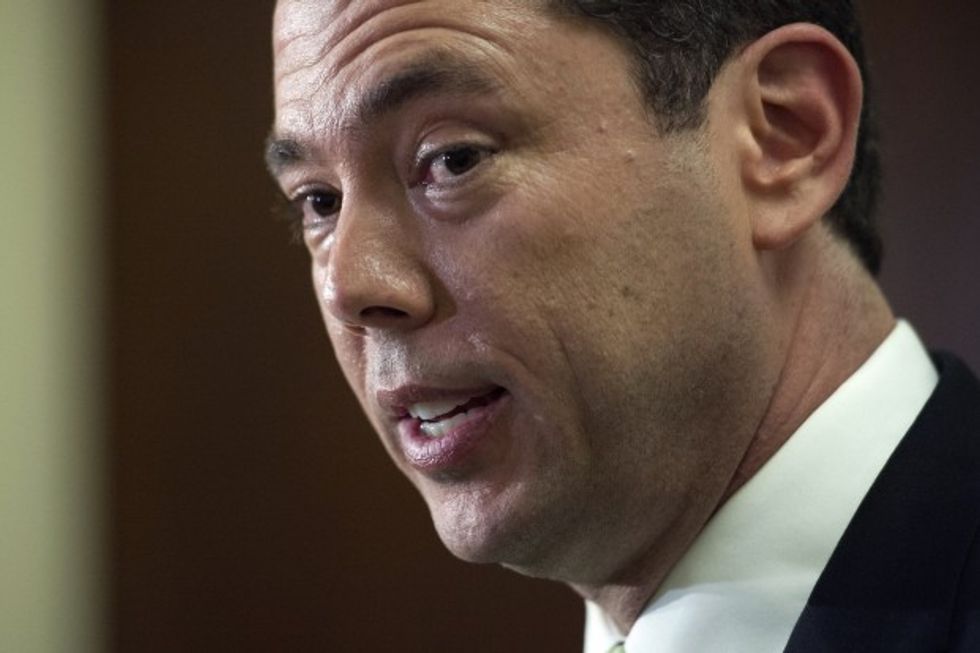 Committee on Oversight and Government Reform Rep. Jason Chaffetz, R-Utah, speaks with reporters following a Capitol Hill briefing on security at the U.S. Capitol, in Washington, Wednesday, April 22, 2015. (AP Photo/Cliff Owen) 
Moreover, Chaffetz was not simply registered as a Democrat; he was an activist Democrat.
Chaffetz served as co-chair of the Michael Dukakis for president campaign in Utah in 1988, along with his father who served as its chairperson.
His family's allegiance ran deeper than politics -- Chaffetz has familial ties to the east-coast liberal Dukakis clan as well. His father was married to Kitty Dukakis, and Chaffetz's half-brother is John Dukakis who worked for former U.S. Sen. John Kerry. Chaffetz has said that the former Gov. Dukakis was "instrumental in helping establish relationships with Democrats when he first came to Washington."
His differences with Republicans don't end there.
Chaffetz is on-record in opposition to Republicans on the issue of gun control.
In the wake of the Sandy Hook school shootings in 2012, Chaffetz was one of only two Republican members of Congress who spoke out. Rep. Louie Gohmert (R-Texas) stated that America needed more guns, not fewer, in the form of protection for schools; however, Chaffetz suggested that perhaps mental health ought to be tied to Americans' ability to own guns -- a statement that landed him on the third rail of the National Rifle Association's gun rights debate. Chaffetz has since walked back those remarks but not before finding himself on the wrong side of the NRA which believes that the government "shall not infringe" on any part of Second Amendment rights.
As it turns out, Chaffetz was not only out of step on gun control with fellow Republicans, but registered Independents as well. According to a Quinnipiac Poll released just last week 76 percent of Republicans oppose more gun control regulations, as do 49 percent of Independents (compared to 45 percent of Independents who support more regulation according to the poll.)
In the "bitter clinger" department, Chaffetz also differs from traditional Christian GOP leaders in his religious beliefs.
Raised by a mother who was a Christian Scientist and a father who was Jewish, Chaffetz himself opted out of both religions and instead became a Mormon during his senior year at Brigham Young University. One of only 16 Mormons in a 435-member Congress, he represents less than 4 percent of the House membership. In fact, the House of Representatives has never had a Mormon as Speaker of the House.
With Chaffetz now seeking the speakership, he will no doubt seek to showcase his leadership on the House Oversight Committee but problems exist there as well with conservatives.
Upon his ascension to become House Oversight chairman, The Atlantic reported that Chaffetz's vow was "working more collaboratively with Democrats" than his predecessor Rep. Darrell Issa (R-Cali.). Chaffetz has publicly cozied up to liberal Democrat Elijah Cummings (D-Md.) who repeatedly gave Issa grief during his investigation into Attorney General Eric Holder's "Fast and Furious" gun-running operation, and who belligerently insists that decades of Democrat rule did not contribute to recent civil unrest in Baltimore. Chaffetz's alliance with such a liberal might come as a big surprise to Tea Party conservatives looking for more fights, not fewer, with Democrats on the Hill.
However, one cannot necessarily count Chaffetz out. An underdog in his race for Congress in 2009, Chaffetz surprised many by beating well-funded, establishment opponents. And as a former kicker for BYU, he understands the art of winning last-minute when the game is on the line. It remains to be seen, however, if he can pull off a long-shot win this Thursday.
–
TheBlaze contributor channel supports an open discourse on a range of views. The opinions expressed in this channel are solely those of each individual author.