The president's offensive statement that the Jews slaughtered by Islamist terrorist Amedy Coulibaly at a kosher deli in Paris were just "some folks chosen at random" should have been acknowledged as an enormous gaff.
It should have been followed by an apology.
Instead, it is continually spun over and over in some demented form to rationalize the president's blunder, making it all the worse.
As offensive as the statement is, no apology will be forthcoming. Given a choice between pointing a finger at the anti-Semitism of radical Islam and insulting Jews, the president has chosen to insult Jews. After all, their partisan allegiance is guaranteed. As Jewish conservatives quip, if Barack Obama nuked Tel Aviv, he would lose only 15 percent of the Jewish vote.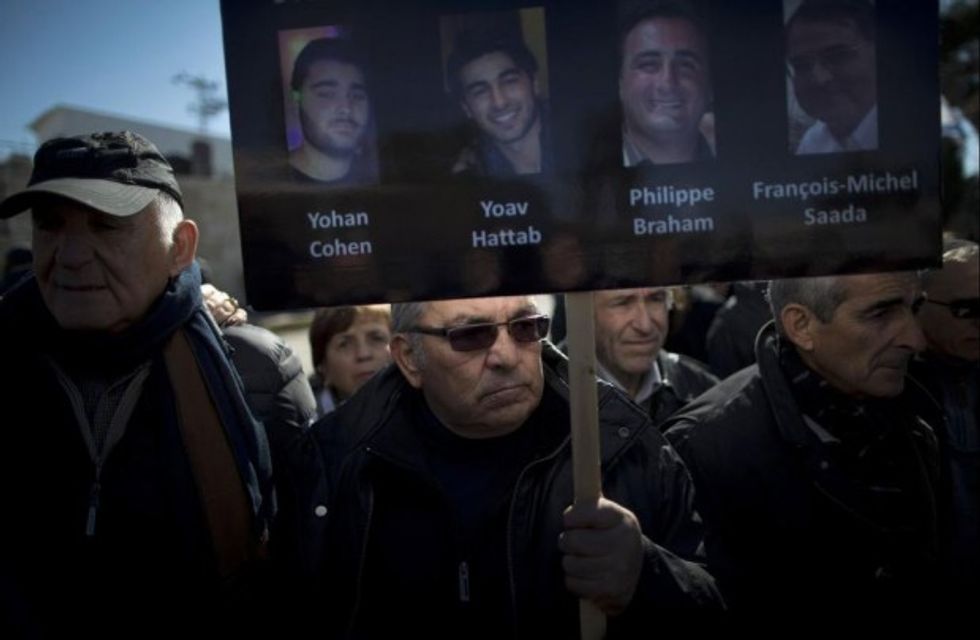 A man holds poster with portraits of four victims of the terrorist attack on a kosher grocery store in Paris during their funeral, at Givat Shaul cemetery in Jerusalem, Israel, Tuesday, Jan. 13, 2015. Israel geared up on Tuesday for the solemn funerals of four Jewish victims of a Paris terror attack on a kosher supermarket amid rising concerns over increased anti-Semitism in Europe. (AP Photo/Oded Balilty)
And were the Jews slaughtered in the Chabad House in Mumbai just some folks Islamist militants stumbled upon at random? Were the people killed in the Buenos Aires Jewish community center, blown to bits by Iranian operatives, just some "random folks"?
According to State Department spokesperson Jen Psaki, because non-Jews might have been shopping in a kosher deli the fact that the four victims were Jews and the targeting was a Jewish place of business on the eve of the Jewish Sabbath was just a random event.
By that logic, the victims of the Holocaust were random folks because millions of non-Jews also died at the hands of the Nazis.
Obama not only has a Jewish problem, he also has a Muslim problem.
[sharequote align="center"]Obama not only has a Jewish problem, he also has a Muslim problem.[/sharequote]
His Jewish problem is an outgrowth of his Muslim problem. It is Obama's refusal to say that Islamist terrorists are a scourge the world over that is the more significant problem. The refusal to acknowledge that anti-Semitism is a growing crisis across Europe as the percentage of the Muslim population rises is what motivates the president to enunciate another insipid apology for Islam, even Islamist terrorists.
This one comes on the heels of the president's rhetorical hectoring of Christians at the National Prayer Breakfast on Feb. 5, 2015 to get off their high horse and stop castigating Islamic State terrorists because of the evil committed in the name of Jesus in the form of the Crusades and the (Spanish) Inquisition.
The remarks come after a meeting with people with close ties to the Muslim Brotherhood, which Egypt calls a terrorist organization and whose fundamentalist theology has been an inspiration for terrorism.
Did the president get his ludicrous talking points from Muslim Brotherhood members at that meeting?
By invoking the Crusades, the president pandered to the Islamists. The quest for vengeance among Islamists never dies. The Crusades are seen as an attack on Islam, and in the fundamentalists view any attack on Islam, even if it comes after Islamic conquests of Christian land, is an act of aggression. It is for this reason that Osama bin Laden demanded the return of Andalusia (Spain), which the Muslims seized from Christians by conquest and held until the Kingdoms of Castile and Argon defeated them.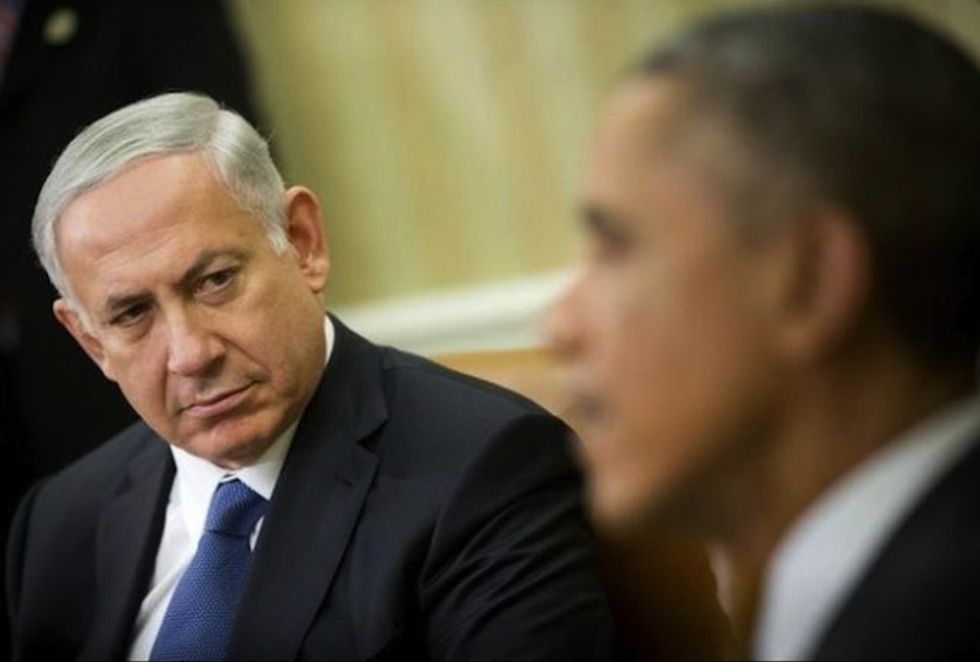 Israeli Prime Minister Benjamin Netanyahu listens as President Barack Obama speaks during their meeting in the Oval Office of the White House in Washington, Wednesday, Oct. 1, 2014. (AP Photo/Pablo Martinez Monsivais)
Obama played right into this demented view of history that is not only part of the Islamist culture but also shared by some non-fundamentalist Muslims who relish the prospect of a glorious resurgence of Islam across any land they once held. For all land that was once administered under Islam, to them, is sacred land.
Obama will no more admit that Muslim extremists target Jews than he will admit that there is no moral equivalence between the historical foundations of Islam and Christianity. Let us not forget that Jesus was not a brigand and did not compel anyone to become a Christian by threat of beheading.
Obama's statement about Jews being the victims of random violence is all the more insulting since photos released by a Jewish school's surveillance camera from August, by the French website Le Monde Juif, shows the terrorist Amedy Coulibaly and his girlfriend Hayat Boumedienne approaching the school and asking if "it was true that there were Jews inside of the building."
Their behavior was so strange that the school's security asked them to leave. French police found that Coulibaly had maps of Jewish schools in his car.
Coulibaly himself told journalist Sarah-Lou Cohen, of French BFM-TV, that he attacked the kosher supermarket because he was deliberately targeting Jews.
All of this was public information long before Obama made his clumsy statement that the attack on the eve of the Jewish Sabbath at a Paris, Jewish-owned business had nothing to do with Jews. And while the attack was carried out in the name of Al Qaeda in Yemen, the president sidestepped, once again, condemning radical Islam.
In the face of public information that contradicts everything he said, Obama and his administration have no difficulty in trying to spin the attack so as to deflect any attention from radical Islam and its anti-Semitic agenda.
If militant Jews had targeted a Halal meat market and killed Muslim hostages, would President Obama have stood before the media and said that the victims were just random folks and the terrorists had nothing to do with Judaism?
If Christians were burning mosques across Europe and beheading and crucifying Muslims, would Obama stand before a Muslim congregation in France and tell them to get off their high horse? Would he dredge up a faux moral equivalence from their past? I think not!
If Bill Clinton was America's first black president, then most certainly Barack Obama is America's first Muslim president. For if Obama has one clear agenda item, it appears to be, "The future does not belong to those who slander the prophet of Islam."
In the meantime, Democrats should not fear that any of this will negatively affect the Jewish vote. Not even a Democratic boycott of Israeli Prime Minister Benjamin Netanyahu's speech to Congress will affect the Jewish vote. As long as liberal Jews are more concerned about their daughter's right to an abortion than the right of their Israeli brethren to survive the promise of the next genocide, there is no insult that will fracture their partisan allegiance.
Abraham H. Miller is an emeritus professor of political science, University of Cincinnati. He also served on the faculty of the University of California, Davis and the University of Illinois, Urbana.
–
TheBlaze contributor channel supports an open discourse on a range of views. The opinions expressed in this channel are solely those of each individual author.