After Speaker of the House John Boehner announced his resignation on Friday, the mainstream media fixed their focus on the mechanics of his stepping down.
Reports have ensued that Boehner's resignation will trigger a special election in his home district in Ohio.
Some have even begun to speculate about who will replace him.
[sharequote align="center"]Boehner's misplaced faith in himself turned out to be a million-dollar mistake.[/sharequote]
However, no one has reported how Boehner's abrupt resignation from Congress will likely cost taxpayers more than $1 million in special election costs.
The million-dollar price tag is the final selfish act of a speaker who, according to Beltway folklore, often spent his afternoons at the Capitol Hill Club putting lobbyists' and donors' interests above the people.
Now, his constituents and taxpayers will be forced to pick up the final tab.
Had Boehner completed his term or elected not to run for re-election last year, the election for his successor could have been held during a normal election cycle. Now, Ohioans will be on the hook for special election costs for voting machines, ballots, staffing of elections officials and more.
In comparative terms, most of the recent special elections to replace embattled Congress members had price tags in excess of $1 million.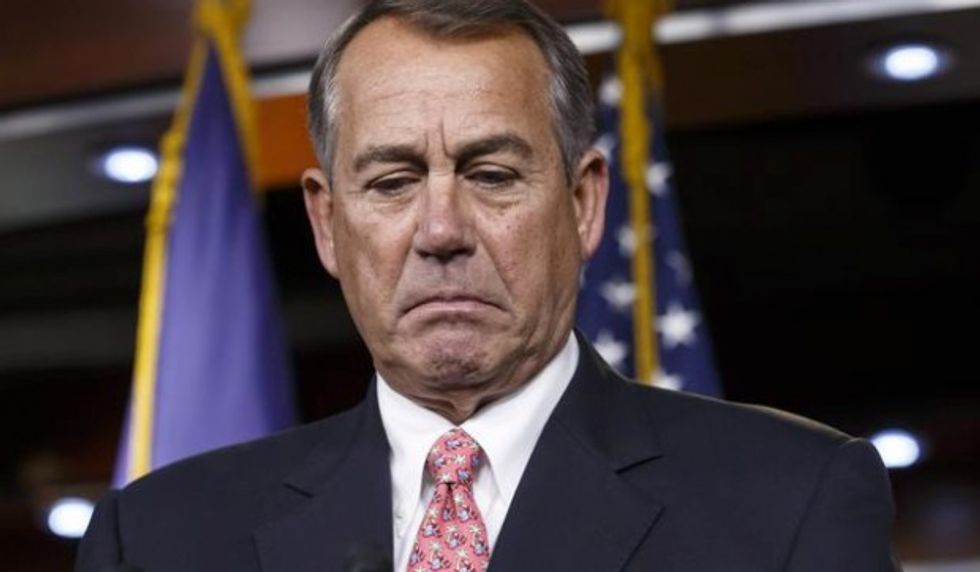 House Speaker John Boehner of Ohio. (AP Photo/J. Scott Applewhite)
All of them happened to be Republicans.
Rep. Aaron Shock (R-Ill.) In the case of Rep. Shock, elections officials asked Shock to reimburse the government for the costs of the special election.
Rep. Michael Grimm (R-N.Y.), a former FBI agent, announced his resignation in early 2015 after he pled guilty to felony tax evasion. The cost of the special election for his replacement and one other elected official was $1.25 million.
Rep. Trey Radel (R-Fla.) resigned from office after he was arrested in the District of Columbia in 2013 for cocaine possession. The special election to replace him cost an estimated $1.5 million.
In some of these special elections, the costs were more than monetary -- there were societal costs as well.
For example in the election to replace Rep. Shock, voter turnout was estimated to be a dismal 10 percent -- hardly an exercise of good government and civic duty.
Boehner now joins the ranks of Republicans who have stepped down only to bring costs to bear on their constituents.
Sadly, all of this could have been avoided if Boehner had listened more closely to those in his party who saw the writing on the wall that his time to step down had arrived.
Instead, Boehner lived in a bubble.
Facing no Democratic opponent in his home district around Cincinnati in 2012, Boehner won a whopping 99.2 percent of the vote. It is difficult to find re-election numbers that high outside of Moscow.
Sensing smooth sailing on the horizon, Boehner ran for re-election in the 2014 midterms.
But the tide had already turned.
Then-GOP Majority Leader Eric Cantor lost a bruising primary, shocking the political establishment and throwing the entire future of the GOP leadership into question.
An astute political leader, Speaker Boehner should have been able to read the tea leaves better; instead, he insisted that he would remain speaker through the end of 2016 to witness a Republican majority in the House of Representatives, the U.S. Senate and the White House.
He could not have been more off-base.
Literally.
Boehner's misplaced faith in himself turned out to be a million-dollar mistake.
Boehner should have planned his exit in a manner that would not have impacted his constituents' bottom line. Instead, he chose one final selfish act.
Perhaps with today's deficits of county, state and federal governments hovering in the billions, a cool million dollars is chump change to someone like Speaker Boehner.
However, taxpayers will most certainly foot the bill.
In today's tough economy, families are forced to make every penny count. It is not too much to ask our government leaders to do the same.
–
TheBlaze contributor channel supports an open discourse on a range of views. The opinions expressed in this channel are solely those of each individual author.