Singer Charlie Puth's got a song out that's currently running through my mind right now—though with slightly amended lyrics.
"We don't talk anymore ... like we used to do …" Puth croons.
Except in my head, it goes something like this: "We don't teach anymore ... like we used to do."
We don't teach history, to be precise. Or, we teach a version that fits a narrative, which is exactly how we get to this tweet.
In it, singer John Legend links to a piece titled "Colin Kaepernick Is Righter Than You Know: The National Anthem Is a Celebration of Slavery," which informs readers that a) we randomly tried to steal Canada in the War of 1812, b) the Star Spangled Banner celebrates the death of slaves, and finally c) that the Star Spangled Banner's author was a slavery-loving racist.
Yikes. Who wouldn't be a fan of THAT song?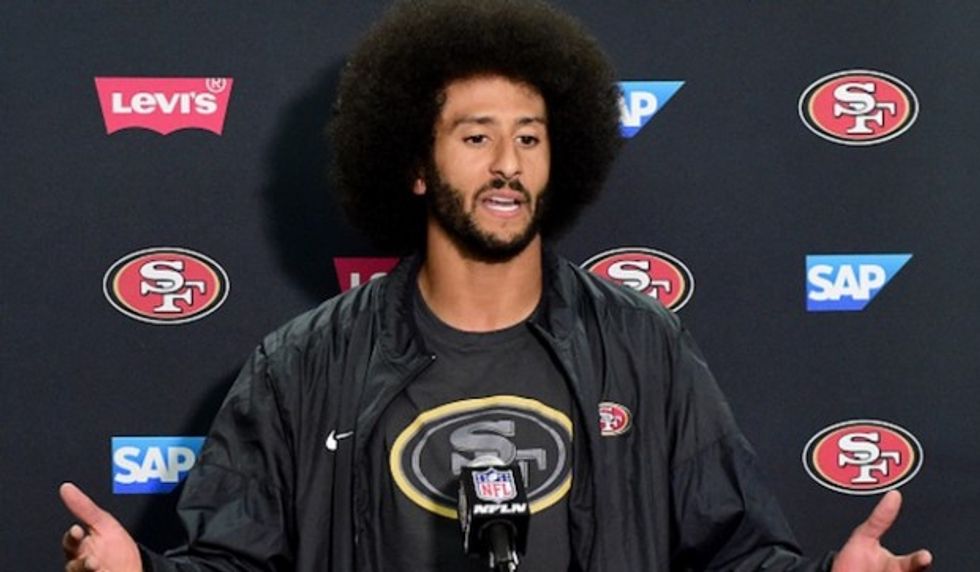 SAN DIEGO, CA - SEPTEMBER 01: Colin Kaepernick #7 of the San Francisco 49ers speaks to media during a press conference after a 31-21 preseason win over the San Diego Chargers at Qualcomm Stadium on September 1, 2016 in San Diego, California. (Photo by Harry How/Getty Images)
But remember, we don't teach history anymore. So, let's get a few things straight.
1. We didn't randomly tried to steal Canada in the war of 1812.
Yeah, not quite. Great Britain was fighting France in an extension of the Napoleonic Wars—and as a result, they didn't want us trading with the French, and the French didn't want us trading with Great Britain.
Part of the trade feud resulted in France declaring American vessels "enemy" ships if they came in to a British port. At the same time, if the Americans obeyed the French, then they were fair game to the British Navy.
It got worse. The British to start raiding American ships in search of "deserters," only to instead haul off thousands of American sailors and force them to serve in the British Navy.
Lastly, yes, there was friction between the U.S. and various Native American tribes in the northwestern territories which resulted in the Native Americans siding with the British. But, it was far more about defending American honor and protecting our rights than anything else.
And bam: the War of 1812.
2. Francis Scott Key wasn't even remotely celebrating death of slaves.
I'll refresh your memory on the offending verse [emphasis mine]:
"No refuge could save the hireling and slave From the terror of flight or the gloom of the grave, And the star-spangled banner in triumph doth wave O'er the land of the free and the home of the brave."
Let me introduce you to a few characters:
"Hireling" meant the mercenaries the British were using.
"Slave" easily had two meanings in this context. First, remember when the British seized American sailors and forced them to sail for them? That was a practice known as "impressment," and by another name—slavery. Second, yes—some runaway black American slaves fought for the British in exchange for their freedom (which they received), so the term could refer to them, too.
CNN's Mark Clague writes [insertions mine]: "For Key, however, the British mercenaries [hirelings] were scoundrels and the Colonial Marines [consisting in part of some of the aforementioned slaves] were traitors who threatened to spark a national insurrection."
But there were also many black men fighting on the American side, too—some of which played critical roles in the war.
To say Key was celebrating the death of black slaves for the fact that they were black slaves is just plain false. He was celebrating victory over adversity.
Adversity came in the form of British and Hessians and volunteer runaway slaves—and anyone else waging war against us.
3. Was Key really a crooked-cop-loving racist bigot?
For reasons unknown, a Washington, D.C. constable pursued a black woman down a street—until she tripped and fell into a river, where she then drowned.
Key (then District Attorney) apparently didn't prosecute the constable. When an abolitionist wrote that "there is no justice or mercy for colored people in this District," Key indicted the abolitionist for libel against him.
If we're being intellectually honest, we'll never know if the constable was at fault, and whether or not Key should have prosecuted the guy. But is that where it ends with Key and his ties to slavery?
Let's look at what we do know about Key:
As for his so-called "tepid" support of the abolitionsit movement? For starters, abolitionist leader John Brown believed that violent insurrection was the only way to end slavery.
Key wasn't a fan of violent lawbreakers. Draw your own conclusions.
Here's the deal. Key was a lawyer. Slavery was the law—which also meant he occasionally defended white slave owners, regardless of whether he was beginning to feel the practice was wrong.
Slavery was status quo and had been for millennia. And yet there's Key, alongside so many others of his time, seriously questioning that status quo. Isn't it ironic how thousands of years of awful human tradition started unraveling in a matter of decades following our founding?
That's what I call a "5,000 Year Leap" … but that's a story for another day.
All me to end with this: if John Legend is so interested in history, where is he on on the Democrat Party's Ku Klux Klan?
Even better, if Legend is so interested in history, find another country that represents more freedom and equality for more people in the history of the world.
Mary Ramirez is a full-time writer, creator ofwww.afuturefree.com(a political commentary blog), and contributor to The Chris Salcedo Show (TheBlaze Radio Network, Saturday, from noon to 3 p.m. ET). She can be reached at: afuturefree@aol.com; or on Twitter: @AFutureFree
–
TheBlaze contributor channel supports an open discourse on a range of views. The opinions expressed in this channel are solely those of each individual author.