**The following is an in-depth review of "Keeping Up With the Joneses" and does contain spoilers**
Most of the time, comedy seems to be a lost art in modern Hollywood. Most "comedies" in Hollywood today are trite, cliché, and worst of all unfunny. Recent films like "Mike and Dave Need Wedding Dates" and "The Boss" have all but made me lose faith that Hollywood even knew how to be funny anymore.
Then came "Keeping Up With the Joneses."
"Keeping Up With theJoneses" is not, by any stretch of the imagination, the greatest movie ever made. What it is, is a smart and funny comedy with a unique spin on an old comedy trope.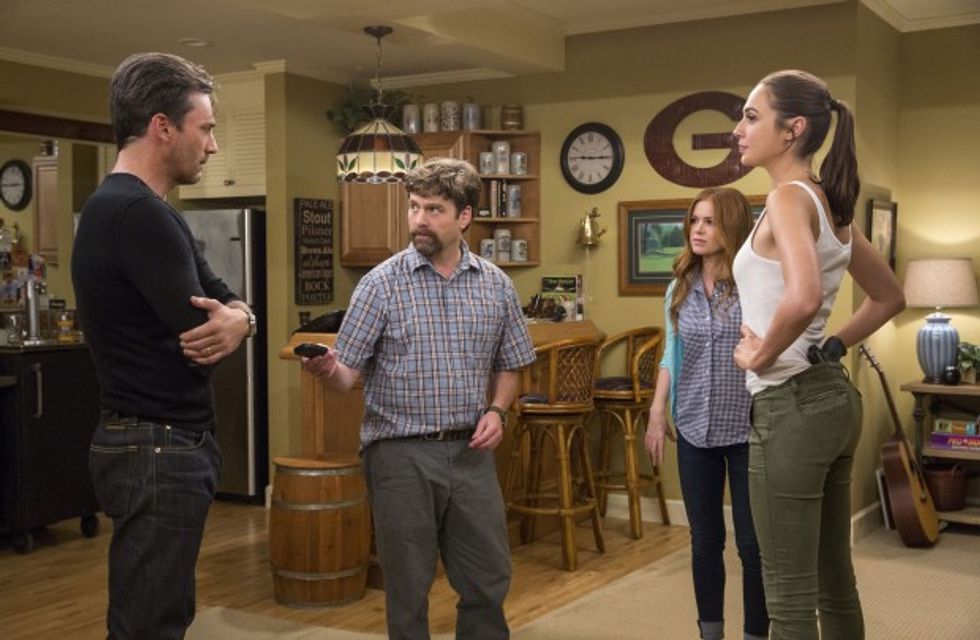 Jeff Gaffney (Zach Galifianakis) and his wife Karen (Isla Fisher) enjoy spending time with their new neighbors, Tim and Natalie Jones (Jon Hamm, Gal Gadot). Photo Credit: Bob Mahoney.
The film centered around the Gaffneys, a boring suburban couple living out a mundane marriage. Their quiet suburban neighborhood was soon made a little less boring when the Joneses moved it, just a few houses down from the Gaffneys. Something about the attractive, athletic and fun new neighbors didn't sit well with the Gaffneys, so they decided to break into the Joneses' house.
Something about the attractive, athletic and fun new neighbors didn't sit well with the Gaffneys, so they decided to break into the Jones' house. Inside the house, they found evidence that the Joneses have been spying on the Gaffneys and everyone in the neighborhood. They also found a pen gun that shoots tranquilizer darts.
As it turned out, the Joneses were agents for a secret government agency - which agency they aren't allowed to say - and they moved into the Gaffneys neighborhood because one of their neighbors is suspected of selling secrets to a domestic terrorist.
There is absolutely nothing extremely unique or different about "Keeping Up With the Joneses." It's a perfectly straightforward and in many ways formulaic film, but that's where it really works. It didn't try to be something more than it was. Instead, it embraced everything it was and went in full force.
Zack Galifianakis and Isla Fisher turned in wonderful performances as the Gaffneys. Galifianakis' Jeff Gaffney is a dumpy, slightly dumb but mostly average character. This plays right into Galifianakis' wheelhouse and he fits into this part perfectly. Likewise, Isla Fisher is equally wonderful as the nosey and paranoid Karen Gaffney, who first casts suspicions on the Joneses.
Jon Hamm and Gal Gadot also turned in amazing performances as the super-spy couple, who bear a striking resemblance to the similar spy couple "Mr. and Mrs. Smith." They are both great straight men for the Gaffneys, but aren't unable to drop a few laughs themselves.
Director Greg Mottola also brought his A-game to this film. While Mottola isn't really known as an action director - the obvious exception prior to this film being the 2011 film "Paul," which had some smaller scale action pieces - but he handled the shootouts and car chases masterfully.
"Keeping Up With the Joneses" doesn't do as well with the action/comedy genre as other films - such as the "21" and "22 Jump Street" films - but it manages to be funny and hold the interest of the audience throughout. In a year full of cinematic disappointments, is there really any more you could ask for?
"Keeping Up With the Joneses" currently holds a 17 percent on Rotten Tomatoes.
–
TheBlaze contributor channel supports an open discourse on a range of views. The opinions expressed in this channel are solely those of each individual author.