**The following is an in-depth review of "The Boss" and does contain spoilers.**
Roger Ebert once said that the film critic has a responsibility to give any given movie "its day in court." What he meant by that was that even if a critic hates a movie, it's his job to tell the audience about the movie in such a way that it might still be something they may want to see.
I have my work cut out for me with this one.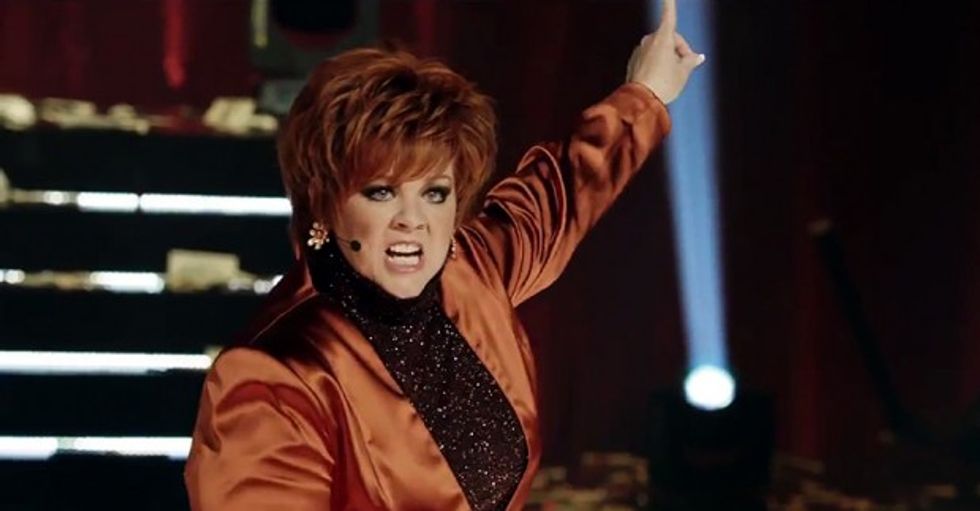 Screengrab
"The Boss" stars Melissa McCarthy, Kristen Bell and Peter Dinklage and was directed by Ben Falconer, as opposed to McCarthy's usual collaborator Paul Feig. The film centers around a wealthy CEO and motivational speaker who is arrested for insider trading and is sent to prison for five months.
While in prison the government seizes the vast majority of her assets leaving her mostly destitute upon her release. Broke and without any friends (because she's a horribly nasty person) Michelle Darnell is forced to call on a former employee (who she treated badly and paid even worse) for a place to stay.
Ever the capitalist, Michelle soon hatches a plan to get her fortune back by copying the girl scout cookie model, which is a billion dollar per year industry. Michelle organizes a new girl troop called Darnell's Darlings and begins using them to sell brownies. Under Michelle's model, the girls would make a 10 percent commission and earn another 10 percent toward their college educations, and Michelle would pocket the rest to rebuild her empire.
This could have really been a good movie. There could have been an almost Scrooge-like redemption story. Unfortunately, the film completely misses the opportunity to do that. At no point does Michelle have any life changing experiences, nor does she have any epiphany that being a horrible person only leaves you sad and alone.
In addition to having no redemption story, the film itself just isn't funny. The only laughs in the film come from slapstick bits where some horrible accident befalls Michelle, and these bits are really only funny because you get to see terrible things happen to Melissa McCarthy. Had the terrible accidents happened to some other actress, they wouldn't have gotten nearly the laughs.
The jokes tend to be mostly vulgar, with no real punchline apart from the fact that something vulgar was just said. Someone should really tell McCarthy - who co-wrote this film - that the word "vagina" isn't in and of itself a punchline. Even if it were, jokes about your vagina aren't funny. Melissa McCarthy acts like she is trying to be the female Chris Farley, but she just comes off as the second coming of Roseanne Barr.
If this is the kind of humor we can expect from McCarthy's next endeavor, "Ghostbusters" - and from what the trailers are showing, it probably is - then that movie has certainly earned the hate that it has gotten from fans.
So, to give this movie its day in court, I would have to say that if you're a fan of Melissa McCarthy's work, this movie offers more of the same. If you aren't a fan, however, this movie still offers more of the same.
Sadly, we may soon come to find that comedy in America is dead.
William Avitt will be appearing at Indiana Comic Con in Indianapolis, Indiana on Saturday April 30, 2016. He will be hosting a panel on film criticism at 9am in Rm. 133. If you're in the area stop by the panel or look for him on the convention floor all day Saturday.
–
TheBlaze contributor channel supports an open discourse on a range of views. The opinions expressed in this channel are solely those of each individual author.