President Barack Obama just signed the defense authorization bill, which drastically changes how we compensate soldiers, sailors, Marines, airmen and Coasties.
Instead of a retiree-take-all pension scenario after 20 years of good service, typical for career military personnel for decades, the new approach is blended and allows even those who serve only two years some retirement compensation through a 403(b) type account.
This would bring the military more in-line with private sector retirement compensation packages.
There are at least three glaring problems with this plan.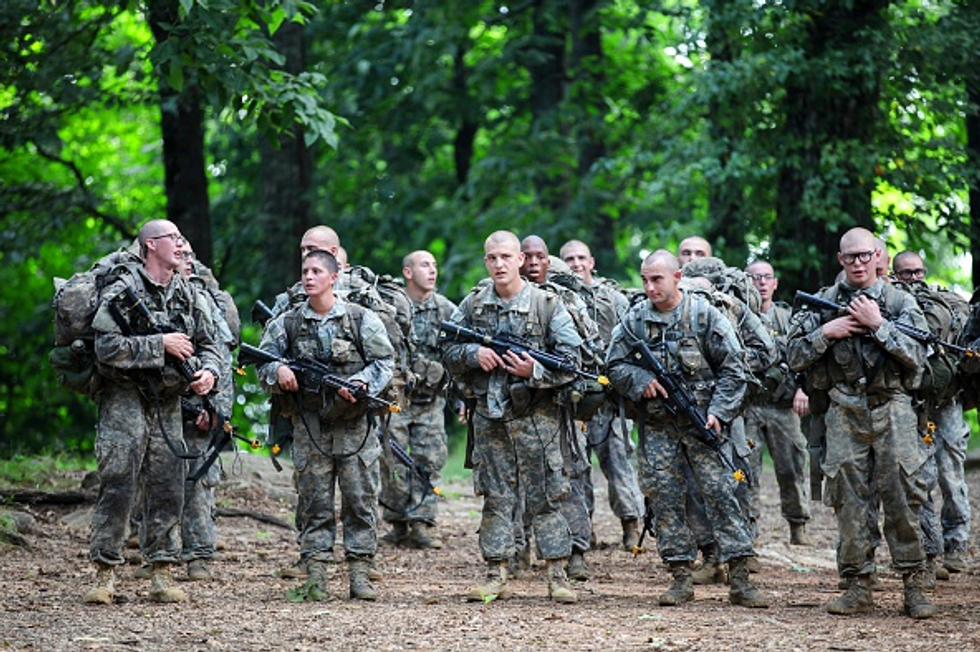 U.S. Army U.S. Army Capt. Kristen Griest (2nd L) takes part in mountaineering training during the at the U.S. Army Ranger School on Mount Yonah July 14, 2015 in Cleveland, Georgia. U.S. Army Capt. Kristen Griest and 1st Lt. Shaye Haver were the first female soldiers to graduate from Ranger School. (Photo by Yvette Zabala-Garriga/U.S. Army via Getty Images)
One, the salaries of military vs. civilian employees doing virtually the same job is skewed towards the private sector, providing little or no incentive for young, bright and brave citizens to stay in the military beyond the training phase of their military career.
Two, there are no private sector companies that are expected to perform the same tasks as our military, i.e. conduct war.
And three, if you offer financial parachutes all along the way you will severely and critically weaken the most important aspect of a winning military team: Experience and leadership.
Leaders are rarely born, but they are routinely trained by the military. Commitment to excellence is a hallmark of career military personnel. All along the way in the professional life of a soldier there are higher and higher standards of achievement and performance that are required for someone to advance in their career. Leaders are constantly being culled for higher positions of responsibility.
These challenges are unlike anything in the civilian world. They deserve and require an attractive and generous compensation and retirement package to keep the interested and capable few in the profession that needs them most.
The degradation of compensation benefits that the latest National Defense Authorization Act includes would discourage long term commitments from those most capable. Higher civilian salaries and the same risky retirement plans would eventually pull away the best and brightest that we cannot afford to lose.
The world keeps getting more dangerous, not less so. The challenges and needs of the finest fighting force on the earth requires the very best we can give, and more if we want to remain safe and secure in the decades to come.
The rationale for changing the compensation ranges from a more fiscally efficient management of personnel, to responding to complaints of those who only want to serve for a short period, but apparently have no fiscal maturity to save on their own.
It's really not that difficult to save in the military. Your food, housing and clothing are virtually paid for. Savings plans for college have been an integral part of military compensation since World War II, starting with the G.I. Bill.
A traditional retirement plan is just what the doctor ordered to keep the best military folks focused on the hunt for longevity.
In a capitalist society, competition makes us strong. Imagine a system where there is no competition for promotions. Where there are more slots to fill than bodies to fill them. This would bring us back to a draft, and then we will be in a world of hurt.
No offense to those who were drafted for past conflicts and then served their country with honor and distinction, for there were many, but the difference between an all volunteer professional force and one that is dragged kicking and screaming into service cannot honestly be compared.
This plan is flawed and dangerous. Many details still need to be worked out. But there are no credible analyses of the plan that conclude the new plan is better than the current plan for the military retiree.
Lost in the shuffle (as usual) are National Guard and Reserve personnel who may have served Active Duty other than training, i.e., in combat and in multiple tours, like yours truly. Me for example: 22 years of good service, nearly two and a half years of active duty for deployments in the Global War on Terror, one each for Operation Enduring Freedom, Noble Eagle and Iraqi Freedom. Yet, unlike my Active Duty colleagues, who may begin to draw retirement pay immediately after serving 20 good years, I must wait until age 57 ½ to begin to draw decidedly less retirement compensation.
If we both began service at 23 years old, my counterpart would begin receiving retired pay at 43. I have to remain alive another 14 years with absolutely zero compensation. If I left service by resigning my commission as an officer I would be paid in dollars relative to the year I resigned. If I simply become a "gray area" retiree, I can receive current value dollars when I become eligible for retired pay. But, I am therefore vulnerable for reactivation should a national emergency require my services. Again, all the time between my retirement to a potential re-activation I receive absolutely nothing.
I'm not complaining. I am getting exactly what I signed up for, no more, no less. I am merely pointing out the differences in compensation.
Only about 20 percent of Active Duty personnel make it to retirement. Only about 13 percent of Reserve Component military personnel make it to retirement. So why the drastic changes? What better way to try and show fiscal responsibility than cutting compensation for the county's largest employer?
The result however is a budget military. And remember, you get what you pay for.
NOTE: Very little in the NDAA addresses the pathetic status of homeless veterans and the endemic problems within the Department of Veterans Affairs, which should receive ZERO tolerance from any of us. It is our badge of shame. Until every homeless veteran who served honorably is in an honorable situation, we bear the responsibility, collectively as a nation, for honoring those who never came home alive by taking care of those who did.
Montgomery Granger is a three-times mobilized U.S. Army major (Ret.) and author of "Saving Grace at Guantanamo Bay: A Memoir of a Citizen Warrior." Amazon, Blog, Facebook, Twitter: @mjgranger1
–
TheBlaze contributor channel supports an open discourse on a range of views. The opinions expressed in this channel are solely those of each individual author.