As President Barack Obama addressed the nation about "Guns in America" on Thursday night, Democrats proved once again they expect Americans to do as they say, not as they do.
How ironic for an administration that got caught supplying guns to Mexico through the "Fast and Furious" scandal and subsequently, got caught running guns to Syria through Benghazi, wants to lecture us about gun control?
[sharequote align="center"]President Obama, control your own guns first, then we'll talk.[/sharequote]
Lest we forget the Obama administration's gun-running program across the border to Mexico supplied weapons to drug cartel members in a botched sting operation.
The problem? The U.S. Bureau of Alcohol, Firearms, Tobacco and Explosives lost track of the guns and the weapons ended up being used in crimes in both the U.S. and Mexico.
In fact, one of the guns entangled in the operation was found at the crime scene of the 2010 shooting of U.S. Border Patrol agent Brian Terry, which was the impetus for dissenting ATF agents to come forward and report the gun-running operation had gone awry.
The scandal led to the "Fast and Furious" investigation led by Congress and then-chairman of the House Oversight Committee, Darrell Issa, which exposed then-Attorney General Eric Holder as having known about the operation and having attempted to cover it up.
Obama's hand-picked chief lawyer became the first attorney general in U.S. history to be held in criminal contempt of Congress for refusing to turn over gun-running documents on Capitol Hill.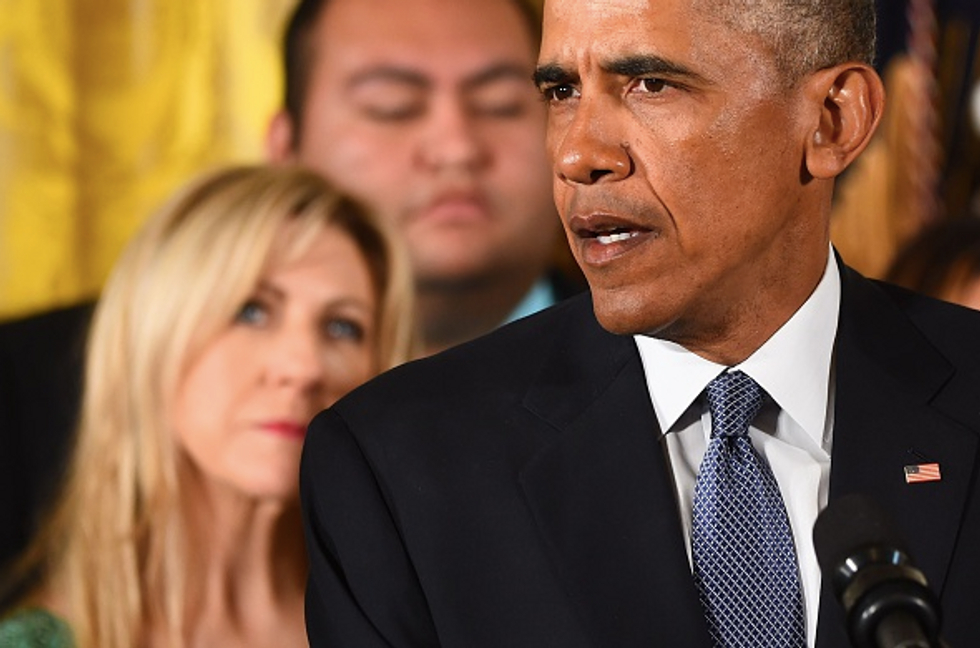 President Barack Obama delivers a statement on executive actions to reduce gun violence on January 5, 2016 at the White House in Washington, DC. (JIM WATSON/AFP/Getty Images)
Moreover, the lack of the Obama administration's "gun control" in "Fast and Furious" had far-reaching effects.
In 2014, a gun used in the Islamic terrorist attack on the "Draw Mohammed" cartoon contest hosted by author Pamela Geller in Garland, Texas was linked to the "Fast and Furious" scandal.
No story about the Obama administration's record on bungling gun-running operations is complete without mentioning Benghazi.
While sources in the intelligence community have long suggested that the attacks on the Benghazi compound in Libya were retaliation for the U.S. State Department's gun-smuggling operation to arm rebels in Syria, CNN now reports that is the case.
If true, that means blood is on the hands of then-Secretary of State Hillary Clinton and the Obama administration for the deaths of U.S. Ambassador Christopher Stevens and his security detail that fateful night in Benghazi on Sept. 11, 2012.
It would not be a surprise if those guns, which armed the Islamic State fighters in Syria, end up wounding or killing American soldiers in the future - just as the "Fast and Furious" guns ended up in Garland, Texas.
Certainly tragic shootings have occurred in America, mostly at the hands of the mentally ill. Those instances are tragic beyond belief, and no parent except those who have lost children can feel the magnitude of the grief.
But bloodshed has been caused by this administration as well.
More than 200 innocent human beings died at the hands of drug cartels and gang members as a result of "Fast and Furious" (including Border Patrol agent Brian Terry), and at least four Americans died in the attacks on the Benghazi consulate (including Stevens, information officer Sean Smith, and former Navy SEALs Tyrone Woods and Glen Doherty.)
Now the administration wants to have a common-sense conversation about gun control?
President Obama, control your own guns first, then we'll talk.
–
TheBlaze contributor channel supports an open discourse on a range of views. The opinions expressed in this channel are solely those of each individual author.