My husband and I recently took two friends and colleagues, Jane and Eugenio Kirima to the Birmingham Civil Rights Museum.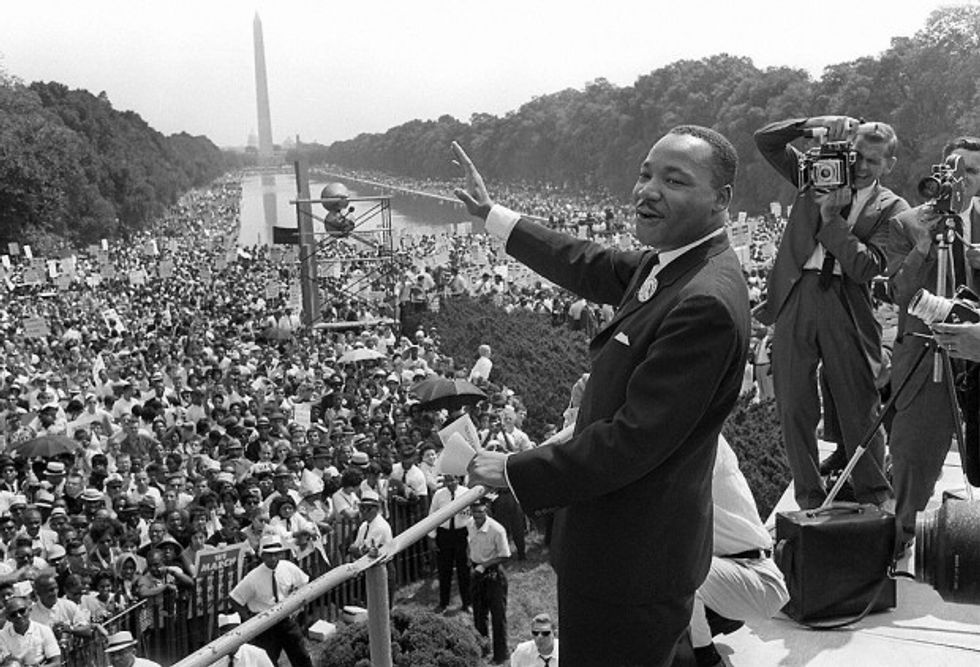 US civil rights leader Martin Luther King, Jr., waves to supporters from the steps of the Lincoln Memorial 28 August, 1963, on The Mall in Washington, DC, during the 'March on Washington' where King delivered his famous 'I Have a Dream' speech, which is credited with mobilizing supporters of desegregation and prompted the 1964 Civil Rights Act. The US is celebrating in 2004 what would have been King's 75th birthday. King was assassinated on 04 April, 1968, in Memphis, Tennessee. (AFP/Getty Images)
Living in Africa, they'd only heard filtered tales of Martin Luther King, Jr. and the American civil rights movement. The furtive details sent shock waves rippling across their faces. Tears stung their eyes as they disbelievingly blinked at "colored" and "white" signs stabbed onto walls, hung over water fountains and toilets. Reverently stepping through displays of lynchings and front-yard cross-burnings, the depth of human depravity settled over them like hideous cloaks of the KKK.
Jane whispered, "And to think all these horrible things happened just some few short years ago."
Eugenio said, "I want to know more about Martin Luther King, Jr."
Sharing our American-born journey of violence and apathy was both humbling and hopeful. Humbling by the blood on our nation's hands, hopeful for the core elements of transformation listed in Martin Luther King Jr.'s "Letter from Birmingham Jail":
"In any nonviolent campaign there are four basic steps: collection of the facts to determine whether injustices exits; negotiation; self-purification; and direct action."

...

"Mindful of the difficulties involved, we decided to undertake a process of self-purification. We began a series of workshops on nonviolence, and we repeatedly asked ourselves: 'Are you able to accept blows without retaliating?''

...

"I have almost reached the regrettable conclusion that the Negro's great stumbling block in his stride toward freedom is not the White Citizen's Counciler or the Ku Klux Klanner, but the white moderate, who is more devoted to 'order' than to justice; who prefers a negative peace which is the absence of tension to a positive peace which is the presence of justice..."
Discussing King's steps caused me to ponder if they were solid and sound principles that would work in all oppression, or were they one-time wonders at a pivotal point in our history. Then, I remembered other civil rights leaders who actually traveled to India and studied non-violent principles of standing against violence before they helped to launch the movement in the U.S. Then, of course, there's Nelson Mandela, who refused to become the monster of violence that nearly killed him, toppling Apartheid. Three very powerful "wins" against violent oppression through peaceful means.
King stood on the solid ground of Good for all humanity, not just one race, group or nation. Are we? Or, would we rather keep that sort of courage—humble courage, the kind that might get a cross lit in our front yards, our buildings blown up, and our bank accounts downsized—safely tucked behind glass cages in a museum rather than bring it back to our kitchen table for double helpings morning, noon, and night?
If we consider King's "four basic steps" in relation to our role in Sudan and South Sudan, it becomes rapidly clear that the facts reveal gross injustice. Millions of innocent civilians have been murdered, enslaved, and tortured. Millions more are displaced, which is a nice word for homeless, starving, on-the-run, and scared out of their minds. Hundreds of thousands are hiding in the belly of caves from bombs, or crocodile-infested swamps from troops, where—yes—they fear snakes and crocodiles, but not as much as their own soldiers. And, rape is a government-sanctioned weapon of war in both countries.
The second step we learned from King is negotiation. We have had generations of negotiations with Sudan, and still blatant disregard of human life abounds. Zero truthfulness with—or respect of—all international authority is the norm, with each carefully negotiated peace treaty washed away with a current of spilt blood—literally while the ink still stains wet upon the pages of peaceful words.
Thirdly, King challenges us to surrender in self-purification. He asks, "Are you able to accept blows without retaliating?" There is no conceptualizing this one. This step in transformation is only realized and relevant when we feel the very blow. Do we raise our fist and thrust our tongues toward our oppressor? Or, do we fix our eyes on peace and march doggedly toward it?
Our modern-day version of color-sightedness may have less to do with "black" or "white" skin than the colors under which we find so much comfort and false security. Will we "march" toward "positive peace" to end the bombs, bullets, and blows upon people not covered under the "old glory" of Red, White and Blue?"
If we practice compassion today for fellow human suffering, then we have a powerful opportunity to stop these demagogues. This compassion will lead us to King's fourth step of transformation, direct action.
When all efforts to get our government to do the right thing—the human thing—failed, King wouldn't settle for a "negative peace," stopping at an absence of tension. Instead he marched forward in "positive peace," calling for justice.
When we finally stopped to carry on our chat, Jane said, "…and to think that was just a few years ago. How quickly your country has changed so that now you have one of the race you persecuted as your president."
Yes, Jane. Transformation happens that quickly when compassionate people know the facts, attempt negotiation, endeavor toward self-purification, and boldly take direct action. Every effort in the world has been attempted in Sudan and South Sudan, save these four simple steps.
Let's follow King's lead, taking those steps locked determinedly arm-in-arm. Let us make history today.
Kimberly Smith Highland is the president of Make Way Partners, the only indigenously operated anti-trafficking organization in Sudan and South Sudan. For more information, please visit www.makewaypartners.org.
–
TheBlaze contributor channel supports an open discourse on a range of views. The opinions expressed in this channel are solely those of each individual author.