Before President Barack Obama could even finish watching a Chicago Bulls' game in his hometown, Los Angeles showed that it is "all in" for Obama's gun-control ruse.
Obama spoke to a crowd of International Association of Chiefs of Police, admitting to the crowd that gun violence in the town where he grew up, has been a serious problem for years.
Obama launched a national gun safety campaign to encourage responsible gun ownership earlier this year and took his message to the IACP.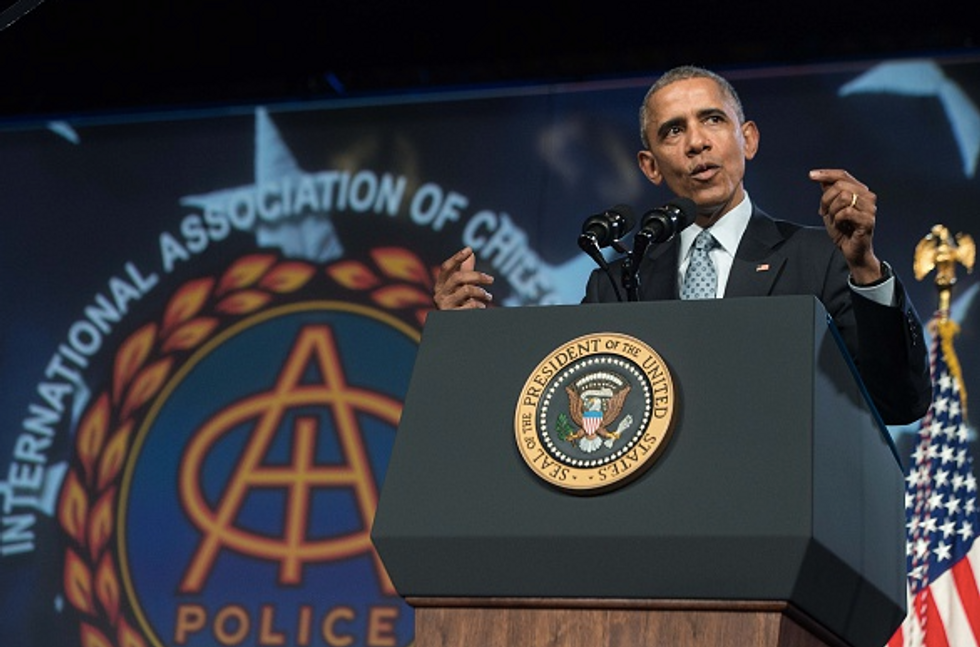 President Barack Obama speaks at the International Association of Chiefs of Police Annual Conference and Exposition in Chicago on October 27, 2015. AFP PHOTO/NICHOLAS KAMM
But don't worry! Obama assured the crowd that he wasn't trying "to take everybody's guns away."
"We're talking about common-sense measures to make sure criminals don't get them, to make sure background checks work, to make sure that we're protecting ourselves," he said.
Translation: There's no infringement of your Second Amendment rights here because it's only about your safety and police officer safety.
Also, Obama seemingly tried to suggest that "certain television stations or certain radio programs" (obviously referring to conservative media outlets) were nothing more than "fear mongers or conspiracy theorists" (my words, not his) who prey on the American public's sensitivities to convince them that Obama wants to take their guns. He dismissed this "notion" as nonsensical.
"Please do not — some of you are watching certain television stations or listening to certain radio programs — please do not believe this notion that somehow I'm out to take everybody's guns away," he said.
"Folks are scared into thinking that 'Obama's going to use this as an excuse to take away our Second Amendment rights.' Nobody's doing that," Obama said.
And why shouldn't you believe a person who refers to himself in the third-person? After all, he's the same person who told you in 2009 before Obamacare was passed that "If you like the doctor you have, you can keep your doctor, too," That's worked out well, right?
Apparently, Los Angeles is showing that it's ahead of Obama in the latest gun-control scheme by taking steps that even Obama has not yet suggested.
In July, Los Angeles City Council passed an ordinance banning the possession of high-capacity ammunition magazines that hold more than 10 rounds.
The City Council is currently being sued by gun owners and 30 California sheriffs who are suing to block Los Angeles' city ban on the high-capacity gun magazines. A state-affiliated group of the National Rifle Association and the California Reserve Peace Officers Association have also joined the lawsuit.
Plaintiffs are claiming that the ordinance violates existing state regulations, which ban the manufacture and sale of the magazines but not their possession.
But now, the L.A. City Council has gone a step further by dictating to gun owners what they can and cannot do "inside their own home" in the city of Los Angeles.
Recently, the city council voted unanimously to require gun owners to store their firearms in locked containers or install trigger locks when not in use unless they are "within close enough proximity and control" that the owner or another legally authorized user can readily retrieve and use them "as if carried on the person."
Who will determine if the gun is "within close enough proximity and control?" Attorneys will have a field day with this overreaching and vague description.
Firearms seized during recent Los Angeles Police sweeps, with the help of the California's Armed Prohibited Persons System (APPS) initiative, are displayed at a news conference with California Attorney General Kamala Harris, not seen, announcing the state's efforts to reduce gun violence at the Los Angeles Police headquarters in Los Angeles Friday, May 17, 2013. (Photo: AP/Damian Dovarganes)
Also, retired police officers were given an exemption to the requirement so that they could quickly access their guns. Evidently, private citizens don't need to be able to access their guns when needed but retired officers should be exempt from the requirement of having to lock up their guns?
The measure passed by the city council purportedly aims at preventing children from accidentally firing the weapons. One city councilman, with a bit of theatrics, explained the reasoning behind the city council's actions.
"When a gun is not properly stored in the home and a theft occurs, that gun is much more likely to be used as a crime gun out on the streets and then we're all affected by that," L.A. City Councilman Paul Krekorian said. "People who want to keep their guns at home may do so, but they will be expected and will be mandated under law to engage in safe storage practices."
"It's unacceptable to live in a country where it's more dangerous to be a preschooler than to be a police officer — and we can do something about that today," Krekorian said.
Officials have said that they won't be checking homes to see if gun owners are in compliance with the law and admit they will only know there is a violation if an incident occurs. At least not yet?
The National Rifle Association issued the following statement:
"Law-abiding gun owners should be allowed to choose the safest storage options for their households. This one-size-fits-all ordinance will do nothing to keep children safer, and only end up ensnaring law-abiding gun owners who choose to exercise their Second Amendment rights."
It is unclear whether the NRA will file a lawsuit against the law which will go into effect 30 days after it is signed by Mayor Eric Garcetti, who has indicated he will sign it.
Krekorian fully expects that the NRA will file a lawsuit.
"They lawyer up and they sue because that's their last refuge in their battle against common sense in their battle to try to keep guns flowing in this country," he said.
Funny, I thought this new ordinance was all about child safety and not about such things as "guns flowing in this country."
In any event, all I know is that somewhere in Washington, D.C. there sits a president who is most likely smiling and thinking to himself, "Well done, Los Angeles. Well done!"
–
TheBlaze contributor channel supports an open discourse on a range of views. The opinions expressed in this channel are solely those of each individual author.