Donald Trump has been surprising beltway politicos and the media since he announced his bid for the Republican presidential nominee. He has constantly been on top in the polls and has recently opened up his biggest lead in a new CNN/ORC poll coming in at 36 percent, a full 20 points above the his closest rival.
However, his most surprising lead in the polls comes from a recent rolling poll from Reuters that asked which candidate Americans trust the most to handle the issue of terrorism.
The poll shows shows Donald Trump beating Hillary Clinton, according to all Americans, as the most trusted candidate to handle this important national security issue with Mr. Trump coming in at 22.2 percent and Mrs. Clinton at 21.6.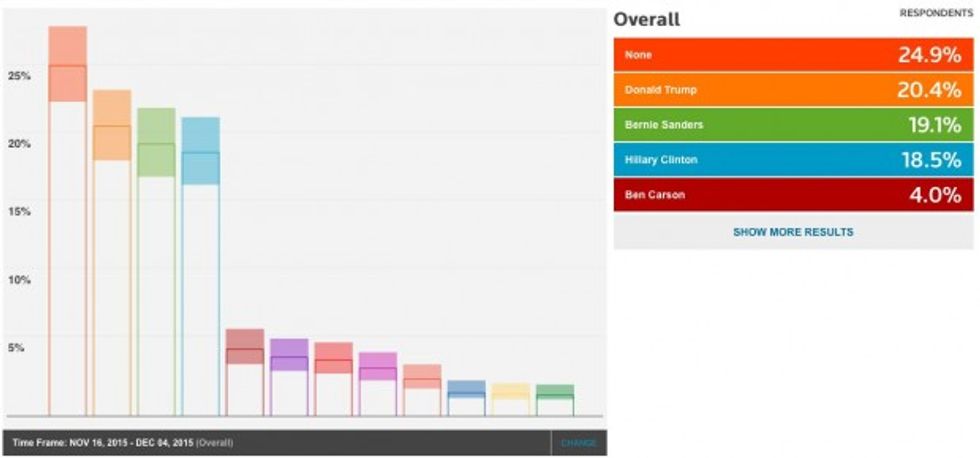 Donald Trump leads Democratic and Republican Candidates on the issue of terrorism. (Reuters, Reuters Rolling Poll)
But, most surprisingly, according to the poll, Donald Trump comes in first with millennials at 20.4 percent. Trump is followed by Bernie Sanders at 19.1 percent, Hillary Clinton at 18.5 percent.
In a separate poll on Reuters during the same time shows millennials have also changed their minds on what they consider the most important issues going into 2016. They choose terrorism as their number one issue at 20 percent, followed by education at 16 percent, unemployment at 12.6 percent, and the economy at 9.7 percent.
This shocking poll not only spells bad news for Hillary Clinton when it comes to the youth vote, which killed her chances at the nomination in 2008, but also for all other Republican primary hopefuls and the Republican establishment.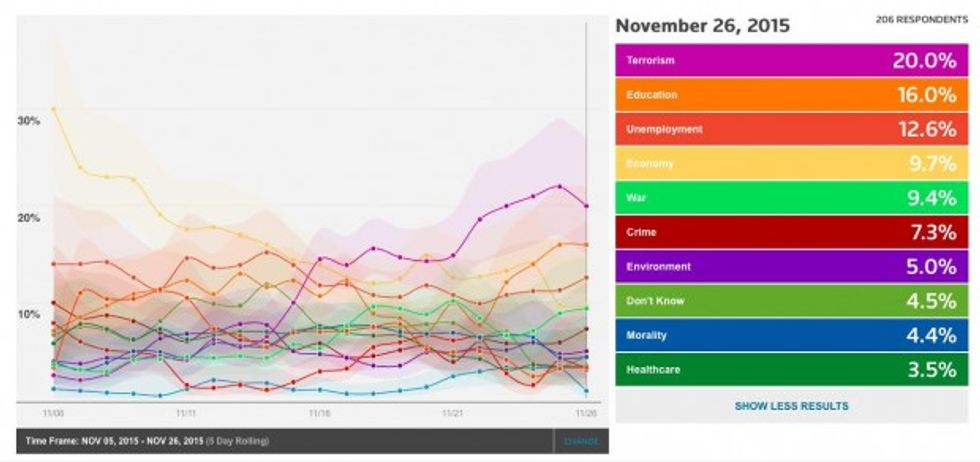 Millennials now choose terrorism as their number issue moving into 2016. (Reuters, Reuters Rolling Poll)
All other Republican primary hopefuls come in far below Hillary Clinton and Bernie Sanders. Dr. Ben Carson comes in at 4 percent, Jeb Bush at 3.4 percent, Marco Rubio at 3.2 percent, Rand Paul 2.6 percent, and Ted Cruz at 1.8 percent.
Republicans, perhaps through the fumbles of President George W. Bush's War on terror, have lost their trustworthiness when it comes to national security and handling terrorism with the millennial generation who were came to age during 9/11 and the most gruesome parts on the wars in Iraq and Afghanistan.
Now, that Donald Trump has stormed into the political lime light, he is soaking up the trust and support from millennials when it comes to these pressing issues.
Donald Trump is continuing to defy political odds by soaring high above his opponents in the polls and by winning and capturing the attention of this very precocious generation. It is still a long road to the Republican nomination and the general election but Donald Trump shows no signs of slowing now and continues to gain support from unlikely groups.
It seems Trump is the asnwer to the youth vote Republicans have been searching for.
Feature Image: AP Photo/Steve Nesiu
–
TheBlaze contributor channel supports an open discourse on a range of views. The opinions expressed in this channel are solely those of each individual author.