As much as the hit show Orange is the New Black grinded on my conservative nerves at times, I couldn't help but get choked up during the Mother's Day scene when children visited their incarcerated mothers and had to leave at the end of the day. What a horrible situation to be in for mothers, their children and their families. Mandatory minimum sentencing for nonviolent drug offenses is harmful for families and it is time that our nation takes a serious look at prison reforms.
According to Families Against Mandatory Minimums, one in every 28 children now has a parent in jail and more than 56 percent of women in federal prison are mothers, many of whom are serving harsh sentences for nonviolent drug offenses.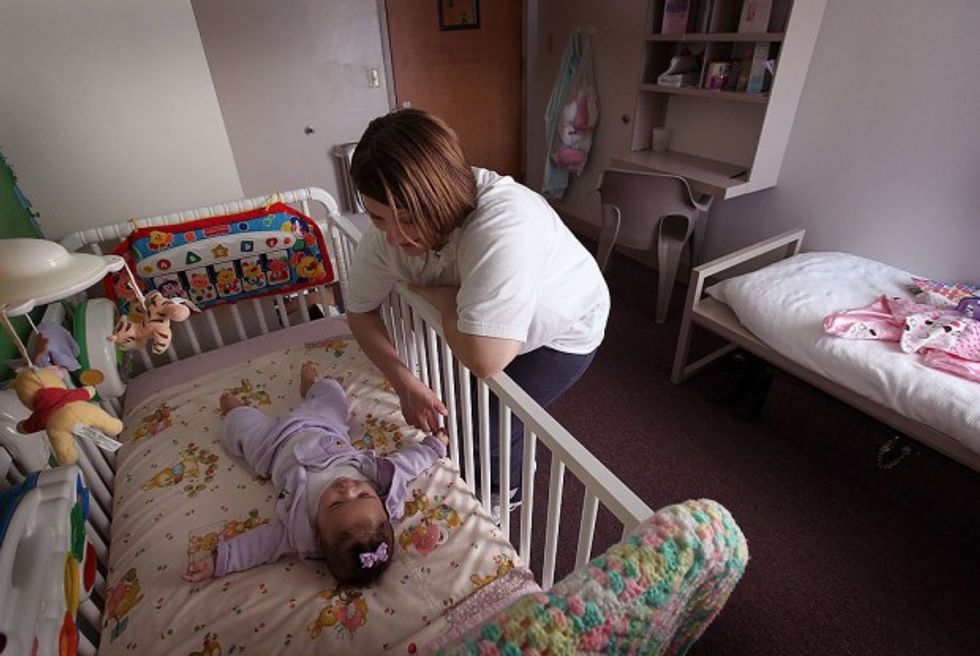 DECATUR, IL - FEBRUARY 18: Brandi Ceci puts her three-month-old daughter Alexis down for a nap in her room at the Decatur Correctional Center February 18, 2011 in Decatur, Illinois. Alexis, who was born while Ceci was serving a 54-month sentence for burglary, lives with her mother at the prison, part of the Moms with Babies program at the minimum security facility. The program allows incarcerated women to keep their newborn babies with them for up to two years while serving their sentence. The program boasts a zero percent recidivism rate compared to the statewide rate of 51.3 percent. (Photo by Scott Olson/Getty Images)
Drugs are bad. They ruin families, they ruin individuals and they impart a huge cost upon society. However, it's not the little guys serving unjust sentences for nonviolent offenses who are the root causes of such division. It's the kingpins and drug lords who need to be serving those sentences and making a jail cell their permanent homes.
Stephanie Nodd was only 23 years old when she was sentenced to 30 years in prison for her nonviolent role in a crack cocaine conspiracy. She had children already and was pregnant with her daughter. She ended up serving 21 years of the sentence after reforms for her particular offense were enacted. Twenty-one years! Not only did her harsh sentence take away Stephanie's role as a mother but it took away the right of her children to have a mom, a mom who knew she did the wrong thing and changed her ways.
Being away from my own children for a couple days is enough to break my heart. Being incarcerated for over 20 years and away from raising them, seeing their first steps, witnessing their graduations, easing their pain – the harshness of that reality is unfathomable.
But would Americans still be safe if we throw out mandatory minimum sentences? Yes. FAMM states that according to one study in Pennsylvania, mandatory minimums don't reduce crimes and Pew Center on the States reports that when 17 states cut their prison populations in the past ten years, every single of those states saw a drop in crime rates.
Families are literally torn apart because of a stupid decision and children are deprived of a parent who is desperately wanting to make amends for their bad choice and step up to the plate and raise their children.
There is no mercy in the criminal justice system for nonviolent offenders like Stephanie. There is no parole and offenders must serve at least 85 percent of their sentence and each year about 60 percent of all drug offenders are sentenced to a mandatory minimum time in jail. Keeping nonviolent prisoners incarcerated isn't cheap either – it's at least $31,000 per year for one prisoner, many times much more than that.
Other options need to be considered, such as leaving more discretion to the judges so that they are able to be flexible in their sentencing depending upon the situation. Probation, rehab, restitution, community service or a combination of any of these would help ensure that families stay together and parents are able to get on the right path while earning money, paying taxes and positively contributing to their communities.
Everyone makes mistakes, some bigger than others, especially under stressful situations. ­­America is a nation of second chances and forgiveness, which should be extended to these mothers serving outrageously long sentences that do not fit the crime.
Kristan Hawkins is president of Students for Life of America.
–
TheBlaze contributor channel supports an open discourse on a range of views. The opinions expressed in this channel are solely those of each individual author.