In a recent interview with BBC Radio, Will Smith stated:
"Yeah, I think it may have been a mistake…we may have gone too far." He went on to say, "Jaden is 100 percent fearless, [and] He will do anything."
In essence, Will Smith was admitting that a hands-off approach to parenting has created an "artist" who doesn't concern himself with the opinions of others. Although to some this might be an acceptable methodology to rearing children, when it comes to engaging rogue states in the international system, this "free-range" approach can have grave consequences.
Not surprising, that is precisely the model the Obama administration has chosen to implement with Iran.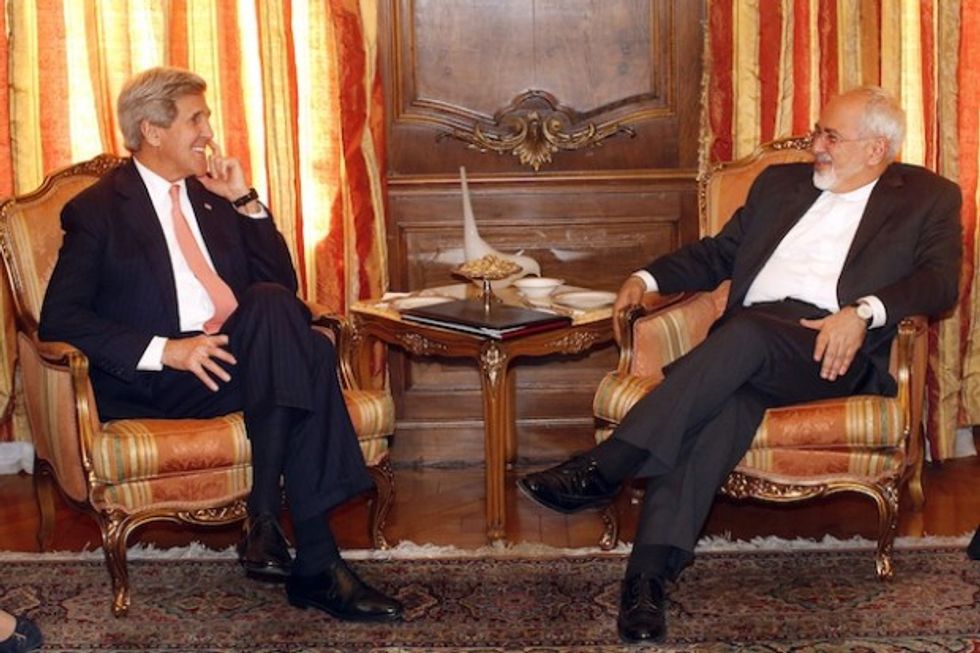 U.S. Secretary of State John Kerry (L) meets with Iranian Foreign Minister Mohammad Javad Zarif at the United Nations April 27, 2015, in New York City. The two were meeting at the opening of a UN conference on a global anti-nuclear weapons treaty, attempting to make progress in talks on a long-term nuclear deal. (Jason DeCrow-Pool/Getty Images)
Since December, Iran has: captured our sailors, launched missiles near our vessels, flown drones over our carriers, released pictures of our sailors held at gunpoint, dressed our female sailor in Islamic garb, videotaped the commander of the sailors apologizing, published photos of a sailor crying, and reenacted the capture and humiliation of our sailors in parade form—all the while chanting death to America and burning our flag.
Now consider how we have responded to these provocations.
Empty rhetoric from the State Department, lifting international sanctions, the release of $50 billion in frozen assets, and released seven Iranian prisoners—so much for tough negotiations. On the contrary, many view the agreement as nothing more than a giant capitulation by the U.S.
But don't worry; President Barack Obama assured us that "if Iran cheats, the world will know."
Really? If Iran has proven one thing throughout this process, it's that they, like Jaden Smith, are 100 percent fearless. Fearless of thumbing their nose at the U.S., fearless of directing hateful rhetoric toward America and its greatest ally in the Middle East, and fearless of the repercussions of violating the nuclear deal.
One of the most astonishing facts of Iran's recent shaming of the U.S. is their blatant attempt to personalize the attack against Obama himself. On the eve of Obama's last State of The Union address, Iran chose to demonstrate to the world its willingness to bite the hand that feeds it. And with the world as his audience, "Obama knows best" decided that no response was the correct course of action. After all, when conducting free-range nation rearing, setting a precedent of cause and effect is detrimental to a state's ability to self-express.
Obama has singlehandedly encouraged the greatest state sponsor of terror to act without fear of reprisals. All of this, consequently, overlooks the proxy war that Iran conducted against the United States in Iraq between 2005 and 2011. How many American service members died as a result of Iranian meddling? The answer to that question is approximately 500, of which EFPs accounted for 196. Let's not breeze over that quickly forgotten fact.
As the blood of our service members is still crying out from the wasteland that is the Middle East, their Commander in Chief is giving into the demands of their killers.
Having sat in negations with village and district elders in Afghanistan, I find it hard to believe that Muslims leaders in Afghanistan are the polar opposite of their Persian counterparts when it comes to esteeming strength in negotiations. Does anyone believe that the Iranian negotiators viewed our willingness to disregard their blatant acts of shaming as anything less than weakness? I think not.
If there is one positive that has resulted from the Iranian nuclear deal, it's that Obama's "leading from behind" strategy has finally been defined. Like Will Smith's parenting, Obama's leadership style is simply severing the reins and letting states define their agendas—irrespective its negative effects. One of which, the Obama administration admits, is Iran's increased ability to further support terrorism.
Sorry little Satan, but it's time for Iran to act uninhibited with their regional affairs.
Here's the reality, a commitment to not lead, empty rhetoric, impotent red-lines, and turning a blind eye to unabashed humiliation is not only the antithesis of traditional American leadership, but it's a template that every actor in the international system would reject, and every foe would take advantage of. Obama's free-range politics has placed America on the sidelines when it comes to influencing areas of the world where we have many vested interests—especially in the realm of security.
–
TheBlaze contributor channel supports an open discourse on a range of views. The opinions expressed in this channel are solely those of each individual author.