We've seen our own blown out of the sky and the landscape of a renowned city changed forever.
We've seen the gruesome beheadings of countless many - caught on tape and revered by what can only be described as pure evil.
We've seen other countries suffer the vengeance of indoctrinated hatred.
We've seen the innocent fleeing from homes they once knew and loved.
We've seen the culling of our people with one reason in mind - one agenda...to kill.
And we've seen a president whose actions have done little to convince the majority of this nation that they aren't next. Is it a wonder that Chris Kyle has been marked as such a hero or "American Sniper," such a success?
Former Navy SEAL and author of the book "American Sniper" Chris Kyle was shot dead Saturday, Feb. 2, 2013. (AP) 
Chris Kyle makes sense to a nation fraught with fear and rage. His actions displayed in "American Sniper" make sense and evidence a type of leadership the United States is desperately crying out for - hence, the public's strong reaction to this movie as well as the vehement backlash from certain Muslim leaders intent on protecting and expanding a long history of plotting and planning to kill Americans and everyone else that doesn't "sign-on" to their hate-filled, oppressive beliefs and lifestyle.
And with the perfect president in place to help them do so - for reasons no one in his care can seemingly understand - these Muslim leaders will use everything their twisted minds can come up with to strengthen their resolve and meet their agenda as aggressively and swiftly as possible.
This includes whitewashing their own actions as well as the actions of the leaders charged with defending the United States against the unwanted reality posed by the only real Islam most Americans truly understand, unfortunately, of which Muslim leaders like Ayatollah Ali Khamenei alongside a myriad of terrorist acts have given definition to all by themselves as oppose to movies like "American Sniper."
To hear Suzanne Barakat, the sister of Deah Barakat, one of the victims of the Chapel Hill shooting claim otherwise is almost laughable but for the sad state of affairs her grief is founded upon. She too is a victim not unlike Michael Foley is or numerous others, most of whom remain nameless but not overlooked.
Whereas, our weak president is nary a threat to these murderous religious factions and the Muslim leaders that lead them, Chris Kyle and "American Sniper" signifies quite the opposite as both the man and the movie represent the rearing of a backbone by the American people in replacement of the one we only wish President Barack Obama had.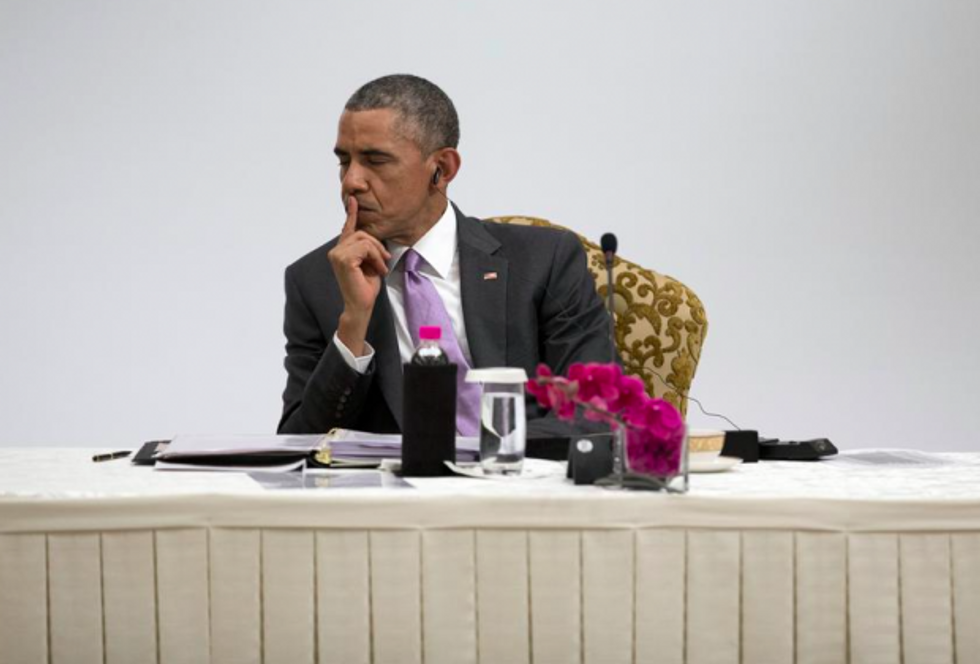 (AP Photo/Carolyn Kaster) 
It's that backbone that creates a problem for the Pied Pipers and hatchet men of the Muslim community as it represents a fight where one was purposefully, historically, steadily, and cunningly being eliminated. Thus, calling this representation "hateful propaganda by the American people towards Muslims" is a clever way to turn that fight against the very people who refuse to hand over their nation and people so willingly, even those less than deserved.
This isn't to say that there won't be some among us who react in ways that may cause us to be less than proud. Rationale can get lost in the heat of the moment by human beings and we are definitely living "in the heat of the moment" at present. But my confidence lies in the belief that the number of those incidents will pale in comparison to the number of lives Islamic State are taking in more horrific acts daily.
Given perfect circumstances were in play here, folks, this would be a non-issue, but there is nothing perfect about the animals we are dealing with nor the distressing fates of the good Muslims who will become caught in the lair of the bad. It's a reality our military (which included Chris Kyle) has come to know well...one whose viciousness continues to escalate in familiarity, loudness and cruelty to the rest of us as these Muslim factions persist in their actions to convert those who merely want to be left alone to live peacefully and happily.
Certainly, the hailing of "American Sniper" by our nation is no different than that which President Obama received with the announcement of the assassination of Osama bin Laden.
That said, I am equally certain that the response by the Muslim dogs reeked of propaganda, unjustness, and anti-Muslim, anti-religious claims. Had President Obama continued to show the fortitude, strength, and courage he did in that one act, the question of the influence of "American Sniper" over the American people would have come and gone by now. It is only because our nation feels so abandoned by their president that this movie has become such a focal point. It's a sign of the times, my friend, and the drastic circumstances that underscore those times.
Suffice-it-to say, "American Sniper" is as much a case of anti-Muslin propaganda as that little puppy was in the Budweiser commercial shown first during the Superbowl. What it may be, however, is an indication of the characteristics Americans will be looking for in our next president and with good reason. Unlike what our current president and his ludicrous administration believe, the United States can no longer stand idly by and watch the wolf move through our door with the intent of devouring every last one of us. This next president needs to be as adept in his restraint and destruction of these Muslim factions as Chris Kyle was with his gun.
–
TheBlaze contributor channel supports an open discourse on a range of views. The opinions expressed in this channel are solely those of each individual author.