After a decade of intense negotiations, the United States and 11 other nations, including Australia, Canada, Japan, Singapore, and Vietnam, reached a tentative trade deal on October 5 in Atlanta.
Known as the Trans-Pacific Partnership (TPP), the trade agreement, if approved by member nations, would be one of the most significant trade deals in world history, with nearly 40 percent of the world's gross domestic product represented among the 12 nations involved in the talks.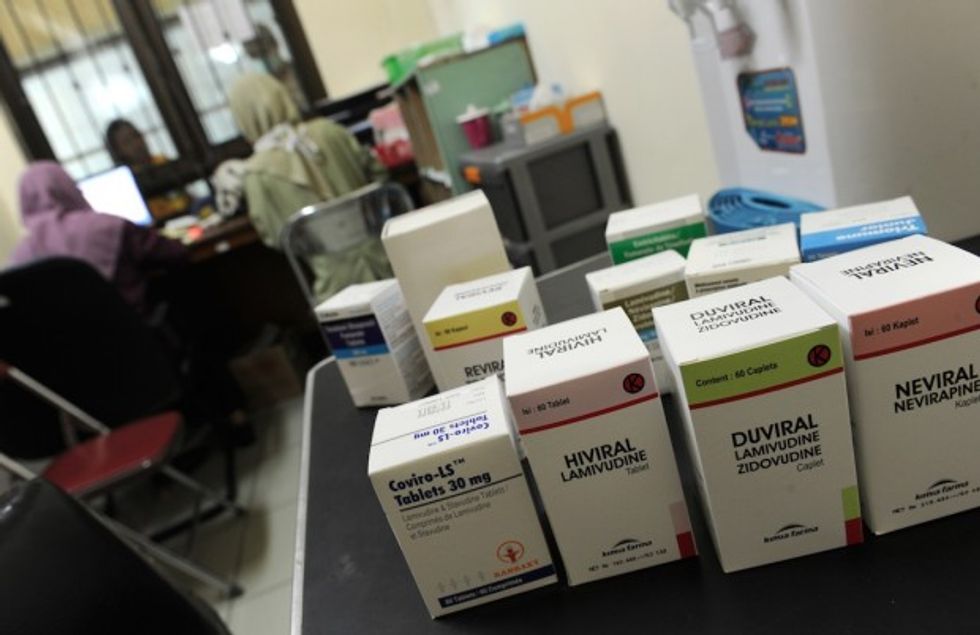 Pharmacists prepare to dispense free anti-retroviral drugs to HIV patients at the HIV integrated care unit of Cipto Mangunkusumo government hospital in Jakarta on November 30, 2012 as Indonesia battles HIV/AIDS.  ROMEO GACAD/AFP/Getty Images)
Some have hailed the TPP as a groundbreaking and innovative free-market advancement, while others, such as the powerful U.S. labor union AFL-CIO, have said TPP will only benefit wealthy business owners and big corporations.
One of the most contentious aspects of the agreement that has drawn criticism from both big businesses and the advocacy groups who normally oppose them, is a provision that would allow pharmaceutical companies to receive at least five years of information exclusivity before having to share key data about their new drugs with competitors. Competitors will be prevented under the agreement from producing identical drugs prior to the expiration of pharmaceutical patents, which can often last for 20 years or longer, but they will be able to use data to produce imitations of their products, also called "biosimilars," which could then be sold at much lower prices.
In the United States, pharmaceutical companies are guaranteed to have 12 years before having to turn over their data, but reports indicate many TPP member nations said they would refuse to sign a trade agreement that gave such significant protections to drug manufacturers.
Drugmakers say TPP would greatly hinder their ability to earn necessary profits from new and innovative drugs. Without data protections, competitors will be able to create imitations more quickly, reducing pharmaceutical companies' incentive to produce new drugs, which are incredibly costly to develop. According to a study by Tufts University, it costs about $2.6 billion to bring a brand new drug to the marketplace, and nine in 10 drugs fail the human trials phase of development, according to a report by Healthline.
Although TPP would open up new markets for pharmaceutical companies and provide some additional protections, many drugmakers say the failure to provide at least 12 years of data protection could increase costs for new drugs prior to data protections running out.
Jim Greenwood, the CEO of lobbying group Biotechnology Industry Organization, said, "The Congress set 12 years as the appropriate period to both foster innovation and provide access to biosimilars in a reasonable timeframe. While the TPP agreement will not impact the U.S. data protection period, we believe the failure of our Asian-Pacific partners to agree to a similar length of protection is remarkably short-sighted and has the potential to chill global investment and slow development of new breakthrough treatments for suffering patients."
Global health advocates have also expressed serious concern about TPP, although for completely different reasons. Many drugmakers may be unhappy with TPP's data protection agreement, but in some nations, pharmaceutical companies will now enjoy much greater protections for their new and innovative products compared to existing laws. This will almost certainly raise drug costs in myriad developing countries in the region, and it could possibly result in treatment reduction.
(Photo: Justin Sullivan/Getty Images)
Doctors Without Borders, one of the world's leading global health organizations, said in a statement, "TPP will ... go down in history as the worst trade agreement for access to medicines in developing countries," and "the additional monopoly protection provided for biologic drugs will be a new regime for all TPP developing countries. These countries will pay a heavy price in the decades to come that will be measured in the impact it has on patients."
The fact that two groups—gigantic pharmaceutical companies and global health advocacy organizations—are both opposed to TPP shows just how complex free-trade agreements can be. When agreements are negotiated between nations with similar levels of poverty and economic development, or when agreements are reached between parties who have specific products or services both parties can benefit from trading, free-trade works.
However, when free-trade accords involving thousands of regulations, tariffs, and stipulations occur between nations with wildly different levels of wealth, the unintended consequences can be dangerous, and in this case, potentially deadly.
Justin Haskins is a pro-liberty writer and editor of The Heartland Institute. Follow him @TheNewRevere.
–
TheBlaze contributor channel supports an open discourse on a range of views. The opinions expressed in this channel are solely those of each individual author.