On the night of Sept. 11, 2011, three men were brutally murdered in Waltham, Massachusetts -- their throats slashed and bodies covered in marijuana.
Despite the gruesome nature of the crime, which one investigator described as "the worst bloodbath" he had ever seen, the national media would have never reported on this story, let alone identified the Jewish religion of at least two of the slain, had Tamerlan Tsarnaev, a Muslim and close friend of the third victim, not carried out the Boston bombing.
In fact, in spite of Tsarnaev's ties to the victims of these yet unsolved murders, to this day articles almost specifically de-emphasize the date of the crime, the fact that as the same investigator described it, the victims' wounds were akin to those of "an Al-Qaeda training video," and the religion of the slain.
Contrast this story with the horrific news that three Muslims were murdered execution style in Chapel Hill, North Carolina.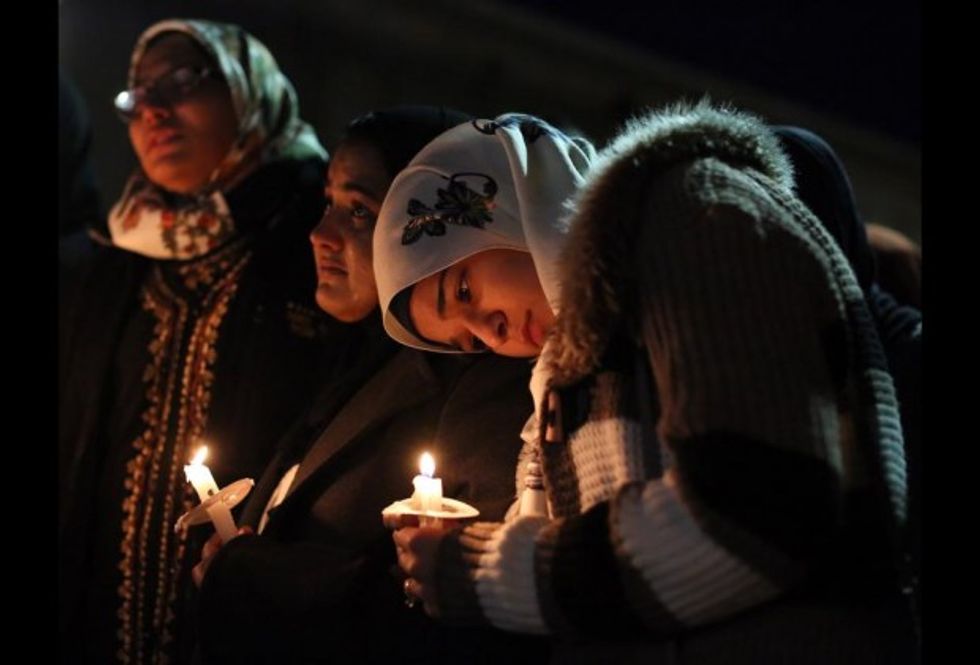 Suzanne Askar, right, rests her head on the shoulder of Safam Mahate, a student at North Carolina State University, as they stand next to Nida Allam, far left, during a vigil for three people who were killed at a condominium near UNC-Chapel Hill, Wednesday, Feb. 11, 2015, in Chapel Hill, N.C. Craig Stephen Hicks appeared in court on charges of first-degree murder in the Tuesday deaths of Deah Shaddy Barakat, his wife Yusor Mohammad and her sister Razan Mohammad Abu-Salha. (AP Photo/The News & Observer, Al Drago)
Unlike in the Waltham triple homicide, this story was explicitly reported as I just laid it out – a man killed three Muslims – a man, mind you, who many reports neglected to note is a militantly anti-religious atheistprogressive.
In spite of the fact that stories ran across practically every major publication, with articles from The New York Times to The Wall Street Journal referring to a triple murder of Muslims, social media exploded, with individuals appalled that the crime was somehow being ignored.
The #MuslimLivesMatter hashtag, adopted from the #blacklivesmatter hashtag created in the wake of the Michael Brown and Eric Garner cases went viral, signaling presumably that people believe atrocities are being carried out against Muslims en masse.
The juxtaposition of these two stories is instructive when it comes to today's media.
While we might excuse the media in the case of the Waltham homicide for originally ignoring the date, nature of murder and religious identity of the victims, given their involvement with marijuana and law enforcement's original public hypothesis that the murder was drug related, it is telling that these facts continue to be largely ignored in coverage of the murders.
Conversely, in the case of the Chapel Hill murders, religion was explicitly injected into the story from the start, leading many readers naturally to ascribe an anti-Muslim motive to the triple homicide. Meanwhile, local police believe the murders stemmed from an altercation over a parking space.
It is ironic that in the wake of President Barack Obama's remarks about a "random" attack by a Muslim terrorist on a Kosher supermarket -- note that the White House will not call it a jihadist attack on Jews -- in the case of the victims in North Carolina, again from the start they were identified as Muslims. Randomness is clearly in the eye of the beholder.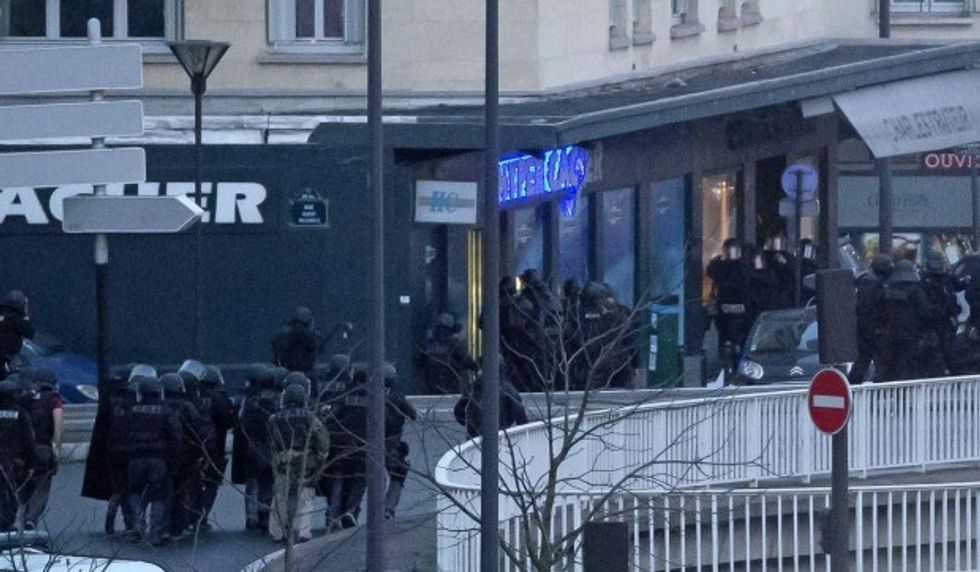 French police officers storm a kosher grocery to end a hostage situation, Paris, Friday, Jan. 9, 2015. Explosions and gunshots were heard as police forces stormed a kosher grocery in Paris where a gunman was holding at least five people hostage. (AP Photo/Michel Euler)
In any event, can you think of another case where the media identified the victim(s) by religion?
Can you think of another case where the media identified the victimizer(s) by religion?
In recent instances of Muslim crimes against non-Muslims, whether an axe attack on New York Police Department officers in New York, a beheading in Oklahoma, or the systemicrape and abuse in Rotherham, almost universally the media initially and often ultimately excludes details about the Muslim identity of the attackers.
Instead we are left with euphemisms for the perpetrators, such as that they are "North African" or "Asian."
In the case of the Middle East, where Western media reports are notoriously anti-Zionist and anti-Jewish, we get stories about Israelis killing two Arabs in a mosque, only later to include the minor detail that these two Arab terrorists were killed in an act of self defense, and then only after they terrorists had murdered five Jews in a synagogue.
One case among all others perhaps best illustrates the media's unwillingness to put truth above narrative. In one of the most egregious and egregiously neglected stories of all, as we reported last year, Anders Breivik -- the Nordic terrorist responsible for killing 77 people and injuring 319 more in a July 2011 rampage in Sweden -- by his own admission committed a false-flag attack meant to discredit the counterjihadists and Zionists with whom he claimed allegiance. To this day, almost no others outlets have reported on this.
While journalists should not be selecting and/or framing stories to fit their own worldview to begin with, it would be one thing if these narratives had some basis in fact. But frequently, the evidence directly contradicts the story that the media would like to paint.
In America, according to the most recently available FBI hate crime statistics, it is Jews, not Muslims, who are the most discriminated against of all religious minorities, disproportionately targeted in a staggering 60 percent of all religion-based hate crimes, a rate four times as high as that of Muslims.
In Europe, the Jewish population has continued to plummet precipitously, with Jews from France to Great Britain leaving as anti-Semitism and Islamic supremacism have increased, sentiments that are inherently interrelated.
In Israel, it suffices to say that were its enemies to lay down its arms tomorrow, there would be peace; if Israel were to lay down its arms tomorrow, it would be blown to pieces.
Keen watchers of the media will note that a similar pattern of narrative-setting in reporting occurs in the coverage, or lack thereof, of black-on-white or black-on-black versus white-on-black crimes, and/or cop-on-civilian versus civilian-on-cop killings.
To adopt an Orwell saying, when it comes to the media, some victim(s)/victimizer(s) are more equal than others.
Identity matters only insofar as it serves a political narrative.
These journalistic sins of omission and commission, used to craft a political message, are antithetical to the truth-seeking purpose of the profession.
With the special rights and protections granted to the press comes an obligation to soberly and objectively inform the citizenry.
Today in America, and throughout the West, this obligation is being disgracefully dishonored.
–
TheBlaze contributor channel supports an open discourse on a range of views. The opinions expressed in this channel are solely those of each individual author.