The collapse in oil prices may seem a panacea for the middle class, but sub $40 oil means millions in losses to investors who bought master limited partnerships (MLP'S) that invest in oil and gas production, delivery and distribution. With the precipitous drop in oil prices, investors are now unhappily discovering that these investments are anything but safe.
How do you tell if an investment is safe?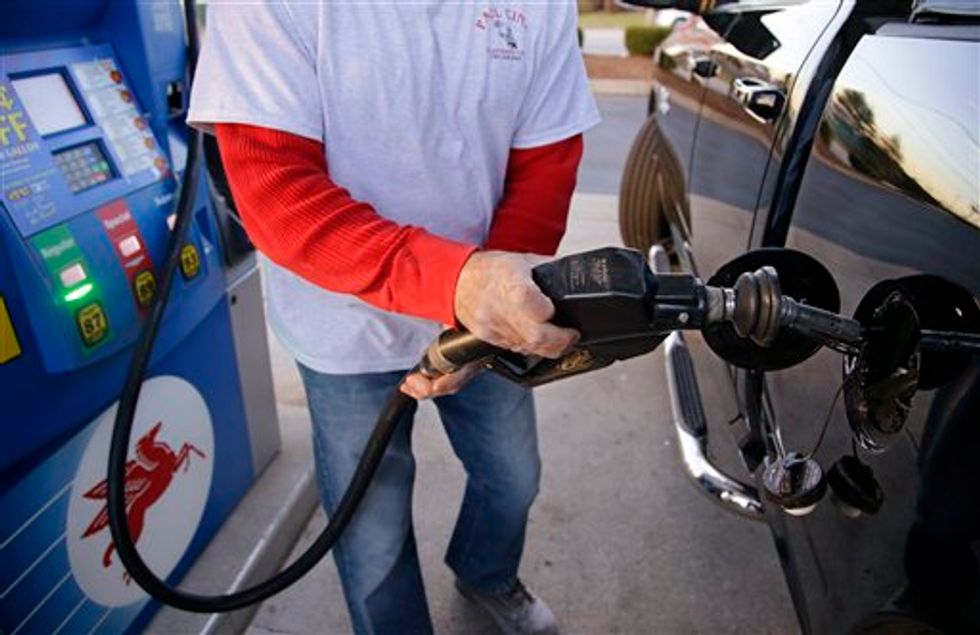 A customers prepares to pump gas on Monday, Dec. 7, 2015, at a gas station in Pembroke, Mass. The price of a barrel of oil fell Monday to a nearly seven-year low. With OPEC's decision to keep pumping at current levels, analysts expect oil to remain relatively cheap well into 2016 and maybe longer. (AP Photo/Stephan Savoia)
I use a very simple device to try to assess risk - the 10-year treasury note rate. Today a 10-year treasury note yields about 2.23 percent. If a stockbroker or financial advisor suggests investing in a MLP yielding 8 percent or higher, then it is obviously significantly more risky than a virtually risk free treasury note. How much riskier? The greater the spread between the treasury note and the proposed investment, the greater the risk.
Stockbrokers and investment advisors have gone out on the risk curve in order to find income for their clients. Unfortunately, these supposed experts either don't understand what they are selling, or even worse, they are hawking high risk investments as safe ways to procure much needed income in a low yield environment.
Tens of thousands of investors have flocked to the enticing yields offered by these master limited partnerships, many of which have collapsed in recent days.
This week investors are in for a big surprise when they open their monthly statements. They will find that many of their supposed safe investments are down by more than 50 percent. And this is with oil around $40 a barrel. What do you think will happen if oil goes down into the low $30's or even worse the low $20's? 50 percent losses today will turn into 75 percent or 90 percent losses tomorrow.
Investors are going to learn the hard and important lesson that risk and return go hand in hand. It is impossible to achieve a high return in a low interest rate environment without exposing yourself to high risk. No doubt, your friendly stockbroker or financial advisor didn't advise you about this basic formula.
Stockbrokers are required to know their customer and to know the products they are selling to their clients. If a stockbroker doesn't understand the risk of an investment they are recommending, they can be held accountable for making an unsuitable investment recommendation. If they knowingly promote a high risk investment as safe, they are committing securities fraud.
If you have suffered losses from either bad advice (unsuitable recommendation) or misrepresentation (securities fraud) you can pursue your losses in arbitration before the Financial Industry Regulatory Authority (FINRA). FINRA has posted information on its website (FINRA.org) about arbitration, its rules and procedures. You can also go to the Securities and Exchange Commission for information about securities fraud at sec.org.
If you are considering pursuing a claim against a stockbroker, I would strongly advise seeking help from an attorney who is an expert in FINRA proceedings. I can promise you that the brokerage company will hire a securities expert to defend them. Also, the FINRA rules, procedures and regulations make FINRA arbitration far different from a court of law. Lastly, don't wait too long to pursue your claim because there are strict time limits in which you must file your claim or be forever barred from recovery.
John Lawrence Allen, a nationally recognized legal expert, represents investors nationwide in securities arbitration. Mr. Allen's second book, "Make Wall Street Pay You Back," was just released. For more information visit www.MakeWallStreetPayYouBack.com.
–
TheBlaze contributor channel supports an open discourse on a range of views. The opinions expressed in this channel are solely those of each individual author.