At the start of his presidential campaign in April, Sen. Ted Cruz (R-Texas) was raking in millions of dollars in campaign contributions and appeared to be the favorite candidate of choice for many conservatives. Long before Donald Trump stole the spotlight, Cruz was drawing more praise and contempt (depending on who you spoke to at the time) from Republicans and the media for his unwavering commitment to traditional conservative values and the Constitution.
It was an exciting time for many of his supporters, but in my mind, I thought the huge wave of support for Cruz was a death sentence for the conservative movement in the 2016 general election. As all of the polling indicated at the time, Cruz was expected to do poorly against Hillary Clinton in a head-to-head matchup, and while I have always greatly respected Cruz, I didn't (and still don't) want a Republican presidential nominee who can't win in November 2016.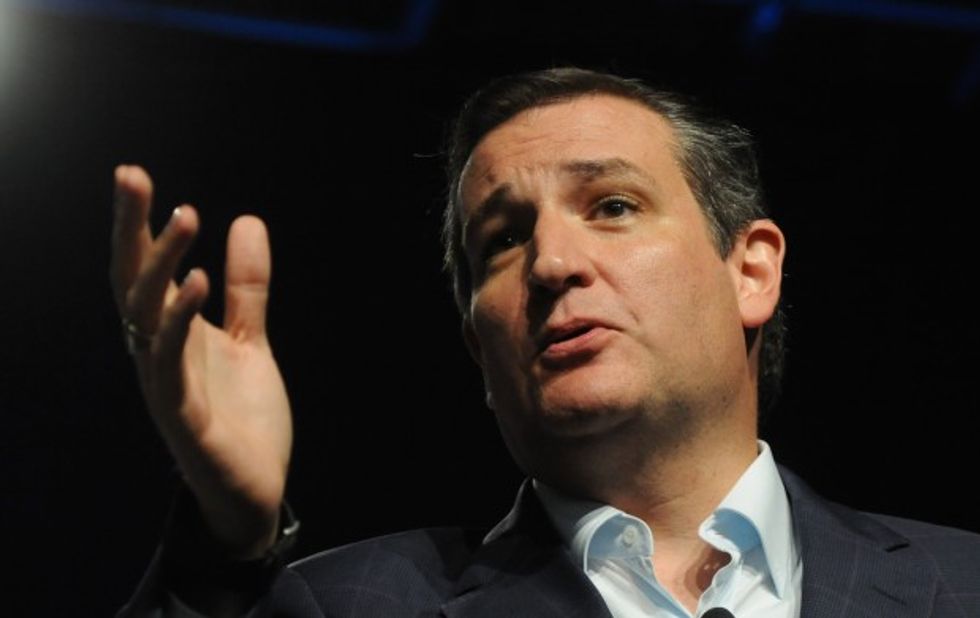 (Steve Pope/Getty Images)
So, as I became convinced someone had to talk some sense into the well-intentioned but delusional conservative masses, I penned a reasonable critical assessment of Cruz' chances against Clinton in the general election, warning Cruz supporters that he probably couldn't beat Clinton and that any money given to his campaign would likely be wasted. The article was published by Breitbart in April and thousands of people weighed in (mostly to tell me I was wrong).
Since April, a lot has changed in the race.
Ben Carson and Trump have garnered far more support than many thought they would; we've had numerous presidential debates in which Cruz performed masterfully; socialist Sen. Bernie Sanders (I-Vt.) emerged briefly as a legitimate threat to Clinton's dominance; and Jeb Bush's campaign has (thankfully) become nearly irrelevant.
More important than all of that, however, has been Clinton's handling of the Benghazi tragedy. I've been following that story since the very beginning and always knew it presented a threat to her chances of capturing the presidency, but my view was that because the American public had essentially seemed disinterested in that tragedy and because the media appeared to be covering for Clinton and President Barack Obama, I felt like Benghazi wouldn't have much of an effect on the general election in 2016.
Although there is still a lot of time remaining between now and Election Day, all of the evidence now suggests Benghazi will play a significant role next November, and with the right candidate in place, conservative Republicans have a great chance of capturing the White House for the first time since Ronald Reagan left in 1989.
Although many in the liberal mainstream media seemed to declare Clinton's October hearings on Benghazi a big political victory for her, most of us who have followed the controversy from the beginning know her testimony revealed some very important details—the most important of which being the revelation Clinton told her daughter Chelsea the assault was a terrorist attack just before telling the public a YouTube video was to blame for the supposedly spontaneous event. Clinton's story about the YouTube video was used for two weeks by the Obama administration to shield itself from what could have a disastrous turn of events just weeks before the 2012 election. It's clear now, beyond any reasonable doubt, Clinton knew it was likely a terrorist attack but told the American people and the families of the victims a radically different story.
The media—as expected—came to Clinton's rescue during and after the Benghazi congressional hearings in October, and Clinton admittedly did a very nice job (from a political perspective) handling the day-long questioning. Clinton's camp also successfully convinced many Americans the hearings were politically motivated. According to a NBC News/Wall Street Journal poll, more than one-third surveyed said the hearings were too partisan.
However, despite Clinton's best efforts, her testimony and her Benghazi lies will absolutely play an important role in 2016. Even after all of the media spin, 47 percent of respondents in the same poll indicated the possibility of a cover-up would play an important role when making a decision of who to vote for, and 40 percent of independents said they were not satisfied with Clinton's explanations at the hearing.
While those may not seem like earth-shattering numbers, they are. When the general election actually gets underway in the summer, millions of people who are currently considering voting for Clinton will be barraged with one campaign commercial after another about Clinton's cover up, and family members of the Benghazi victims will almost certainly get involved in support of the Republican candidate. The media blitz that is certain to come will make the John Kerry-Swift Boat disaster look like a political nullity.
In August 2015, Quinnipiac released a survey indicating "liar" was the term most-often used to describe Clinton, but by August 2016, I'm willing to bet the results will be significantly worse.
Yes, many independents today feel that the Benghazi investigation has been politically motivated (although not as many as the media often suggests), but when faced with commercial after commercial of family members demanding answers, they won't care anymore what Republicans did or didn't do in a hearing a year earlier; all the focus will be on Clinton and whether or not she lied to the American people.
The reason I thought Cruz would lose to Clinton was based on the damage that had been done unfairly to his reputation by the liberal establishment media, and polling today still suggests candidates such as Carson and Sen. Marco Rubio (R-Fla.) would have a better chance in a head-to-head race. But, given the current state of the race and what's likely to occur in the future, I have to admit that what I said before about Cruz was wrong. He can win against Clinton. In fact, he may have a better chance than others currently polling against him because I don't think any of the other candidates could handle Clinton (especially on Benghazi) in a debate as well as Cruz can.
Of course, Cruz can only beat Hillary Clinton if he wins the Republican nomination, and at the moment, it's not clear how likely that possibility is.
–
TheBlaze contributor channel supports an open discourse on a range of views. The opinions expressed in this channel are solely those of each individual author.