Released by the Center for Medical Progress, the first two video interviews with Planned Parenthood doctors expose the truth that Planned Parenthood sells baby organs, even while the organization perpetuates the lie it's all just tissue, exchanged for insignificant donations.
"Crushing" babies is not the same (to them) as murder, though the results are identical. Consider the alternative: They are not trying to save the baby's life by crushing its head. They argue the baby is not "alive." They argue that it's not a baby, but that it is tissue (comprised of marketable baby organs, limbs and heads, also known as calvariae or skullcaps, which are for sale - ahem - exchanged for donations that do not profit Planned Parenthood in any way, except monetarily.) And selling them is not against the law that forbids the sale of human body parts because…
In this post-feminist age, truth can be manipulated by choosing words whose meanings better suit the emotions (read greed) of the user.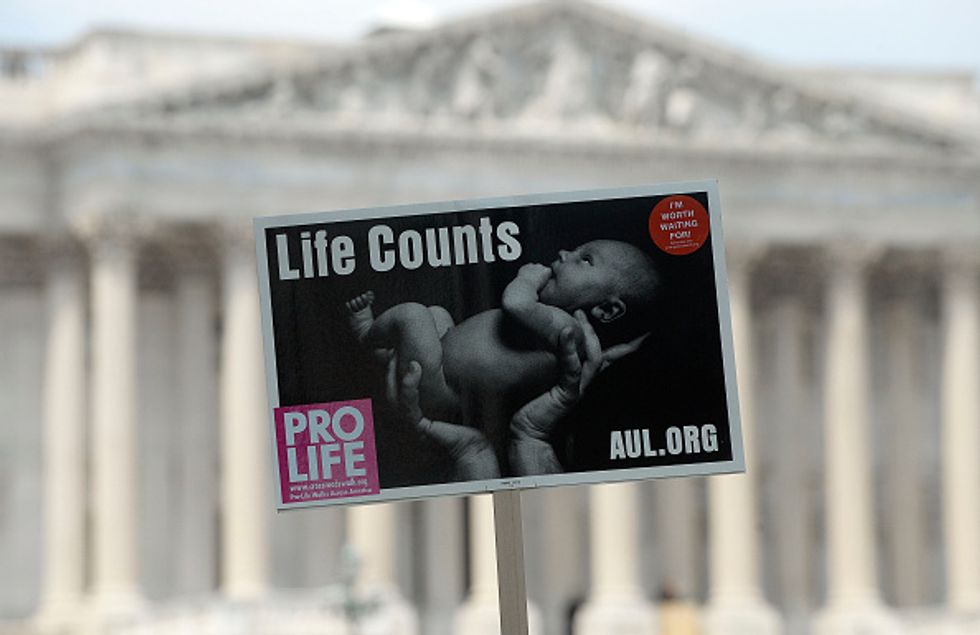 Anti-abortion activists hold a rally opposing federal funding for Planned Parenthood in front of the U.S. Capitol July 28, 2015 in Washington, DC. (Olivier Douliery/Getty Images)
And emotions (and greed) are running high, although common sense seems to be at an all-time low.
It's the third video in this series, released on July 28, that shows the depth of depravity that we call Planned Parenthood. The truth is they should be named Planned Dismemberment.
Here's an idea: Since the truth is so "undesirable," let's abort it.
[sharequote align="center"]Since the truth is so "undesirable," let's abort it.[/sharequote]
Some try to destroy the truth by crushing it. California Attorney General Kamala Harris plans to investigate whether the filmmakers broke any laws during the making of their videos. Ignore the tiny little hands floating around the petri dish during the "procurement" phase of the "abortion."
Some try to kill truth head-first. Hillary Clinton quickly denounced the video footage as an attack on female reproductive rights. She and all Democrats support "a woman's right to choose" until the baby leaves the hospital, although she noted that the tone of Planned Parenthood's staff was insensitive. Clinton also called abortions "...the most personal, difficult decisions that any woman would face..." Why, difficult, if it's just useless tissue?
There are also "less crunchy" methods to extinguishing the truth. A bill on the Senate floor calls for suspending Planned Parenthood's funding for only a year, pending further investigation.
Father Frank Pavone of Priests For Life says, "In the light of what they do to kill children and sell their parts, it is clearly immoral to give any support or transact any business with Planned Parenthood."
Morality is so last century, isn't it? And while morality sinks, mortalities rise. Dr. Mary Gatter coldly pronounced, "I want a Lamborghini," as she haggled over the price of fetal organs - er - tissue. In this third video, a pronouncement of "five stars!" is given for intact kidneys which are deemed, "good to go." Of course, to be sold, it can't be just tissue - it must be an intact organ. And organs are part of living things. That's why they "crush above" and "crush below." Oh, the life-and-death semantics!
"I want to be really clear," Cecile Richards, President of Planned Parenthood stated in a video response to the initial leaked video. "The allegation that Planned Parenthood profits in any way from tissue donation is not true."
She won't deny the selling of body parts, and profit is in the eye of the beholder. Planned Parenthood is a "non-profit," therefore no money they take in can be termed profit - it's in the definition. Just like nothing they abort can be termed a baby, even if it has complete baby-parts, like a calvarium, or skull.
As Holly O'Donnell, ex-procurement technician, recounts about her training, when she was asked to identify body-parts in the glass pie plate for her trainer, "The moment I took the tweezers, I put them in the dish... I remember grabbing the leg, and I said, 'This is a leg,' and the moment I picked it up I could just feel, like, death and pain, like, I've never felt that before, like, shoot up through my body, and I started to bl-, I blacked out, basically..."
The truth hurts. And, as the nurse explained to Ms. O'Donnell, "Some of us don't ever get over it." Some of us simply cannot abort the truth, can't chop it into little pieces until it is unrecognizeable, and then sell if for a profit.
Because the truth is eternal: At Planned Parenthood, dead babies equals dollars.
–
TheBlaze contributor channel supports an open discourse on a range of views. The opinions expressed in this channel are solely those of each individual author.