Desperation breeds the kind of logic that warrants double takes – did they really just say that?
Planned Parenthood, under extreme scrutiny for appearing to chop up and sell the body parts of aborted babies in undercover videos, has been on a mission to save their image, which has led to lots of questionable tactics and illogical statements – more than usual for the nation's largest abortion giant.
But they deserve every single bit of scrutiny that has come their way, and a giant pink bus is about to shower them with even more unwanted attention as it embarks on a cross-country tour to shed light on their unsavory business practices and lets Americans, and in particular Planned Parenthood's own clientele, know that the abortion giant has made it their daily goal to betray as many women as possible.
Planned Parenthood recently tweeted:
Every child deserves the opportunity to live up to their God given potential. @HillaryClinton #blacklivesmatter

— Planned Parenthood (@PPact) November 15, 2015
Pardon the expression but what are they smoking?
They end the lives of 897 innocent children every, single day. They are the nation's largest abortion provider. They have abortion quotas. They admitted taking money for baby body parts. Hillary Clinton is one of their biggest supporters, a pro-abortion politician who believes it is totally fine to take the life of a preborn baby until the "very end of the…third trimester."
Cecile Richards, the president of Planned Parenthood, testified in front of Congress not long ago about those horrible undercover videos. She admitted that 86 percent of non-government revenue comes from abortions.
And finally, she admitted that her organization does zero mammograms. Zero. This was after she, and a host of other Planned Parenthood supporters, repeated the lie over and over again that women were going to have their essential services, like mammograms, taken away if Planned Parenthood is defunded. Illogical at best. Insane at worst.
Then Planned Parenthood announced that they are going to spend upwards of $20 million during the 2016 election cycle to elect politicians who will be their puppets. Oops, who will be in "our corner."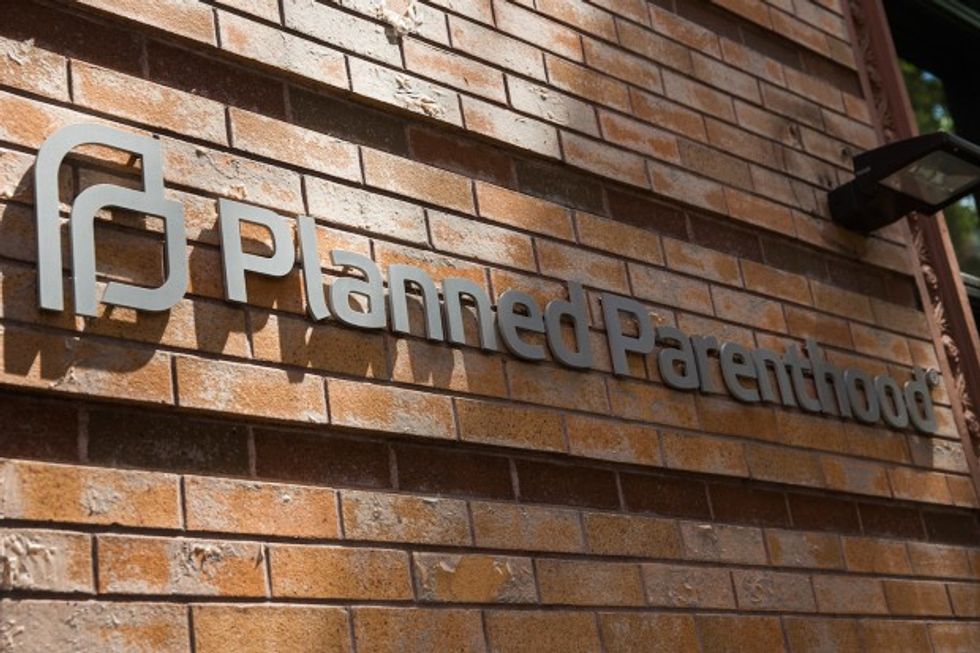 A Planned Parenthood location is seen on August 5, 2015 in New York City.  (Photo by Andrew Burton/Getty Images)
Cecile whines that "Extremists made the 2016 election about attacking reproductive rights." Is she talking about herself? One poll showed that 84 percent of Americans want restrictions on abortion after the first trimester and a majority of Americans support the 20-week abortion ban, which would indicate that it is the position of Planned Parenthood that is extreme.
The U.S. Supreme Court will be hearing parts of the controversial law in Texas. Remember? This is the one where late-term abortion promoter Wendy Davis filibustered in her pink sneakers the bill that would have *gasp* regulated abortion facilities to the meet the same standards as other medical facilities and required abortionists to have admitting privileges at nearby hospitals in cases of emergency.
Planned Parenthood would have none of that.
Make abortion facilities safer for women? Heck no. Force abortionists to adhere to the same standards as doctors at other outpatient facilities? Cecile made sure to gather her finest supporters in Austin to protest that bill, you know, the ones that screamed "Hail Satan." Yup, those. Extreme, no?
Planned Parenthood and other abortion providers are furious over this particular law because it closed so many of their profitable clinics. In fact, they would rather close their abortion facilities than widen their hallways, as mandated by law, to allow emergency personnel to get to a woman whose abortion went south. In fact, this happened at Kermit Gosnell's "house of horrors'"in Philadelphia. Karnamaya Mongar died at Gosnell's hands because paramedics couldn't get the stretcher through the narrow hallways.
As a woman, Cecile Richards should be advocating for her fellow women, supporting everything she can to make their healthcare safer. Yet she betrays women, and their preborn children, on a daily basis. Planned Parenthood is nothing more than a greedy organization, hell bent on selling out women, and allegedly the body parts of their children, to the highest bidder.
This is an organization that needs to be defunded of all taxpayer dollars, criminally investigated, and hopefully prosecuted to the fullest extent of the law.
Students for Life of America is taking a giant pink bus across this great nation – to many of the states that have been in the crosshairs of controversial legislation that is now going to be heard at the U.S. Supreme Court - and outing Planned Parenthood for the hypocritical extremists that they are. Learn more about the bus tour at www.womenbetrayed.com.
Kristan Hawkins is president of Students for Life of America.
–
TheBlaze contributor channel supports an open discourse on a range of views. The opinions expressed in this channel are solely those of each individual author.