The Republican Party in Oklahoma recently published a Facebook post that offended a lot of people and eventually prompted an apology.
The post read:
"The Food Stamp Program, administered by the U.S. Department of Agriculture, is proud to be distributing this year the greatest amount of free Meals and Food Stamps ever, to 46 million people. Meanwhile, the National Park Service, administered by the U.S. Department of the Interior, asks us 'Please Do Not Feed the Animals'. Their stated reason for the policy is because 'The animals will grow dependent on handouts and will not learn to take care of themselves'. Thus ends today's lesson in irony."
For most hardworking taxpayers, 46 million people on the Food Stamp Program is what's offensive. The SNAP program is a liberal vehicle to increase dependency and further a leftist agenda. There was only $17 billion spent on the program in 2000 and now it's an $80 billion program. To put it simply, welfare becomes an addiction.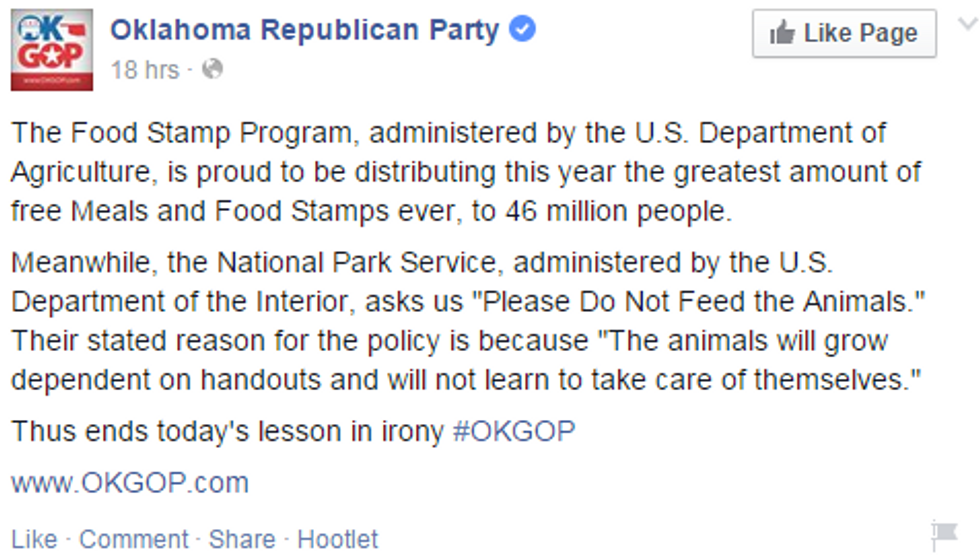 Screenshot Facebook
Americans who fall on hard times deserve to be caught by some kind of safety net, but the current system is ripe for abuse. Observant shoppers will periodically catch someone in line purchasing candy and an energy drink with food stamps. That is not what the program is set up for. There has to be restrictions put on the amount of time that people can be on food stamps, as well as the kind of food items they are able to purchase with them.
The Oklahoma Republican Party should not have apologized for their Facebook post. While it may not have been politically correct and may have offended some, the group started a much needed conversation about the state of this country's welfare program, and for that they should not have to apologize.
Chris Markowski has carried the titles of author, investment banker, equity analyst, muckraker, all around trouble-maker, and most importantly consumer advocate. He is the personality behind Watchdog on Wall Street and founder of MarkowskiInvestments.
–
TheBlaze contributor channel supports an open discourse on a range of views. The opinions expressed in this channel are solely those of each individual author.