Ronald Reagan once said, "The nine worst words in the English language are: 'I'm from the government and I'm here to help.'"
That funny line never applied more perfectly to anyone than Barack Obama.
It was only last week that Obama gloated in his State of the Union about "saving" us from the Great Recession. He basically said "Mission Accomplished - the Great Recession is over. It's time to look forward to a gleaming future."
Obama actually believes he's our hero and savior.
So let's now examine the mind-numbing facts released just since that speech.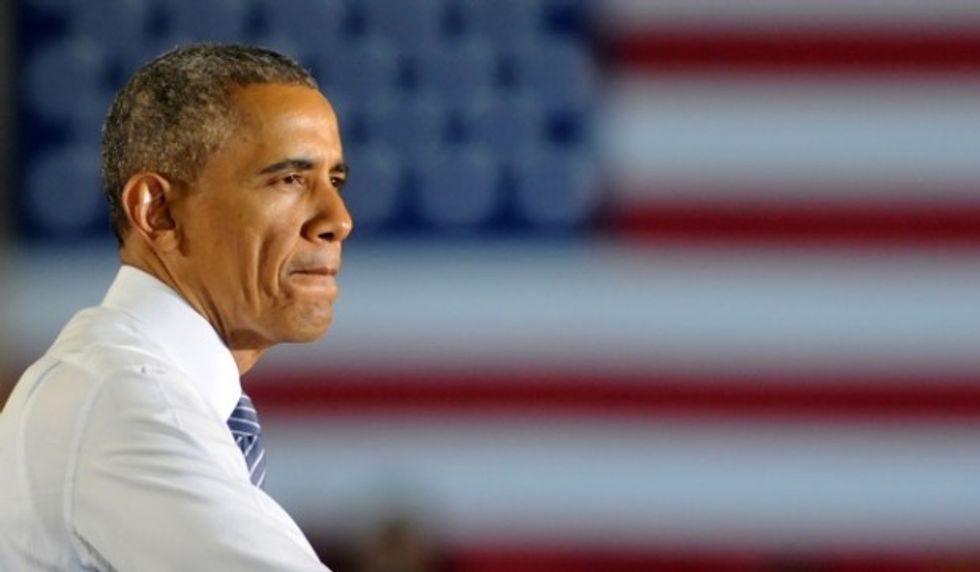 Photo Credit: AP
Only days after Obama's speech, it was disclosed that 50,000 bank employees were laid off in December. Yes, I said 50,000...in one month.
But Wall Street wasn't alone. eBay announced massive layoffs only days laters (about 7 percent of its workforce).
American Express just laid off 4,000 employees (about 6 percent of its workforce).
Baker Hughes announced layoffs of 7,000 (about 11 percent of its workforce) the same week.
Energy and oil companies announced the layoff of thousands and predicted 20,000 layoffs in one North Dakota town by summer.
Forbes is reporting that IBM will soon announce layoffs of 100,000 employees (25 percent of its workforce), although IBM denies that number.
Teen clothing retailer, Wet Seal, just declared bankruptcy and closed 338 stores.
Macy's and JCPenny are laying off thousands of employees.
Scores of retailers are closing thousands of stores after a poor Christmas shopping season and laying off hundreds of thousands of employees. A poor Christmas shopping season? Funny but that doesn't sound like Obama "saved" the economy, does it?
Durable goods orders in America literally collapsed last month.
Earlier this week the stock market plunged 500 points on news of disastrous earnings reports from major companies across the U.S. Not only are companies reporting terrible fourth quarter results, but they are severely downgrading their 2015 sales and profits predictions.
Recovery? For the first time in history a majority of public school students in America live in poverty.
For the first time in history more businesses are failing each day than opening.
For the first time in history there are more people on welfare, food stamps and other handouts than working in the private sector.
Americans on disability are up by 50 percent.
Food stamp use topped 46 million for the 38th straight month.
We have the lowest workforce participation rate in modern history.
Almost 100 million working-age Americans aren't working.
And 107 million Americans are on some form of welfare. Is it a coincidence that about the same number are unemployed as collecting welfare?
And all of this "success" and "saving" of the economy was achieved by adding $8 trillion to the national debt in only six years. Obama has exploded the debt by an unimaginable 70 percent.
The Director of the Congressional Budget Office just called the debt "unsustainable" and predicts we are the verge of fiscal crisis.
Even if you believe the lies (or delusion) from Obama that the economy is doing wonderful…it's all at the expense of our future. Interest rates are at zero. Raise them even a few points and just the interest on our skyrocketing debt will eat up the entire U.S. budget.
Now add in the cost of Obamacare (just revealed at $50,000 per person over the next decade) and all the taxes in the world won't pay for the interest on the debt.
Our economy will be overwhelmed. Like Humpty Dumpty, no one will ever be able to pick up the pieces again.
The stats above make it clear there is no recovery. Obama didn't "save" the economy. He simply lied…again. He just made it up. Obama is proof of the saying "liars make the BEST promises."
I have a message for the president: "Please stop helping us Mr. Obama. We can't take it anymore!"
–
TheBlaze contributor channel supports an open discourse on a range of views. The opinions expressed in this channel are solely those of each individual author.