Civil debate is like the weather: we talk, talk, talk, but nobody ever does anything about it.
This is the level of commitment President Barack Obama has treated us to throughout his political career, and he did it once again in Illinois, while lamenting "the tone of our politics":
"[Former Gov. Deval Patrick (D-Mass.)] said, 'Insist from us and from each other a modicum of civility as the condition for serving you.' … Our children are watching what we do. … If we lie about each other, they learn it's okay to lie. … If they see us insulting each other like school kids, then they think, well, I guess that's how people are supposed to behave. … We should insist on a higher form of discourse in our common life, one based on empathy and respect … We have to stand up and insist, no, reason matters, facts matter … When folks just make stuff up, they can't go unchallenged. And that's true for Democrats if you hear a Democratic make something up, and that's true for a Republican if you see a Republican cross that line."
Like most politicians, Obama generally lectures about civil debate in the abstract. He champions respectful discourse as a goal without spelling out in detail what rules we're supposed to follow. And, of course, he doesn't own up to how he, himself, has repeatedly flouted civility. As a result, he leaves the impression that it's largely the other side – those awful conservatives and Republicans! – who need to clean up their act.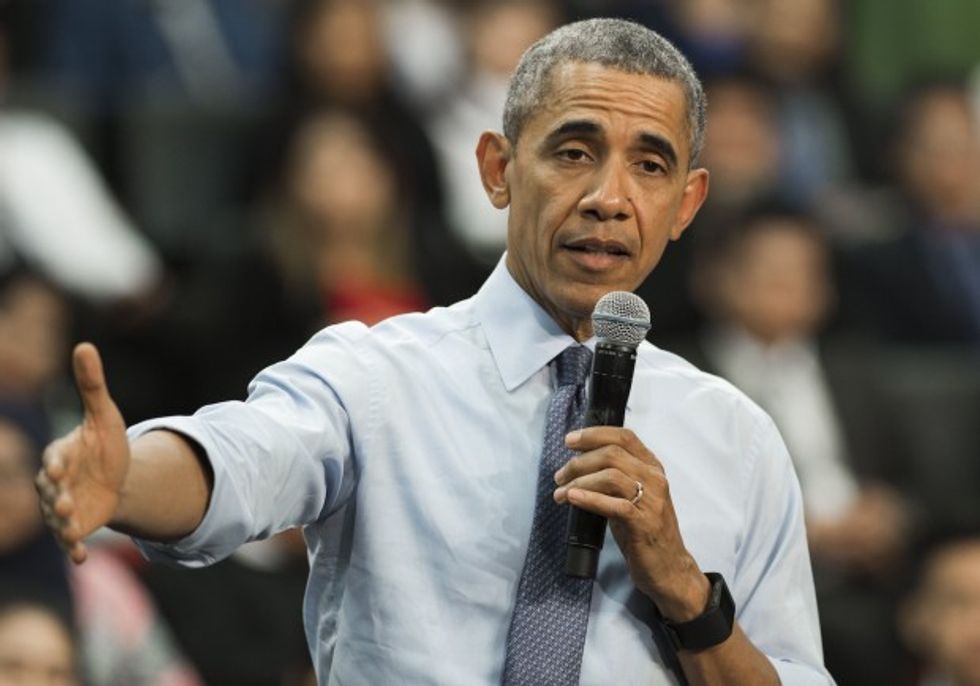 SAUL LOEB/AFP/Getty Images
Fortunately, you can learn from failure as much as success. So, here are some of Obama's most notable failures when it comes to setting a good example on civil debate.
1. As a Senator
Despite his 2004 call for a "politics of hope" as opposed to "cynicism," Obama the senator promptly crafted a stump speech that castigated Republicans and conservatives for supporting "social Darwinism." It's a speech he gave over and over and over and over again. Never mind that Republicans and conservatives actually do support government spending for the needy (just not as much of it as Democrats), and that they give to private charity in the name of compassion; Obama had no problem demonizing them as being altogether opposed to helping the needy.
2. As a Presidential Candidate
In 2008, when John McCain said he would have no problem with a long-term, peacetime deployment of U.S. troops in Iraq along the lines of our presence in Japan and South Korea, the major Democratic contenders – Obama, Hillary Clinton, and Howard Dean – all lied and accused McCain of supporting another "100 years of war." But Obama went one step further: a la Donald Trump, when challenged, he doubled down, saying that the video of McCain proved he was right (even though it proved exactly the opposite). Is this teaching our kids that facts don't matter?
3. Choosing His Party's Leadership
In 2011, Obama supported Debbie Wasserman Schultz to be Chair of the Democratic National Committee, making her a leading spokesperson for his party. Wasserman Schultz has unleashed all sorts of invective against Republicans: for example, accusing the GOP of wanting to bring back "Jim Crow" laws (and then insisting she never said it). Yet Obama has never "challenged" any of her over-the-top rhetoric, let alone asked her to step down.
4. Refusing to Police Civility (Sometimes)
When House Democrats described Tea Party-affiliated House Republicans as "terrorists," Joe Biden refused to denounce the name-calling (as did Obama, who instead took the opportunity to complain about being called a "socialist"). Less than a month later, Teamsters chief Jimmy Hoffa referred to the Tea Party with a slur, calling for them to be "taken out." Speaking after Hoffa, Obama voiced no criticism, and his administration pointedly refused to serve as the "speech police." But, a week later, Obama's re-election campaign launched AttackWatch.com, a website aimed at policing GOP rhetoric.
5. Defending Planned Parenthood
In 2013, Obama gave a rousing speech defending Planned Parenthood against its critics. But he never once mentioned abortion – the key issue motivating Planned Parenthood critics – leaving the impression that the group's opponents simply sought to deprive women of health care options. Not only was this a straw man, it also contradicted his pledge in "The Audacity of Hope" not to demonize abortion opponents as "ideologues driven by perverse desires to inflict suffering on women."
***
While Obama has been quick to denounce the invective of Republicans and conservatives such as Donald Trump and Rush Limbaugh, he's refused to rein in his own rhetoric, or to condemn the verbal excesses of his allies.
Apart from that, he's been a stalwart supporter of civil debate.
–
TheBlaze contributor channel supports an open discourse on a range of views. The opinions expressed in this channel are solely those of each individual author.