Possibly for the first time in history, three out of the top four Republican presidential nominees—retired neurosurgeon Ben Carson, Sen. Ted Cruz (Texas), and Sen. Marco Rubio (Fla.)—are minorities, and the liberal-Democrat establishment, which has been obsessed with driving a wedge between conservative whites and other racial groups for decades, is desperately searching for a way to destroy these three game-changing candidates.
It shouldn't come as a surprise liberals and Democrats have once again attempted to smear their way to the White House with lies about conservative candidates, but it is a little surprising to see how they have recently gone about attacking Carson, Cruz, and Rubio, three of the brightest stars the GOP has had on the national stage in quite some time.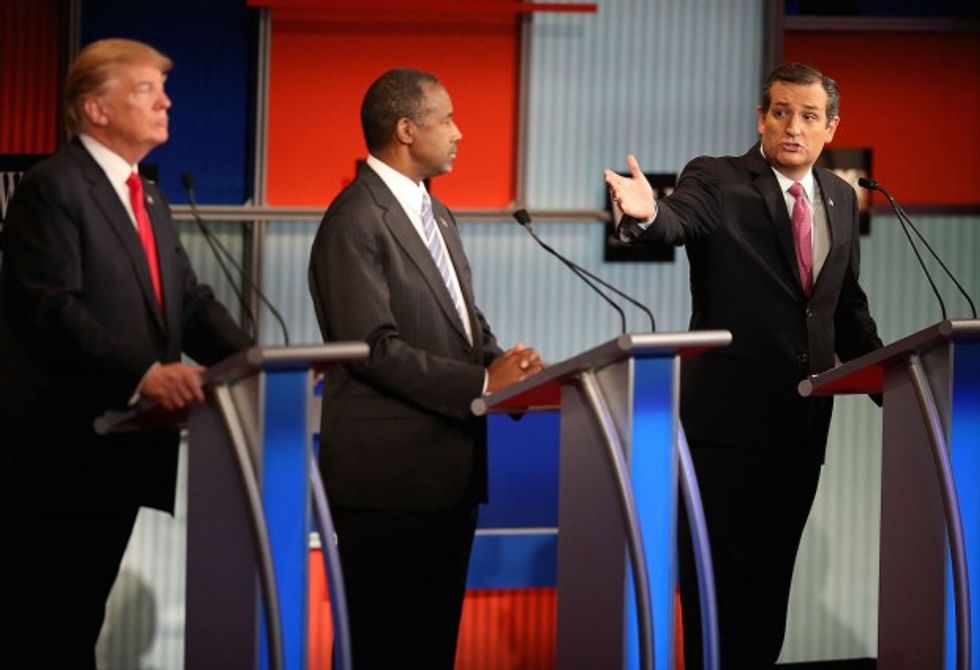 Scott Olson/Getty Images
After countless elections during which liberal Democrats accused Republicans of being the party of cold-hearted, rich, white, old people, Democrats are now the ones trying to make the case their own older, wealthy, white people—Hillary Clinton and Sen. Bernie Sanders (I-Vt.)—are better for minorities than actual minorities who all come from lower- or middle-class backgrounds and managed to find success in our supposedly outrageously racist nation living by conservative principles. Rather than celebrate the success of three incredible individuals who epitomize the American dream, liberals and Democrats are doing everything they can to destroy these candidates using some of the most outrageous tactics we've ever witnessed.
Take Mr. Carson's recent media troubles, for example. Carson may be the first candidate in the history of politics who has been attacked for supposedly inventing a fictional story about how bad of a kid he once was. Carson has also been accused of making up a story about being offered an opportunity to attend West Point, ridiculed for his religious beliefs, and accused of profiting off of ties to a convicted felon. The media bias has been so bad against Carson, he has even been called a "safe negro" by an MSNBC panelist on national television and asked by one reporter if, given the opportunity to go back in time, he would consider aborting an unborn baby Adolph Hitler, a story published on CNN.com with the title, "Ben Carson would not abort baby Hitler."
Despite all of the ridiculous and insulting questions posed to and about Carson, there hasn't been a peep out of the National Association for the Advancement of Colored People and other leftist organizations that are supposedly working to help minorities. Where are the Rev. Al Sharpton-led protests, the Occupy Wall Street protestors, or the Concerned Students 1950 group at the University of Missouri, which recently asked their white supporters to meet in a separate group at an event?
Where are the cries of racism, unfair treatment, and equality for all we are so used to hearing from our friends at Think Progress, Media Matters, and other so-called "progressive" outlets?
As poorly as Dr. Carson has been treated as of late, at least his race has actually been acknowledged to exist.
On a recent episode of MSNBC's primetime show Hardball, host Chris Matthews suggested both Sen. Cruz and Sen. Rubio aren't really Hispanic: "So you're trying to insinuate that Marco Rubio, a fellow, uh, Spanish surname, I'm not sure the right word is Hispanic for them, because they are Cuban nationals or whatever, or come from Cuba. But, uh, is he going to insinuate that he is still basically for what he calls amnesty?"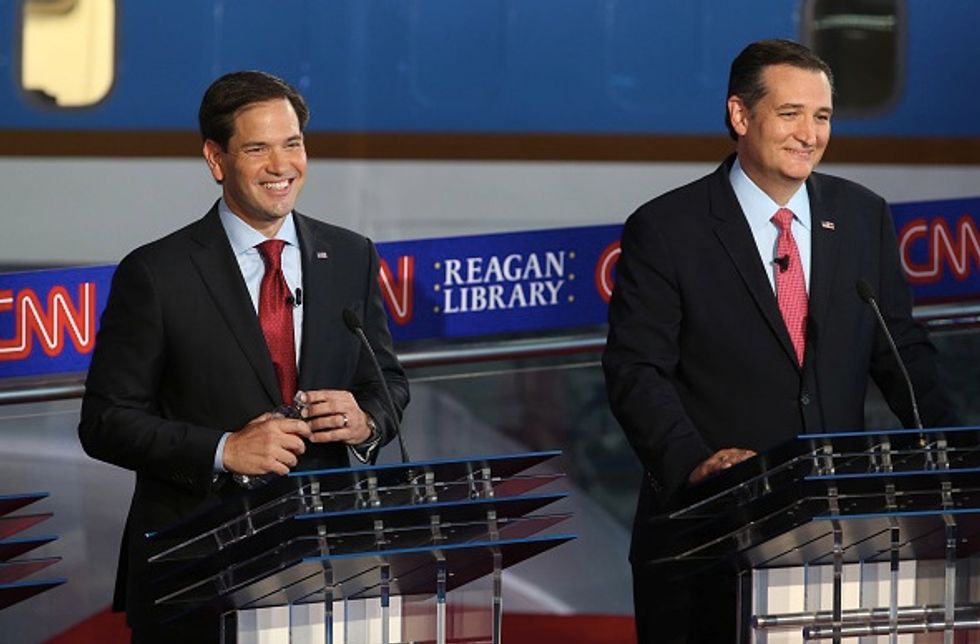 Republican presidential candidate Marco Rubio and Ted Cruz take part in the presidential debates at the Reagan Library on September 16, 2015, in Simi Valley, California. (Justin Sullivan/Getty Images)
This isn't even a new strategy from the left. In 2013, former New Mexico Democratic Gov. Bill Richardson said Sen. Cruz does not deserve to be called "Hispanic."
"Almost every Hispanic in the country wants to see immigration reform. No, I don't think [Cruz] should be defined as a Hispanic," Richardson said.
Also, similar to Carson, Cruz and Rubio have both constantly been called "liars" as part of a coordinated media assault. For instance, Rubio was called a "shameless liar" by liberal pundit Bill Maher for accusing President Barack Obama of creating more debt than George W. Bush, a claim even the left-leaning PolitiFact acknowledged was true.
Why is there such a brutal campaign—several months before most Republican primaries are set to start—to detach these candidates from their status as successful minorities and to frame the three as pathological liars? Two words: candidate nullification.
There is no denying at this point Hillary Clinton, barring some completely unforeseen series of events, will be the Democratic presidential nominee, and unlike Carson, Cruz, and Rubio, Clinton has a massive credibility problem and, when up against a minority Republican candidate, will be unable to play the same, old, tired race card Democrats have become dependent on. In order to make this a "fair" fight, Carson, Cruz, and Rubio need to become "liars" just like Mrs. Clinton, and they need to be completely detached from their minority backgrounds. There's no way, given the life story of these three top Republicans, Clinton will be able to walk into a room full of minorities come the general election and say, "I understand your situation better than they do"—unless the groundwork is laid now.
Welcome to modern America, where honest, successful, conservative blacks and Hispanics aren't, in the eyes of the media and liberal elites, really honest or minorities. This is politics at its worst, and it's only going to go downhill from here.
–
TheBlaze contributor channel supports an open discourse on a range of views. The opinions expressed in this channel are solely those of each individual author.