Memorial Day in the United States is a federal holiday set aside for remembering those who died while serving in our nation's armed forces.
This year Memorial Day occurs near the historic 70th anniversary of the end of World War II in Europe, and many European cities are celebrating that anniversary throughout the month with their own special events. And here in Florence, Italy, we are reminded quite evidently of a reason why this Memorial Day in the United States is such an important remembrance of our soldiers, whose merit can readily be found in the stunning collections of Renaissance art here that still stand as a beacon of Western culture for posterity, because of their ultimate sacrifices.
In May 1938, during meetings with Italian dictator Benito Mussolini, Adolf Hitler took more than three hours out to visit just one of the city's museums, the famed Uffizi Gallery in Florence, to just stare in wonder at its famous works of art, according to Robert Edsall's book "The Monuments Men."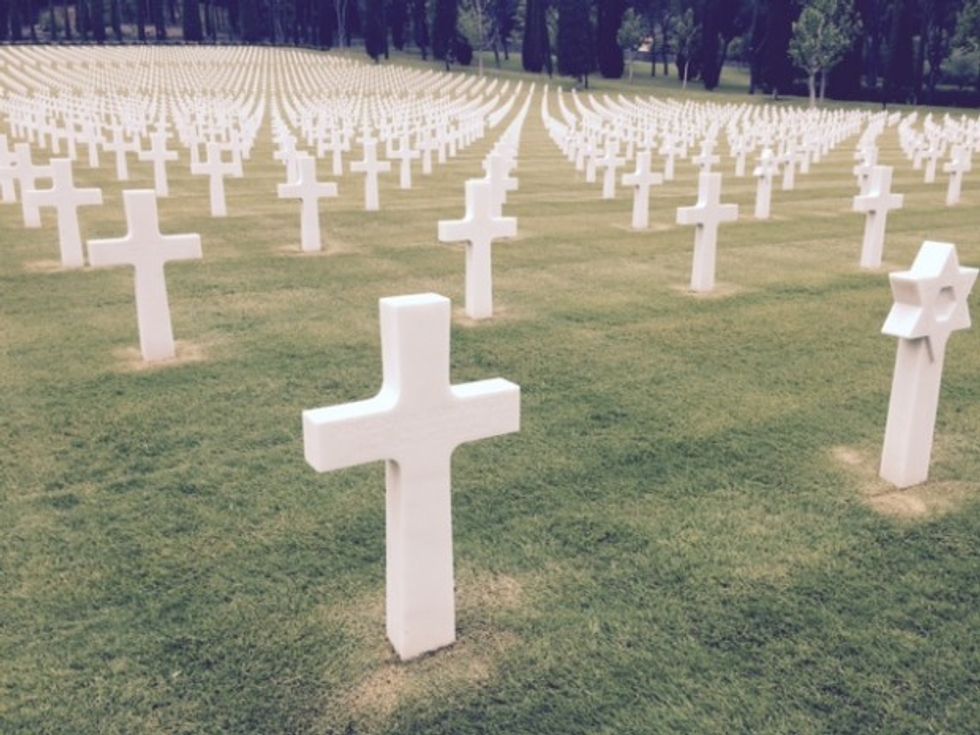 Photo Courtesy of Author.
Hitler so envied the masterpieces of Michelangelo, Donatello, da Vinci, Botticelli, Raphael, Titian, and others that he studied in Florence, and so understood the power of art, that in his own effort to redefine culture on Nazi terms, he was motivated to plan the creation of his own new massive art museum, to be located in Austria. Hitler's idea was to include works brutally confiscated from other museums in defeated France and also from the private collections of masterpieces taken from European Jews during the Holocaust, as depicted in the recent movie "Woman in Gold" involving a confiscated artwork by Gustav Klimt.
If the Germans had won the war, there would have been no guarantee that the cultural contributions of Michelangelo's towering sculpture of The Old Testament's Jewish leader David, or Botticelli's beautiful "Birth of Venus" in the Uffizi, would remain in Florence, yet alone for all to see and appreciate.
Hitler's own recasting of what was acceptable for the public or "degenerate" and subject to suppression had previously lead to the infamous Nazi "book burnings."
More recently, we have seen such sad intolerance in the Afghan Taliban's destruction of two Giant Buddha statues considered great archeological treasures and earlier this year Islamic State fighters destroyed cultural artifacts in a museum in Mosul.
A German victory in World War II could have even meant something equally grim for some of Florence's art treasures, many of which might not still be here today but for the sacrifices of American soldiers who played a role in liberating the city.
Just eight miles south of Florence on the Via Cassia, a gateway to the lush Chianti region on the road to the picturesque Tuscan town of Siena, lies the American Cemetery. I just visited the cemetery to pay my respects to the 4,402 armed forces members buried there.
Graves are marked by headstones which bear the individual's name, rank, the state they're from, and the date of their death. For those whose bodies cannot be identified there is a special marker which states "here rests in honored glory a comrade in arms known but to God." Special wall maps are displayed which show the various aspects of the Italian campaign as well as a long list of the names of soldiers missing in action.
Many of the soldiers buried here served in the U.S. Fifth Army under Gen. Mark Clark, which pushed its way up the Italian peninsula in a bloody fighting effort taking almost two years. These were the soldiers that helped to liberate not only Florence from Nazi control, but the entire country of Italy in May, 1945, 70 years ago.
While American forces took much of the fire in the Italian campaign, significant contributions were made by British Commonwealth forces including troops not only from Britain, but also New Zealand, South Africa, and India. In fact, in Fiesole, a hilltop town just a few miles north of Florence, more than 1,000 Commonwealth troops are buried. Their story is little known, but it was New Zealand soldiers who won the pitched tank battles in Chianti south of Florence, where the Germans made a stand in their powerful Tiger tanks. These battles allowed seven South African troops to enter the city early one May morning in 1944 to a jubilant welcome from the liberated populace, but it was the American soldiers we remember this Memorial Day who made the sacrifice leading to that liberation, and which lives on in Florence's splendid contribution to our cultural freedom's still enjoyed today.
–
TheBlaze contributor channel supports an open discourse on a range of views. The opinions expressed in this channel are solely those of each individual author.