It is too common to hear the refrain that if we don't get a conservative Supreme Court, we will lose our rights. It is the absolute best argument Donald Trump supporters can make on behalf of the Republican candidate that he will appoint righteous kings to reign over your constitutional rights.
If you believe the court has the power to choose which rights you can and cannot practice then you have already surrendered your rights to the will of an elite panel of judges. Too many Republicans and conservative pundits perpetuate this belief in order to lock you into supporting a specific ideology or party.
Conservative radio host Hugh Hewitt recently wrote a series of articles in the Washington Examiner where he said the following:
Every political issue has a theoretical path to SCOTUS, and only self-imposed judicial restraint has checked the Court's appetite and reach for two centuries… Every issue, EVERY issue, will end up there, and the legislatures' judgments will matter not a bit.
According to Hewitt, it's not the Constitution that restrains the court, nor is it the President, Congress, or the States that keep the court in check. No, apparently the only restraint keeping the Court in check is entirely "self-imposed."
We all grew up learning that your rights are unalienable and endowed by our creator. But don't worry, Republicans and Democrats alike are here to correct this silly belief and let you know that it is in fact political appointees who magnanimously decide what rights you may practice.
This type of thinking sets a dangerous precedent which threatens the Constitution to it's core. Sure, a conservative court may slow down the effect but ultimately it will still lead to the complete loss of our rights.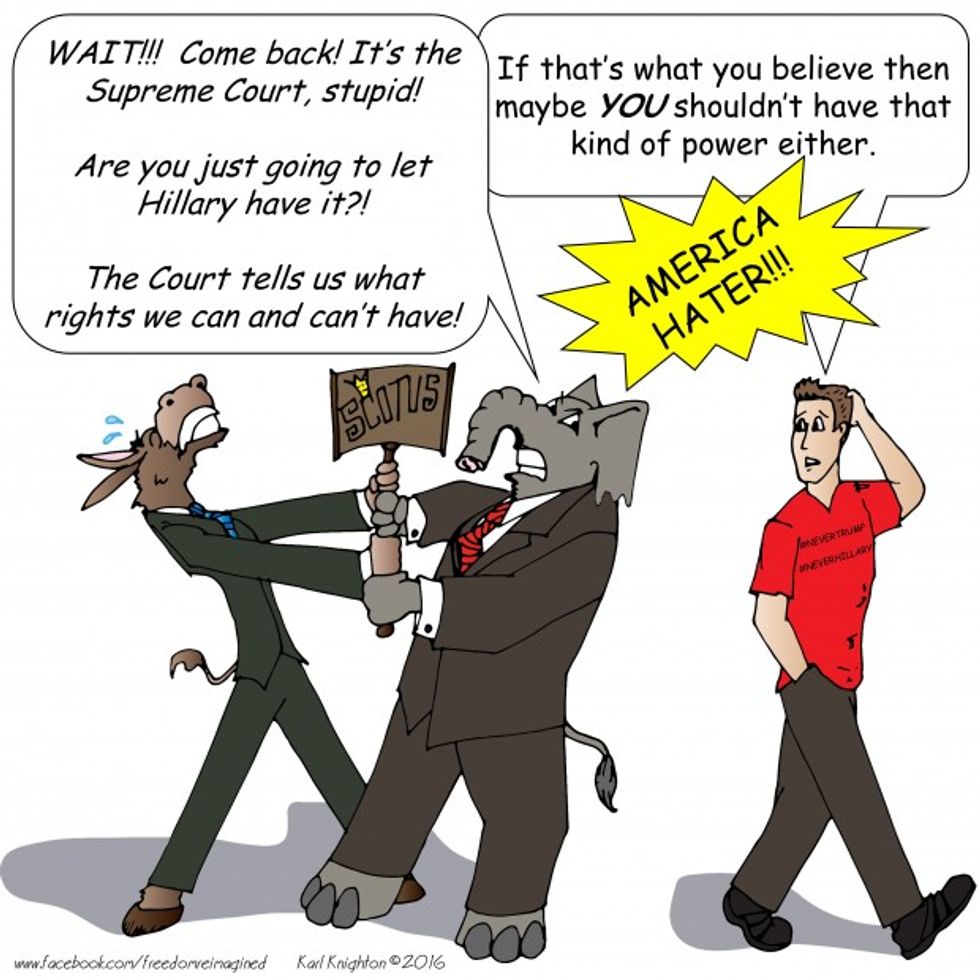 Just say no. (Karl Knighton)
Unfortunately the decision is not as simple as voting in Trump to save your rights or voting in Hillary and losing them. Both parties typically accept bad decisions of the Supreme Court in order to force the decisions they like on everyone else.
This blind acceptance of Supreme Court rulings allows them to slowly yet effectively whittle away your rights.
For example, the Supreme Court affirmed the right to keep and bear arms is an individual right in the Heller case but they simultaneously legitimized gun control efforts to continue infringing on that right.
Let this sink in. The court affirmed something that was obvious and backed up with more than 240 years of American history and then ruled in support of roughly 80 years of gun control. But instead of harshly criticizing the court for their judgement, they were praised and revered by gun rights groups and Second Amendment activists around the country.
The Court was praised and cheered for proactively supporting the deterioration of constitutional rights because they affirmed one detail that was completely unambiguous and entirely obvious.
The pro-Trump advocates want more than anything to convince you that loss of your rights is a forgone conclusion if Hillary wins the White House. But there are plenty of actions still available to rein in the Federal government and Supreme Court as long as we maintain control of the House and Senate.
With a conservative Senate we can block every Hillary Clinton Supreme Court nominee.
With a strong conservative majority in the House we can defund agencies charged by the President with enforcing unconstitutional Supreme Court decisions, or deny funding altogether through the budget.
Ted Cruz had the right idea when he filibustered the budget in 2013 over defunding Obama Care.
But ultimately, if those efforts fail then we don't simply have to roll over and play dead. The states can step in and use their power under the 10th Amendment to block or nullify bad court decisions and bad Federal law with renewed vigor.
If the last 8 years under Obama have taught us anything, fear of losing one's rights is a powerful motivator in pro-freedom movements.
Fear of loss of rights motivated the Tea Party movement to make major conservative gains in Washington politics since 2010.
Fear of an overreaching anti-gun president motivated 158 percent growth in the firearms industry since 2008. The number of constitutional carry states has also grown in that time. In 2008 there were only two constitutional carry states, today there are 10 states that have some form of constitutional carry.
Since 2008 there has also major pushback in the states to nullify federal gun laws. As of 2014 more than three-quarters of U.S. states had proposed nullification laws with more than half of them following the Sandy Hook Elementary shooting.
Even though only eight states were able to pass gun control nullification laws there is evidence to suggest that the nullification movement will benefit more under a Hillary presidency and Supreme Court. According to Public Policy Polling, 40 percent of Texans would support secession if Clinton wins in November. That number is up from only 18 percent in 2009.
So, is it really too big of a risk to cast a vote for a third party knowing Hillary will likely win?
Maybe a Hillary presidency would be far more productive in actually preserving our Constitutional Rights in the long run.
Even if Trump doesn't turn out to be the North American Hugo Chavez many think he is, proud Trump supporters will sink back into oblivion until the next presidential election, thinking everything is hunky-dory. A Supreme Court, just as conservative as Scalia, could be slowly dismantling your rights and no one would care because they are satisfying us with victories once in a while.
At least a Hillary Clinton presidency, even under the most normal of circumstances, would help conservatives recognize the Supreme Court as the enemy of liberty it has become. She would give us an adversary to rally against in defense of freedom.
In 2016, say no to Donald Trump, and say no to being ruled by the Supreme Court.
–
TheBlaze contributor channel supports an open discourse on a range of views. The opinions expressed in this channel are solely those of each individual author.