Remember when the media went nuts over the fact that then-Senate candidate Matt Bevin spoke to a group of people—among whom were supporters of the legalization of cock fighting?
Guilt by association was the charge, as MSNBC promptly declared his candidacy "chicken fried."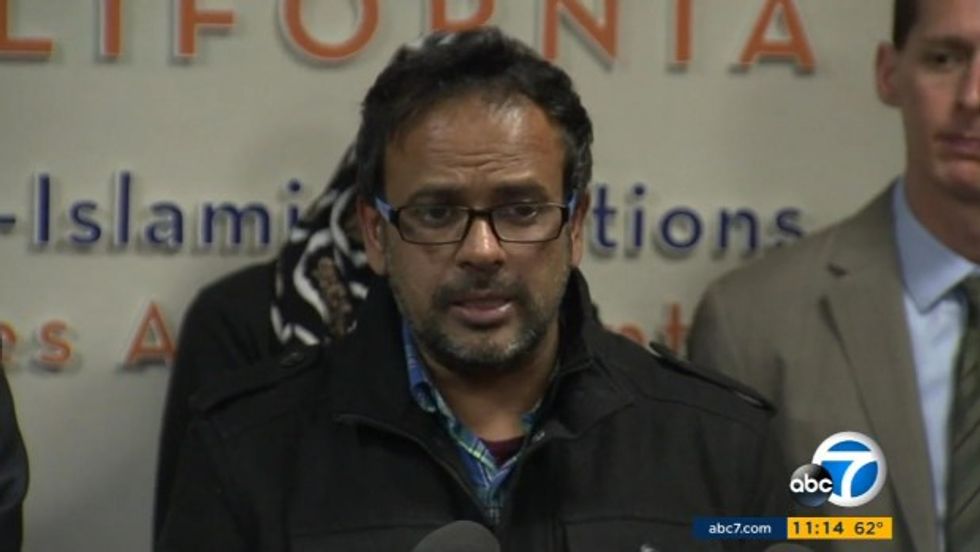 Syed Farook's brother-in-law appeared during a press conference with CAIR officials on either side. Image source: KABC-TV
I'd love to know where this intense level of concern was when the family of Islamic terrorists Syed Farook and Tashfeen Malik chose to do a press conference with the Council on American Islamic Relations (CAIR) following the San Bernardino attacks, where they were flanked by CAIR officials, including the translator for none other than the Blind Sheikh.
The Blind Sheikh, or Omar Abdel-Rahman, otherwise known as the "Pope of Jihad," and is currently serving out a life sentence at a federal correctional complex. Some of his more well-known activites? Plots include but are hardly limited to: "the World Trade Center bombing to an unrealized plot to bomb major landmarks and assassinate major individuals in New York City."
So what? CAIR condemned the attacks along with the rest of the country, didn't they?
Yup, they did.
In fact, they condemn terrorism all the time. They also just so happen to rub elbows with, take money from, and fund terrorism all over the world.
Allow me to illustrate just a few examples.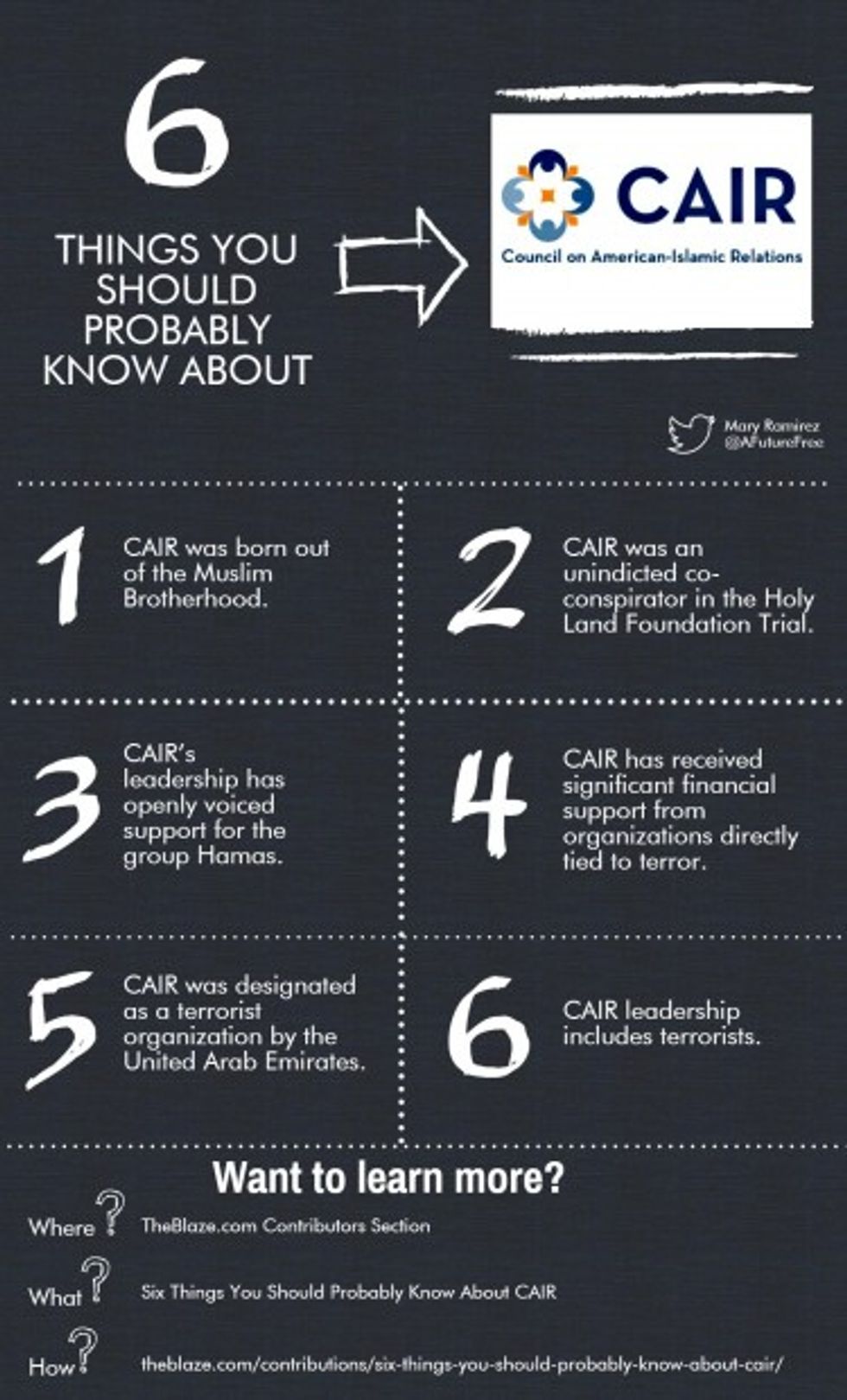 Mary Ramirez
1. CAIR was born out of the Muslim Brotherhood
What is the Muslim Brotherhood?
It is, as fellow TheBlaze contributor Raymond Ibrahim put it, "the most organized of Muslim organizations; its ultimate goals—establishment of caliphate and enforcement of Sharia—are shared with all Islamists…"
Here's how it all connects. You see, CAIR was "incorporated by three leaders of the Islamic Association for Palestine (IAP)—Nihad Awad, Omar Ahmad, and Rafeeq Jaber," and the IAP was created by the Muslim Brotherhood to "serve the cause of Palestine on the political and media fronts" which worked to "increase the financial and moral support for Hamas" (a group designated as a terrorist organization by our own State Department; we'll get to that in a moment).
Furthermore, CAIR was founded in part through donations from none other than the Holy Land Foundation for Relief and Development (HLF; we'll get to that in a moment too.). CAIR leader Omar Ahmad denied this fact during a 2003 Senate Subcommittee hearing on terrorism, but a 1994 check from HLF spoke volumes to the contrary.
2. CAIR was an unindicted co-conspirator in the Holy Land Foundation Trial
What was the Holy Land Foundation Trial?
In brief, it was "the largest terrorism financing trial in U.S. history" in which HLF was "found guilty of providing millions of dollars in funding to Hamas and other Islamic terrorist organizations in 2008."
The HLF, you might imagine, was "tagged as a Specially Designated Global Terrorist organization…"
In 2000, the chairman of CAIR (Omar Ahmad, the same guy who denied having received money from HLF) congratulated HLF on their 10th anniversary: "On behalf of the Council on American Islamic Relations, please accept our best wishes for many years of continued excellence in your field."
Further, CAIR didn't just simply taken "donations" from HLF and voice support for their leadership—they actively fundraised for the organization.
3. CAIR's leadership has openly voiced support for the terrorist group Hamas
What is Hamas? It is a State Department-designated terrorist organization which holds that Israel must be destroyed, and the Jewish people must be exterminated from the earth—and importantly, openly opposes a peace solution.
CAIR's activism goes beyond supporting front groups like HLF which in turn support groups like Hamas. Via testimony of Matthew Epstein in a 2003 testimony before the United States Senate Judiciary Committee Subcommittee on Terrorism, Technology, and Homeland Security:
"On FBI wiretaps recorded in 1993, Omar Ahmed, who has served as President of IAP and Board Chairman of CAIR, is overheard professing his commitment to Hamas. According to the FBI translation and summary of the conversation: "Another member [Ahmed] said we (the Union [IAP]) can't, as an American organization say we represent Samah (pronouncing Hamas from the rear to the front). Can we go to the Congressman and tell him, I am Omar Yehya [Ahmed], Chairman of the Union [IAP], Yassir Arafat doesn't represent me, but Ahmad Yasin does? An FBI note explains that "Ahmed Yasin" is Sheikh Ahmad Yassin, the spiritual leader of HAMAS."
At times they haven't even bothered to use cautious or coded language. CAIR Executive Director Nihad Awad publicly supported Hamas at a Barry University symposium in 1994: "After I researched the situation inside and outside of Palestine, I am in support of the Hamas movement."
4. CAIR has received significant financial support from organizations directly tied to terror
Despite indignant claims that the group does not receive support from oversees groups, once again facts prove otherwise. Among others:
Islamic Development Bank (IDB)— run by Dr. Ahmad Mohamad Ali, who also happened to have served as the General Secretary of the Muslim World League (MWL), which also happened to be one of several Islamic "charities" serving as the "primary source" of funds for none other than al-Qaeda.

World Assembly of Muslim Youth (WAMY)—once run by the nephew of Osama bin Laden, the group promoted teaching children to "love taking revenge on the Jews." Both WAMY and IDB donated in support of building CAIR presence in Washington, D.C.

International Relief Organization (IRO)—once again, an organization with deep funding ties to al-Qaeda. Further, Mohamed Jamal Khalifah (Osama bin Laden's brother-in-law) led an IRO office in the Pacific and was, among other egregious ills, "identified as the financier of Ramzi Yousef's plot to simultaneously blow up 12 U.S. airplanes over the Pacific." (Despite all this, Khalifah was praised by CAIR Executive Director Nihad Awad.)
5. CAIR was designated as a terrorist organization by the United Arab Emirates
While less to do with a concern over the problem of an Islamist worldview in general, certain gulf states like UAE "have come to see the MB [Muslim Brotherhood] complex of institutions as a threat to THEIR [emphasis mine] existence … the Saudi, Emirati, Kuwaiti, and Bahraini rulers now view politicians like Mohamed Morsi of Egypt as their enemies, as they do Hamas and its progeny — including CAIR."
CAIR is in interesting company on this list: the Taliban, al-Qaeda and Islamic State, among others.
6. CAIR leadership includes terrorists
It's pretty clean-cut. Prominent members of its board have been accused of terrorist charges: "at least seven board members or staff at CAIR have been arrested, denied entry to the U.S., or were indicted on or pled guilty to (or were convicted of) terrorist charges: Siraj Wahhaj, Bassem Khafagi, Randall ('Ismail') Royer, Ghassan Elashi, Rabih Haddad, Muthanna Al-Hanooti, and Nabil Sadoun."
__________________________________________________
And this, ladies and gentlemen, is the group the family of now deceased terrorists Syed Farook and Tashfeen Malik ran to immediately following the attack.
A curious choice, indeed.
Remember, this is a group that routinely associates with and will not condemn the world's most heinous terrorist organizations. We're really supposed to sit here and believe their condemnation of Farook and Malik is sincere? And that the surviving family is blissfully ignorant of CAIR's robust history of terrorist ties?
Please.
I'll let you make your own conclusions
Mary Ramirez is a full-time writer, creator of www.afuturefree.com(a political commentary blog), and contributor to The Chris Salcedo Show (TheBlaze Radio Network, Saturday, from noon to 3 p.m. ET). She can be reached at: afuturefree@aol.com; or on Twitter: @AFutureFree
–
TheBlaze contributor channel supports an open discourse on a range of views. The opinions expressed in this channel are solely those of each individual author.