With voters revolting against Washington insiders, what could be a more meaningful endorsement for Sen. Ted Cruz at this point than shouldering the sheer contempt of establishment Republicans and the liberal media?
Talk about a true badge of honor.
Of course Cruz has worn this medal before the campaign even started. He's the bonafide outsider.
All of Cruz's Republican opponents -- except for Jeb Bush and John Kasich -- speak as if they secretly desire such a lofty credential. Why else are they promising to do virtually the same thing Ted Cruz is already doing in D.C.?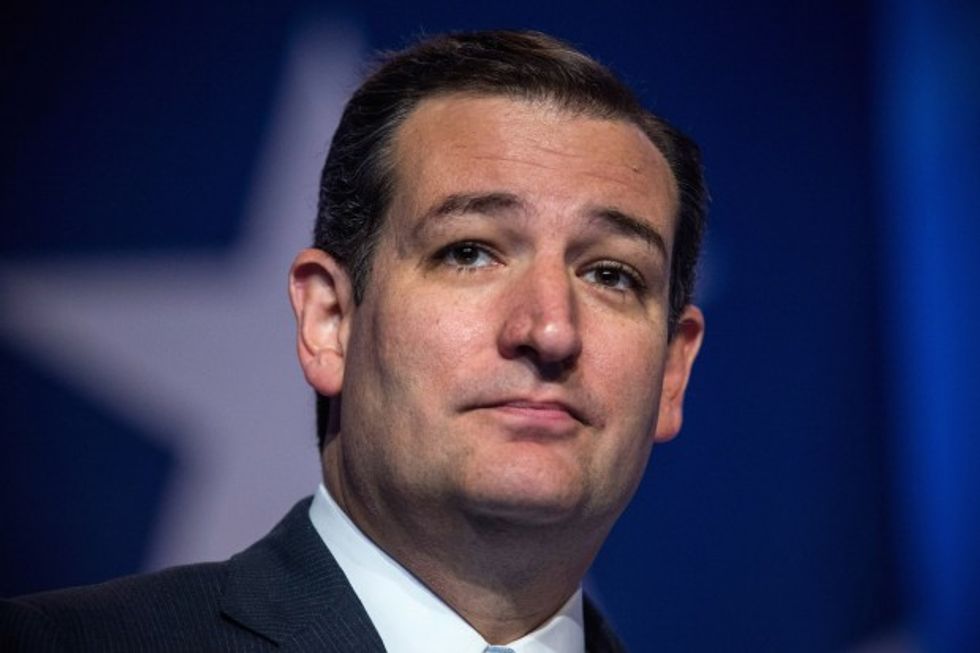 Sen. Ted Cruz (R-Texas) (Image source: Andrew Burton/Getty Images)
Cruz earned distinction the hard way. He hasn't merely talked about what he would do if elected; he's done what he promised after being elected.
Cruz has gone to Washington. He's there. He's fighting the corruption in both parties exactly like he said he would.
Voters are sick of empty rhetoric and betrayal. Ted Cruz has proved that he can be trusted. His loyalty and integrity are evident in his record.
With no greater threat to America than Barack Obama's disastrous nuclear deal with Iran, Ted Cruz is the only candidate who has explained to the public how Republican leadership can stop the deal. Tragically, Senate Majority Leader Mitch McConnell and House Speaker John Boehner refuse to enforce the Corker law, which Republicans supported only to ensure Congress could review the entire deal. Yet they haven't.
Ted Cruz has explained that because President Obama's secret side deals have not been submitted to Congress for review, the president has failed to comply with the rule of law -- yet again. The Corker law provides McConnell the authority to stop Obama right now from lifting sanctions against Iran and from handing over billions of dollars to the Muslim terrorists in Iran. McConnell's stubborn refusal to do so raises the question: What side is McConnell really on?
In fact, Ted Cruz, a Princeton and Harvard law school graduate, fearlessly called out McConnell as a liar this summer while exposing how both parties in Congress bilk the taxpayers of hundreds of billions of dollars through the Export/Import Bank, which most of us have never heard of. From the Senate floor, Cruz called it "corporate welfare for a handful of giant corporations that write campaign checks [to career politicians] to keep them in power."
By delivering on the promises that Cruz made to voters, the Texas senator has been branded a "jackass" by House Speaker John Boehner and a "wacko" by the Democrats' favorite Republican, John McCain.
Thanks in part to welcomed endorsements like these, Cruz is sitting favorably in the polls.
Donald Trump remains in first, as he too has earned the coveted scorn of establishment Republicans and the media. However, unlike Ted Cruz, Trump has no record voters can evaluate. Trump's political past is all over the map, making it impossible for voters to gauge with any accuracy where Trump honestly stands.
Gambling with Donald Trump generates incredible excitement, but the high risks just seem like more than most of us can afford. Whether provocative words are more valuable than proven loyalty and earned trust remains the bottom-line concerning Trump.
Then again, even Ted Cruz has risks. Some believe his brilliance is off-putting. His political enemies claim that Cruz led the Republican Party "over the cliff" by fighting to defund Obama's health care law in 2013. The battle resulted in a three-week layoff of unessential government employees (a.k.a. "a government shutdown" to socialists).
Nevertheless, in the aftermath of Cruz's effort, Republicans won a landslide victory in the 2014 midterm elections.
I can't help but to wonder what Donald Trump's truthful answer would be to the following question: If you developed terminal cancer tonight, and could not run tomorrow, which of your opponents would you hope carries the torch for America?
The nation could benefit greatly in knowing who Donald Trump thinks is the most qualified candidate after himself.
Trump took a lot of heat for his statement over John McCain being a war hero only because McCain was captured. The truth of the matter is that McCain's POW experience is one of the few examples of McCain displaying loyalty in his life.
Unlike the other candidates, Cruz refused to condemn Trump for his opinion of McCain -- despite the political and media pressure.
Clearly, Ted Cruz has not been captured by Washington. He has not betrayed the patriots who sent him there. And Cruz remains the only candidate with the battle-tested record to prove it.
A former Marine Corps officer and a recovering high school English teacher, Lee Culpepper is a Christian, husband, writer, and mentor. Email Lee or follow him @drcoolpepper.
–
TheBlaze contributor channel supports an open discourse on a range of views. The opinions expressed in this channel are solely those of each individual author.