Teacher's Pet: a pupil who has won the teacher's special favor; a person who is treated as a favorite by one in authority; a religious community that is sheltered from theoretical harm by Barack Obama.
As anyone who has suffered through life beside a teacher's pet can tell you, the pet can do no wrong and gets away with absolutely everything. I don't know what the American Muslim community did to warrant such special status with the president, but they have it.
Now, a teacher's pet is not the same thing as an underdog. Underdogs are vulnerable to the dog-eat-dog world from above and need special protections. Teachers' pets, on the other hand, may or may not need special protections but enjoy them nonetheless.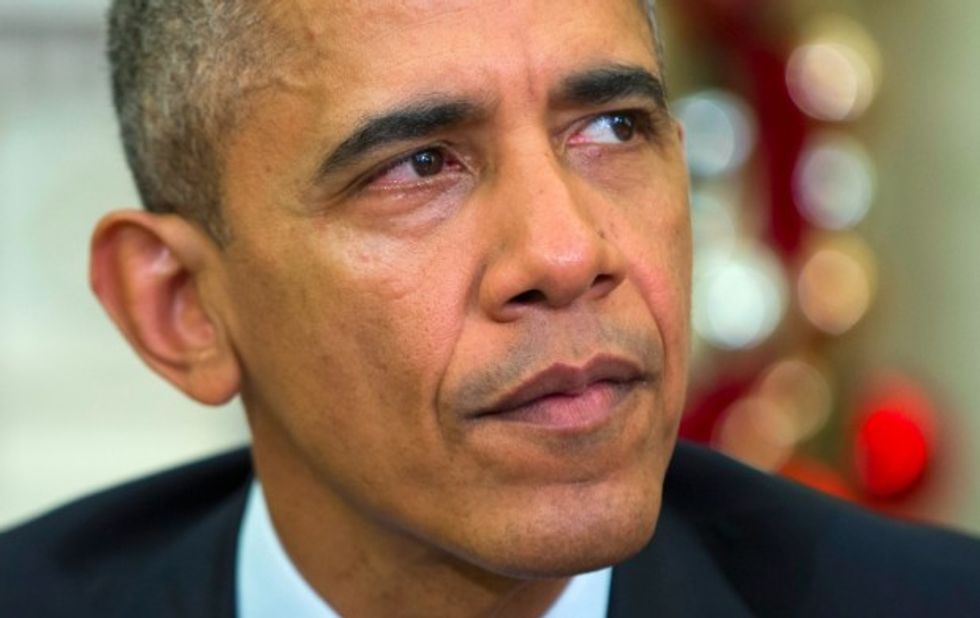 President Barack Obama makes a statement on the  mass shooting in San Bernardino, Calif., Thursday, Dec. 3, 2015, in the Oval Office of the White House in Washington. (AP Photo/Evan Vucci)
Americans love an underdog. Watch any career rise (Taylor Swift, Bill Gates, Kendall Jenner) and we cheer its every success along the way. Once the career is established, heaven help us, but we love to tear it down. (My unproven theory is that we relate to someone on the rise because we aspire to do likewise; we hate someone at the top because they are where we are not.)
One could make the case that American Muslims were underdogs after 9/11 when they were thrust into the same religious spotlight as the four suicide pilots who shattered America's cocoon of safety. Initially, there was a lot of concern over potential anti-Muslim backlash. But, although there are idiots in every crowd, on the whole, Americans showed themselves to be quite good at distinguishing terrorists from everyday Muslims. Fast forward 14 years.
The deadliest attack on American soil since 9/11 took place a week ago under sunny skies and palm trees in San Bernardino, California. Like 9/11, the attack was carried out by Muslim terrorists and caused the deaths of innocent Americans at work.
The powers that be did everything they could to avoid identifying the attackers as Muslims. So much so that law enforcement did not release the names of Syed Farook and Tashfeen Malik until several hours after their deaths. No one wanted to touch the hot potato of calling the massacre "terrorism," but the FBI finally did so, to their credit. The White House was still refusing to call the attack "terrorism" as little as an hour before the FBI made the official call.
The president of these United States then jumped valiantly into Defender Mode; not to defend the innocent civilians who were mowed down but to defend the religious community from which the terrorists sprang.
If American Muslims were true underdogs, they would merit his protection. Ironically they are anything but.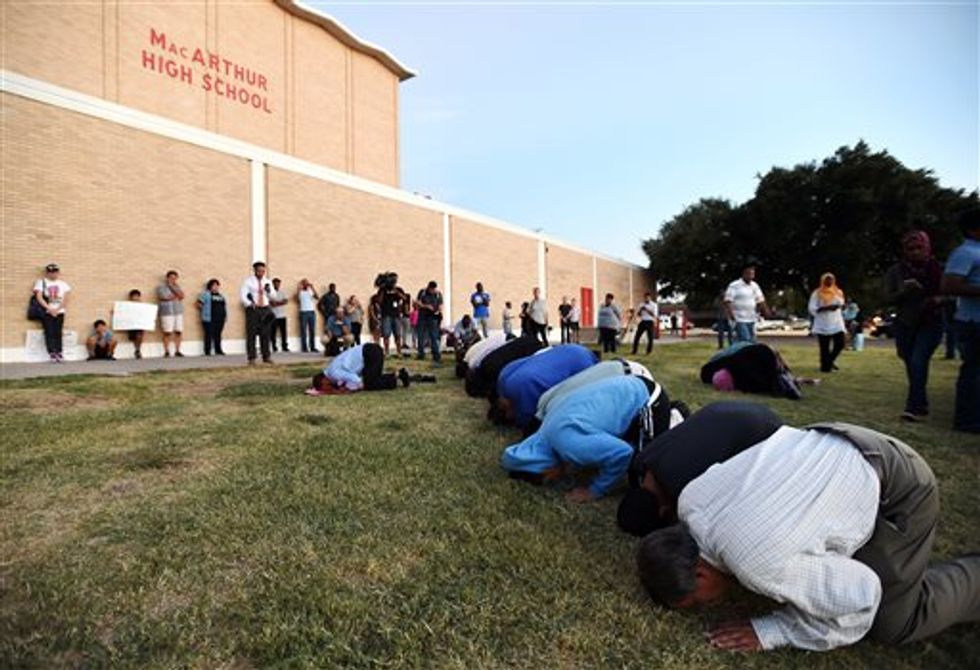 Muslims pray in front of MacArthur High School at a prayer vigil.  (AP/Jeffrey McWhorter).
The Muslim Issue documents that Muslims are significantly more likely to be perpetrators of hate crime than its victims. The FBI's hate crime statistics for 2013 show that religious hate crimes against Jews outnumber those against Muslims by a factor of four to one. If President Obama's Defender Mode was about protecting the underdog, he would first and foremost don his cape for our fellow Jewish citizens.
So Muslims aren't underdogs, and President Obama isn't concerned about underdogs anyway. Then why work so hard to protect them, and direct his attorney general to do likewise?
Because they're teacher's pet.
It was only too obvious when the president spent a fraction of his speech Sunday night reassuring us that Muslims are not our enemy and the bulk of it lecturing us to treat Muslims kindly.
Americans have demonstrated that we can be trusted to refrain from anti-Muslim sentiment (at least those of us not trying to hijack the news cycle); Muslims have demonstrated that they are more likely to be perpetrators than victims of hate crimes; and Jews have demonstrated that they suffer more religious hate crimes by far than any other religious community in our country.
American Muslims are just our president's faves. It's not rational, and it's not fair, but it's how the Teacher's Pet Show works.
Donna Carol Voss is an author, blogger, speaker, and mom. A Berkeley grad, a former atheist then pagan, she is now a Mormon on purpose and an original thinker on 21st century living, especially 21st century women. Her memoir, "One of Everything," traces the path through one of everything she took to get here. www.donnacarolvoss.com
–
TheBlaze contributor channel supports an open discourse on a range of views. The opinions expressed in this channel are solely those of each individual author.