You've heard of "The Full Monty." Bernie Sanders lets it all hang out; he's "The Full Commie."
Bernie Sanders is America's new darling. A guy who proudly brags that he is a socialist is now popular in America 2015. And Americans love him. If Americans have become this dumbed-down, then we are in the end days of America. This is a Come-to-Jesus moment.
For almost a decade, I've been warning America that the Democrat Party is infested with socialists, Marxists and communists. Barack Obama, Hillary Clinton, Valerie Jarrett, Debbie Wasserman, Nancy Pelosi and Harry Reid all pursued a radical agenda damaging to capitalism, American exceptionalism, our great ally Israel, and to America itself.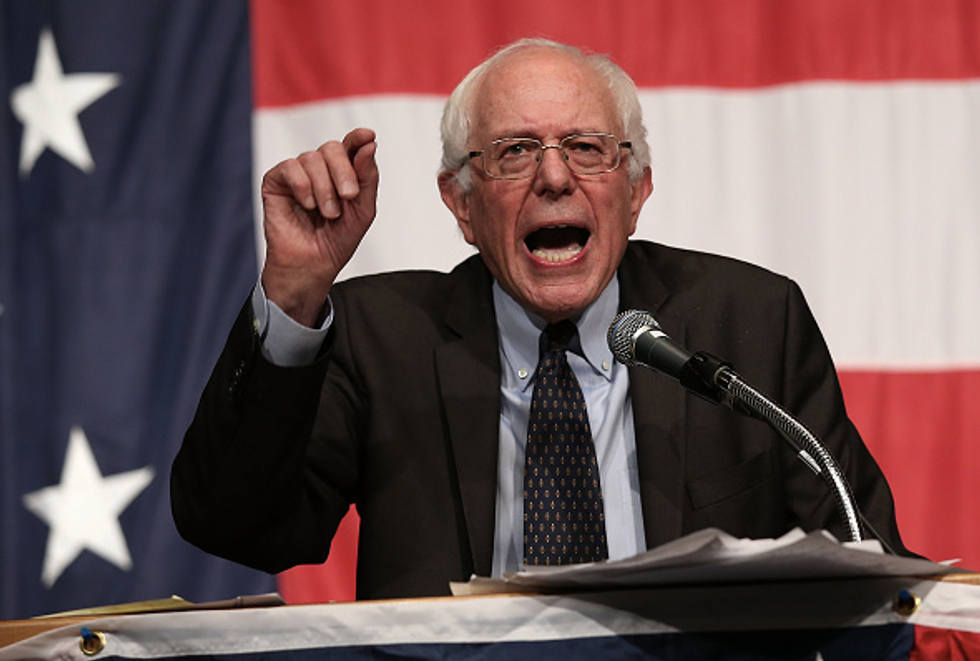 Democratic presidential candidate Sen. Bernie Sanders speaks at the Iowa Democratic Wing Ding August 14, 2015 in Clear Lake, Iowa. The Wing Ding is held at the historic Surf Ballroom, where Buddy Holly and Ritchie Valens played their final concert, and featured Democratic presidential candidates Hillary Clinton, Sen. Bernie Sanders (I-VT), Martin OÕMalley and Lincoln Chaffee. (Photo by Win McNamee/Getty Images)
But Obama and his socialist cabal have vigorously denied for years that they are socialists. They claim to love America, even though they admit they want to "fundamentally change it."
Even though they hate everything that has made America great and exceptional.
Even though they hate any patriot who lives to defend God, country and family.
Even though polls prove that a majority of Democrats like socialism more than capitalism.
Even though Obama's policies are almost identical to the Socialist Party leaders of Greece, France and Spain.
Even though Obama's agenda is similar in every way to many of the planks of "the Communist Manifesto."
Well no more denials. The jig is up. No one is hiding or denying anymore. Today's Democrat Party doesn't even bother to hide who they are and what they believe in. Today's Democrat Party is in love with a socialist.
Bernie Sanders is a new kind of socialist. He doesn't try to distract the masses with fraud or bribes. He doesn't hide behind giveaways of free contraception, or Obama phones. He doesn't call himself a "moderate." He doesn't doesn't play golf and hang out with obscenely wealthy white people at Martha's Vineyard to try to mask his socialism.
Bernie isn't an entertainer, comedian, or magician. He isn't "The American Idol" like Obama. Bernie is the real deal. He's "the full commie."
And in today's Democrat Party, he's beloved. He's a rock star. This is how far we've fallen. This is how dumbed-down America has become. We have a commie in our midst. Not a stealth one. Not a fake one. Not one who acts like he loves capitalism, while he destroys it. No, Bernie is no fraud like Obama. Bernie will tell you right to your face that he prefers socialism.
Here's a lesson in the meaning of socialism for all of the dumbed-down victims of a public school system run by socialist-infested teachers unions.
The bridge between East Germany and West Berlin pictured in the early 1960s. Recently opened files show how Stasi officials secretly sold citizens to western pharmaceutical companies to use as human guinea pigs. Photo Credit: Daily Mail
Socialism and communism are in the same family.
They are kissing cousins. If communism is vanilla, then socialism is vanilla with chocolate chips. Look it up. Socialism is defined as "the economic system of communism." Communism is the political system.
So what Bernie Sanders is selling - to stadiums filled with goo-goo eyed fans cheering a rock star - is the economic system of Cuba. That is Bernie's product.
Cuba's own Constitution defines Cuba as "a Socialist Republic." Fidel Castro's revolutionary slogan was "Socialism or death!"
This folks is the raw truth of what Bernie Sanders is selling. Bernie is trying to make the case that Finland and Norway are the "new socialism." But that's just Madison Aveune advertising agencies trying to brighten up the message.
Cuba operates under a socialist economic system. The people live in economic disaster. The country is in ruins. Entire generations have had their lives ruined by socialism. Wikipedia reports the average doctor in Cuba earns about $30 U.S. per month.
In America we drive Mercedes and BMWs. Even "poor people" wear diamond bling and drive cars with $25,000 stereo systems and chrome spinner wheels. In Cuba they drive 1958 Oldsmobiles with no replacement parts - if they're lucky. The unlucky ones drive around in wooden donkey carts.
For decades now anyone with a brain has jumped into a dilapidated raft to try to escape from the misery of Cuba's socialism. They risked drowning or being eaten by sharks to escape the blinding poverty and misery of socialism. People are willing to die to escape socialism.
That's what Bernie Sanders is selling.
Or take Venezuela. They have food shortages, unrest in the streets and please BYOTP (Bring Your Own Toilet Paper). That's right, socialism has resulted in a toilet paper shortage. Socialism has ruined their lives.
This is what Bernie Sanders is selling.
Or take old East Germany. They too had a socialist economic system. Guess what the name of the ruling party of communist East Germany was? The Socialist Unity Party.
Socialism was so great that East Germany had to build a wall to keep their citizens from escaping. East Germans died trying to climb that wall. They died just to taste freedom and capitalism. That's how bad socialism is.
This is what Bernie Sanders is selling.
So next time you go to a Bernie Sanders rally, just keep your eyes and ears open and really listen to what he's selling. And think of all the people who died trying to escape his economic system.
And one more thing…
Be sure to bring you're own toilet paper. Just in case.
–
TheBlaze contributor channel supports an open discourse on a range of views. The opinions expressed in this channel are solely those of each individual author.