Nobody likes a Debbie Downer or Negative Nelly but, if truth be told, it's human nature to talk about our life. From the tallest peaks to the deepest valleys, we discuss everything.
So why should grief be any different? Talking openly about our heartbreak is imperative to our well-being and should be viewed as a critical piece of recovery. When we share bittersweet memories or anguished emotions, it doesn't mean we're stuck, it means we're processing a very complex transition, and that's healthy.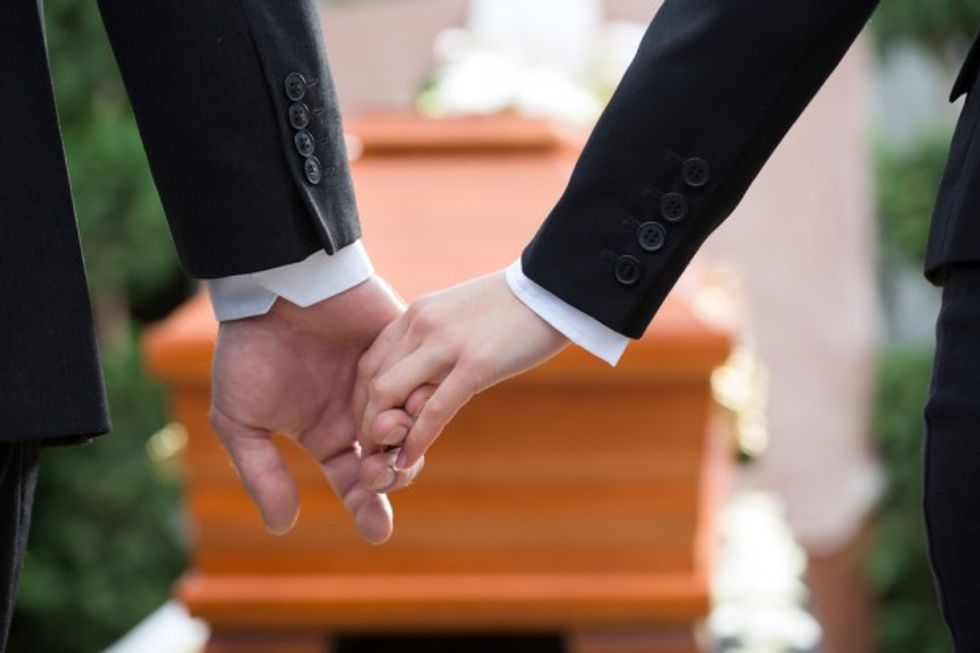 Photo Credit: Shutterstock
So how can you help the bereaved this holiday season?
Give them the 15-minute gift of listening. Set the timer so you don't feel trapped, and just allow them to ramble. But don't say anything during those fifteen minutes. It's important that you just pay attention without interrupting, guiding, or judging. The bereaved need not have the same listener each day, but they must practice this step every day.
Loss comes in many forms. Ranging from loss of a job, loss of a marriage, loss of health, and loss of a loved one, losing someone or something we love is a journey that's as old as mankind. When we talk about our heartbreak, we aren't ruminating in our sorrow or feeling sorry for ourselves. By discussing it, we are actually processing it. If we aren't allowed to process it, then it becomes silent grief. Silent grief is deadly grief.
Past generations tend to believe that openly discussing our sorrow is a sign of wallowing in self-pity. I hope our generation turns that thinking around, because those who stifle their sorrow are the ones we should be concerned about. They are in the danger zone of failing to thrive after loss, not the other way around.
Verbalizing our emotions is a normal, everyday occurrence. We readily swap stories about failed relationships, horrible bosses, or how the baby is teething so we didn't sleep a wink last night. It happens around the office watercooler, in phone conversations, and over text messages. Regardless of the topic, it's important to verbalize our emotions. It's how we release steam and process life's ups and downs. It's human nature.
And grief is no different. When we lose someone or something we love, life as we know it ends and a new one begins. Facing a transition that doesn't come with a guidebook, we are forced to embark on a very complex journey filled with landmines and fault lines. Like Earth's tectonic plates that rub against each other, our transition causes a shift in every aspect of our life. And if we aren't allowed to relieve the pressure, if we're forced to stifle it for fear of others assuming we're stuck in our grief or wallowing in self-pity, we're in grave danger of failing to thrive after loss or, worse, at risk of an emotional earthquake.
Giving the bereaved the 15-minute gift of listening is a cherished gift that allows them to vent the overwhelming emotions that otherwise threatens to engulf them in unexpected places, like the grocery story. It allows them to share their fears about losing more loved ones. It allows them to just fall apart so they can find their footing again in life. It allows them to process their loss, which is critical to their recovery.
For no matter the age, the circumstance, or number of days since they embarked on their journey through loss, the 15-minute gift of listening is a gift that fits all budgets, never goes out of style, and will be cherished for life.
–
TheBlaze contributor channel supports an open discourse on a range of views. The opinions expressed in this channel are solely those of each individual author.