"It is better to live one day as a lion than 100 years as a sheep."
Sunday, the above quote set Twitter on fire as the finger-waggers lined up to condemn Donald Trump for tweeting a quote that originated from infamous Italian dictator Benito Mussolini.
Along with dozens of influential conservatives nationwide, I've spent recent weeks explaining why I will #NeverTrump, and torching the Donald for his litany of offenses not just to liberty and conservatism, but to human decency in general.
As a liberty-loving conservatarian voter, I refuse to allow Trump to hide behind the name of conservatism while he disregards the Constitution, supports censorship, and threatens retribution to political enemies, the press, and whatever people groups he currently finds troublesome.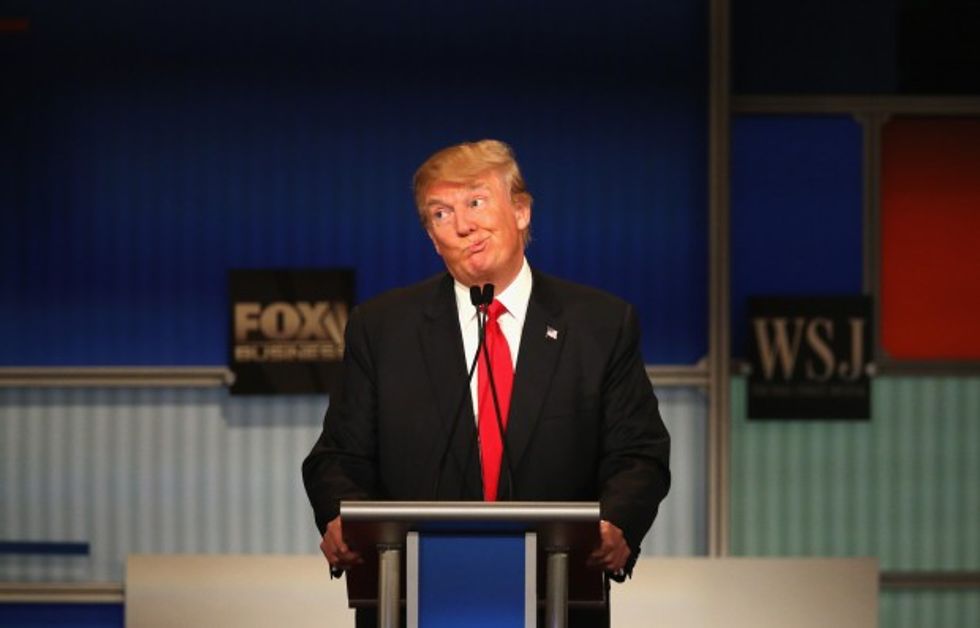 Donald Trump during the Republican Presidential Debate sponsored by Fox Business and the Wall Street Journal at the Milwaukee Theatre, Nov. 10, 2015. (Getty Images/Scott Olson)
In short, Donald J. Trump is one of the last people on God's green earth I would ever cast a vote for.
And that's why it's so strange that I now find myself defending his decision to tweet out a quote from a brutal dictator whose regime formed the most explicitly fascist wing of the Axis powers.
My objection to the objection is not born of any desire to defend Trump, and certainly not of any love for Il Duce.
Rather, I feel compelled to defend the forgotten notion that statements have value independent of who uttered them; that truth is truth no matter who says it.
The principle behind the quote is a solid, and has been reiterated in different forms by heroes and villains alike, from Horace, to Beethoven, to Marden, to Bonhoeffer.
In the rush to criticize Trump for quoting a dictator, it seems we may be missing an important lesson.
There's no doubt that Mussolini was a monster - a stain on human history.
But I believe the very fact that he was a brutal and pompous fascist who committed unspeakable evil, highlights the importance of understanding him in the context of such quotes.
We tend to diminish the complexity of figures we disdain, by turning them into one-dimensional caricatures, shaded only in the colors of their defining darkness.
The 'talk over the teacups' at Berchesgaden on September 24, 1938. L to R, Joachim von Ribbentrop, German Foreign Minister, Neville Chamberlain, Adolf Hitler, Paul Schmidt, an interpreter, Sir Neville Henderson, British ambassasor to Germany. Prime Ministers Lord Neville Chamberlain (U.K.), Edouard Daladier (France), Nazi German Chancellor Adolf Hitler, Benito Mussolini (Italy) and Italian Foreign minister Count Gian Galeazzo Ciano gathered on September 29, 1938 in Munich to sign the Munich treaty between Nazi Germany, France, Italia and the United Kingdom, authorizing Hitler to annex a Czech territory called the Sudetes. Germany finally invaded Czechoslovakia on 15 March 1939.
Credit: AFP/Getty Images
We forget that these men were - in their own times - admired, respected, feared, loved, praised, and unhesitatingly followed. Mussolini himself was empowered by a constitutional legislature stacked with fellow fascists who had been swept to power, not in a violent coup, but by democratic elections.
Not only that, but those around him knew him as more than we do today. As Mussolini rose to power, he was not recognized as a dangerous bigot who would plunge the nation into war and destruction. He was seen as an intellectual, a widely-known journalist, a war hero, and a dynamic leader.
Nobody followed Mussolini because he was a racist megalomaniac. They followed him because of his strength and vision and powerful personality.
They followed him, in short, because he was a lion.
Mussolini was catapulted to power by a nation hungry for greatness and seduced by the power of uniformity and centralization. Italy, like Germany, was a nation in decline and ripe for revolution.
Such a nation seizes on strength, on resolve, on big promises from small men.
We would do well to regard this warning, delivered perhaps unwittingly to us by a man who, like Mussolini and other nationalist dictators before him, promises to make his country great again: history's monsters seldom look the part as they rise to power.
–
TheBlaze contributor channel supports an open discourse on a range of views. The opinions expressed in this channel are solely those of each individual author.