What do the results of the recent New York primaries mean?
They mean that the Sanders campaign is effectively dead.
They also mean that Donald Trump is not only reinvigorated but that Sen. Ted Cruz enthusiasts must face the fact that if they are planning on a contested convention, they need Sen. Marco Rubio and Gov. John Kasich supporters in their pocket.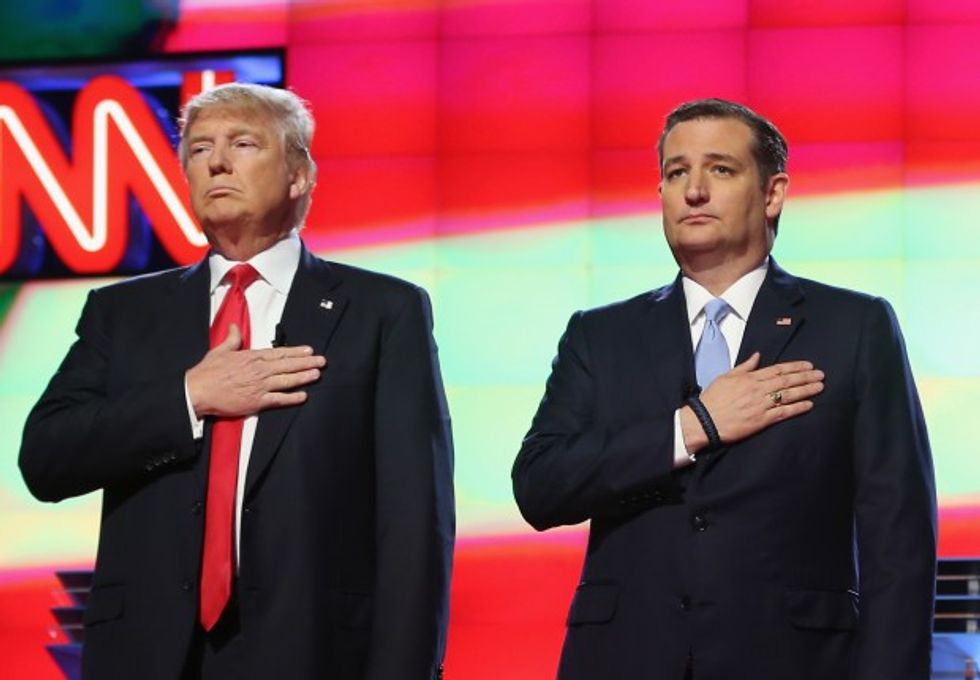 Joe Raedle/Getty Images
The New York primaries put Trump in the position to break 1,000 delegates within the week, as several states hold primaries on April 26 (Pennsylvania, Connecticut, Maryland and Rhode Island). Most polls show Trump leading comfortably on all fronts. If Trump continues to win - and this will not be easy in Indiana on May 3 - he will have the required delegate count (or be very near it) following the California primary election in June.
The question for GOP voters, GOP leaders and delegates to the national convention must be about winning in November. Which candidate is most likely to mobilize GOP voters to show up in November to beat Hillary Clinton? Which candidate is most likely to draw independent and Democratic voters to vote Republican in November?
Many of us thought that the most likely "face" to do this would have been younger Republican talent like Gov. Scott Walker or Rubio, particularly when their energy and talent is contrasted with the tarnished record and uninspiring presence of former Secretary of State Hillary Clinton. Perhaps Gov. John Kasich can rebound as the convention's dark horse to be that positive face to counter Clinton, but that seems unlikely.
So Republicans must answer the "who can win" question with a careful evaluation of Cruz, Trump and their own responsibility as voters.
This is not an easy answer for true conservatives who appreciate the values that Cruz represents. However, he does not have significant executive experience, he is often not well-liked by his own colleagues and one wonders if any Democrats in America will vote for him. This is frustrating for all of us who do think he is a man of intelligence, talent and classical American values.
On the other hand, Trump represents business acumen, a certain pugnacious courage and a sense of patriotism that sees America's generosity as having been taken advantage of by the world to our detriment. Many conservatives worry about Trump's "New York values," but at the same time Trump, is multi-dimensional enough to both outrage some Republicans and yet attract some Democrats.
These are not easy choices. But the worst choice for Republican voters would be to usher in another Clinton era, either by voting for Clinton in November, or by staying at home on election day - as too many did in 2012.
The fundamental question for the GOP is: Who can win in November?

–
TheBlaze contributor channel supports an open discourse on a range of views. The opinions expressed in this channel are solely those of each individual author.