This piece is the second installment of a monthly series on legal immigrants for TheBlaze and The Chris Salcedo Show.
"Not AGAIN!"
Alison's heart sank. Now several years into the immigration process, and her permanent resident card was lost in the abyss of the system for a second time.
Her journey started out like so many others—she met someone, she fell in love. And as it happened, she fell in love with an American.
Just like every young couple, they made plans and dreamed about family and future. It seemed so easy.
But then, reality sets in.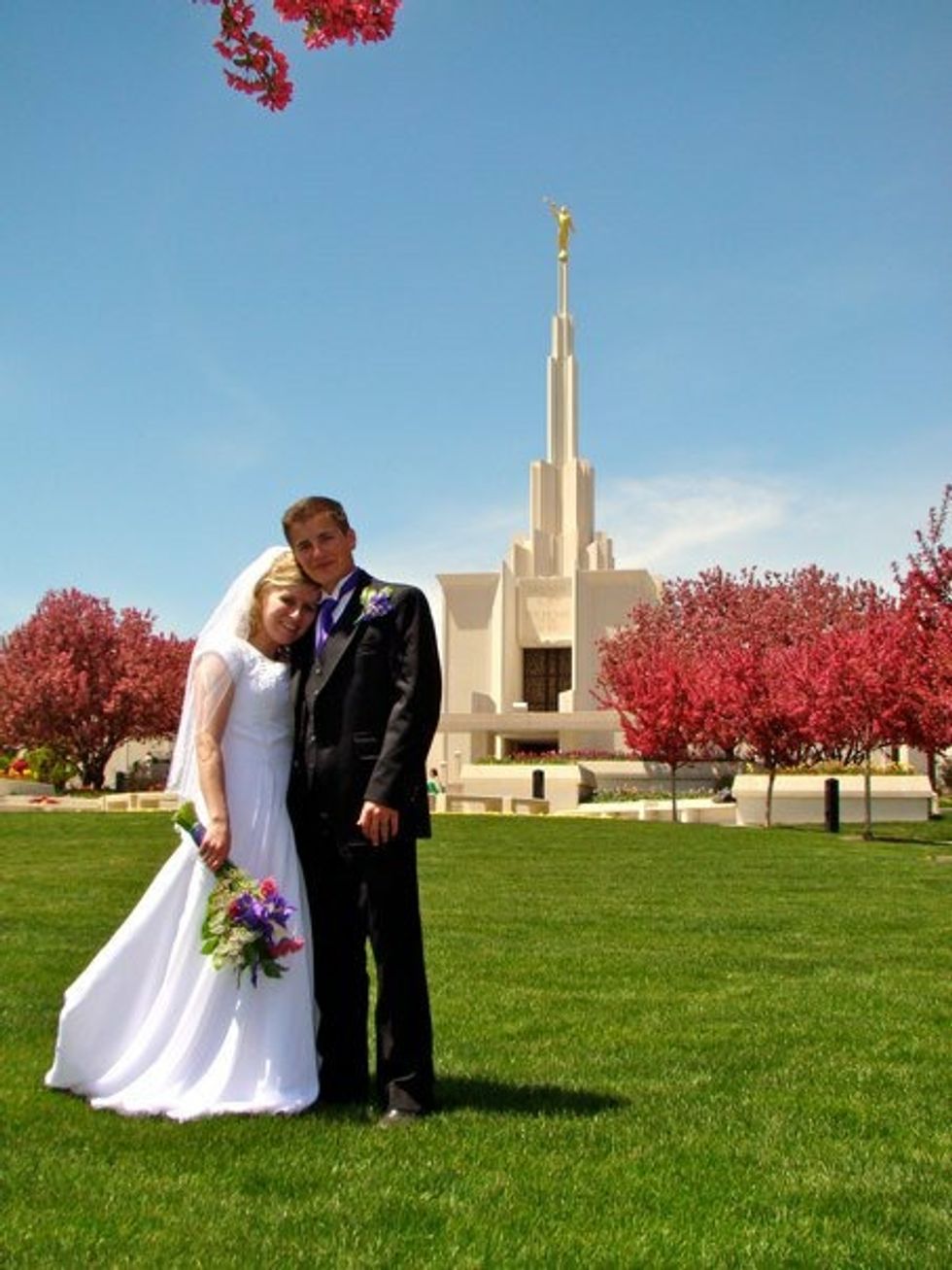 Wedding Day, May 2010 (Courtesy of Alison W. )
For former Canadian Alison W., it would be five long, often lonely, always frustrating years from the time she and her fiancé started her immigration process, to the time she could finally breathe a sigh of relief at the touch of naturalization papers in her hands.
Hailing from Edmonton, Alberta, Canada, Alison's story is often met with puzzled looks.
"But, you're Canadian!" they'll say, "It can't be that hard."
"Take a seat," she'll tell you, "It's going to be a long story."
Choosing from the (seemingly) less frustrating of the I-130 petition options, Alison and her fiancé opted to marry in the U.S., immediately apply for her permanent residency—and return to Canada to work and wait together until the residency was granted.
Plans quickly began to fall through.
Her husband couldn't work, because his prospective employer couldn't obtain a Canadian work permit for him. As weeks turned into months of waiting, he volunteered with a local bicycle repair shop to pass the time while Alison's job supported the two.
Eight months later, word finally came. The United States Immigration and Naturalization Services (USCIS) wouldn't approve it until Alison's husband could prove he had the finances to support her financially in the United States.
Just a few months into their marriage, and just as they found out Alison was pregnant with their first child, her husband had to leave.
They said goodbye—uncertain when they'd be reunited. They were entirely at the mercy of the system, hoping that the job he'd eventually find in Colorado would meet the requirements.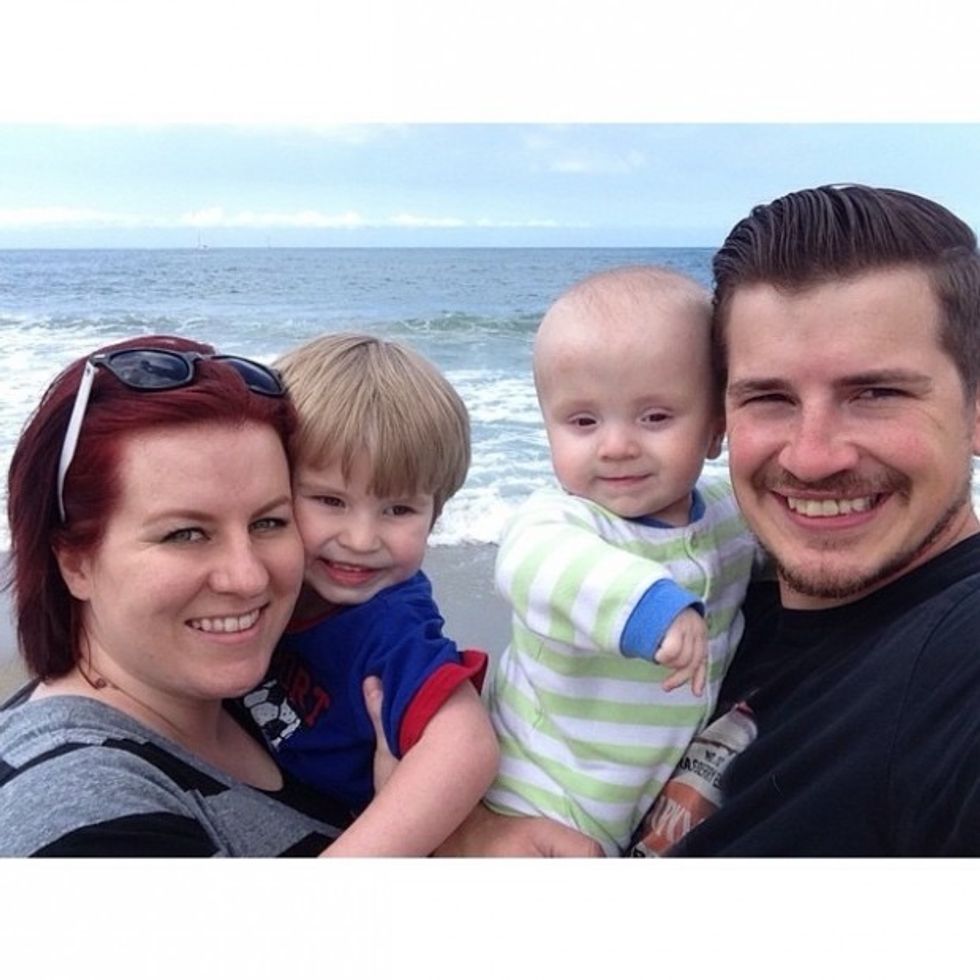 Alison, her husband, and their two children. (Courtesy of Alison W. )
At a time when they should have been celebrating and planning together, Alison and her husband were saying goodbye.
Though Alison's husband was able to come for a few short days to share in the birth of their son—their extended separation robbed them of countless precious moments together with their child.
A few more months passed, and with her husband's income backing her up, Alison was finally granted an interview at the consulate in Montreal.
At 2,500 miles away from Alison's native Edmonton, Montreal is the only U.S. Consulate that processes immigration visas. Montreal is also home to two of the only four doctors in the entire country authorized to carry out the required physical exam—which meant Alison had to arrive a week prior to her visa interview … and wait.
A plane ticket and nine days of food and hotel expenses later, she boarded a bus with her newborn baby strapped to her, and his wipes, diapers, and bottles stuffed in the only small purse she was allowed to bring with her into the building.
The doors opened, and she was buffeted along with the crowd; shoved out of the way as the others tried to be first in line.
To her relief, her interview was immediate, and her approval was quick.
"Welcome to the United States!" the official told her, smiling.
Relief.
She'd receive a temporary entrance (CR1) visa which would allow her to enter the United States, at which point her permanent resident card would be processed and sent.
A year and a half after starting the process, Alison packed up her three month old son and all of her belongings for the long, three day drive from Alberta to Colorado. Finally, after having missed so many treasured moments in their marriage and parenthood—they'd be together.
The joy in knowing that they'd never have to be apart like again was unlike any other.
It was supposed to be so simple now.
After all, they'd battled through the worst, and her green card was on its way.
And yet, the timeframe came and went. Despite USCIS' assurances that it had been mailed, the card never arrived. Alison was told that a "non-delivery service request" would be filed, and that it would come within another 60 days.
It never came—forcing Alison to file her I-90 form and once again pay the $450 filing fee for a mistake she would later learn was USCIS' misprint of her zip code.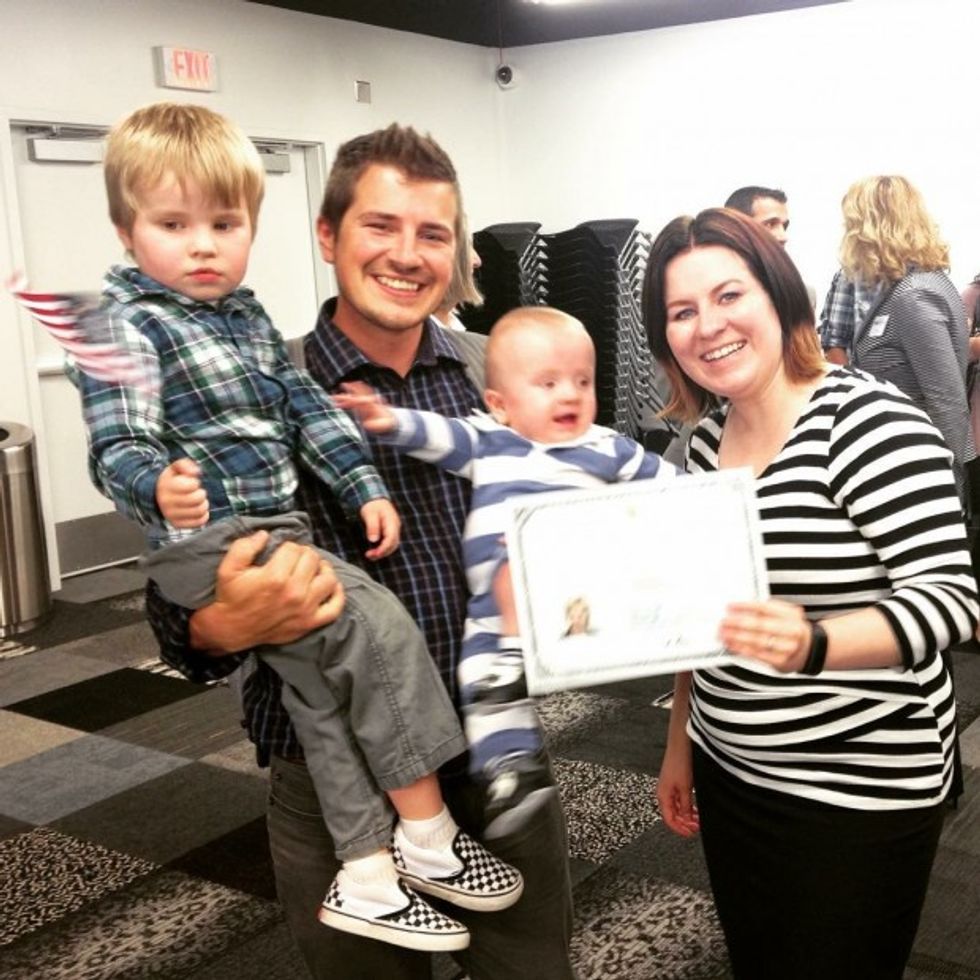 Alison and her family at her naturalization ceremony, July 2015. (Courtesy of Alison W. )
Struggling to start their lives in Colorado with a new baby, $450 was a massive hit. But they were up against a wall.
Desperate, they reached out to their state senators for help. They were advised to file again; this time with a fee waive petition (I-912) attached to it.
It was May 2012, and at this point it had been two years from their first application.
Months passed again, until they finally received notice that their petition had been denied.
Why?
In an insipid circle of unaccountability, since a permanent resident card had already been supposedly mailed, another couldn't be issued.
By this point, her conditional status as a permanent resident (card or no card) was going to expire, after which she'd have to restart the application process AGAIN to remove the conditions. There wasn't any point pursuing the old card; she'd need a new one anyway.
Miles of paperwork and documentation later, they filed to remove conditions.
Six to eight weeks came and went. Again. To Alison's complete astonishment, the card never came. Again. USCIS claimed it had been sent. The Postal Service claimed it had been delivered.
And there was Alison—stuck in the middle of a tedious nothingness, wherein no one took responsibility, and no one seemed interested in helping.
With a sense of agonizing invisibility, and with the premature birth of her second child weighing on her mind, she felt defeated.
She was legally allowed to stay in the country—she just had no way to prove it. After months of full compliance, she hadn't a single document to show for it.
And it would be another long, expensive year before Alison could finally breathe easy, when, on July 8, 2015, she stood alongside 40 other excited new Americans welcomed in as citizens.
The process is sloppy. The realistic options for guidance are limited. The willingness to treat law-abiding people like Alison as human beings is scarce. And perhaps most shocking, the attitude towards lost green cards is astonishingly blasé.
Alison, like so many, was solely responsible for keeping tabs on a chaotic agency and the methods they use to send the documents she'd bought and paid for with her money, her loneliness, and her hard work.
This was her entire life for the duration of the process—and she was literally and figuratively shoved aside time and again.
When do we start caring about people like her?
Let's tell their stories.
Mary Ramirez is a full-time writer, creator of www.afuturefree.com(a political commentary blog), and contributor to The Chris Salcedo Show (TheBlaze Radio Network, Saturday, from noon to 3 p.m. ET). She can be reached at: afuturefree@aol.com; or on Twitter: @AFutureFree
For our Liberty Loving Latinos en Español, click here!
–
TheBlaze contributor channel supports an open discourse on a range of views. The opinions expressed in this channel are solely those of each individual author.