I'll never forget the feeling that awful, awful day nine years ago.
But we'll get to that in a minute.
My husband and I were so naïve when we made our plans to come back to the United States. We honestly thought that to get my Mexican-born fiancé into the United States with me would be fairly simple.
We were so naïve.
It was decided—I'd go back first and get settled, and he'd look for a job. I got on a plane in July of that year, fully confident that we'd be together again in a matter of weeks.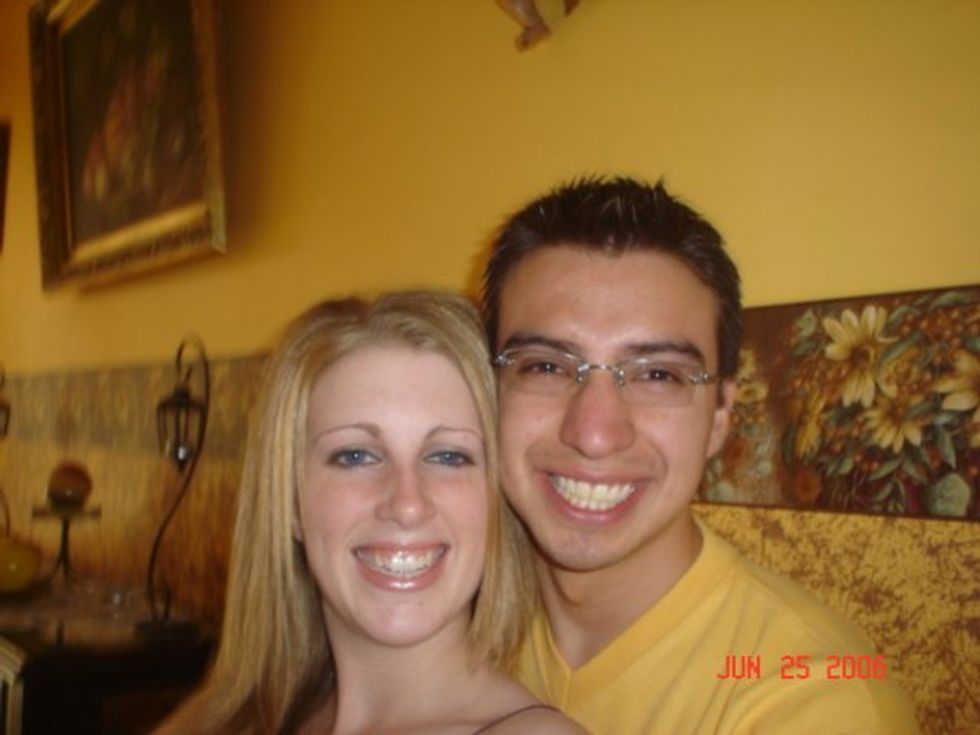 Mexico, 2006 (Mary Ramirez) 
Weeks turned into months, until finally (late that fall) he found a job.
For a matter of a day or two, we were ecstatic.
It wasn't long before reality smacked us upside the proverbial head once again. I got a phone call from my completely defeated fiancé, telling me that the offer had been rescinded thanks to a massive misunderstanding: they didn't realize they'd have to sponsor him for a visa. Given that, they explained, there never should have been a job offer in the first place.
I'll never forget that day. It's burned in my memory. I walked over to my boss—and flatly told her I was going home.
And I sobbed the entire way.
Our light at the end of the tunnel was gone. I was 20 years old, and barely knew how the world worked. I certainly didn't know anything about the uber-complicated American immigration process.
And suddenly, we were faced with the fact that we had no idea how to be legally reunited—permanently—in the United States.
It was an incredibly helpless feeling.
A friend eventually connected us with an immigration lawyer, and off I went to be told that there were ways to get him here, but that they'd be complicated, expensive, and certainly no guarantee of admission.
Option 1: We could get married immediately and he could come right up, but it would take months for a work permit to arrive, and neither of us had the savings to last through that.
Option 2: We could apply for a K1 Fiancé Visa, which would allow him to enter as my fiancé, we'd move our wedding up, and he'd be given a work permit until his permanent resident card came.
That would take up to a year for approval—which meant 12 more months apart.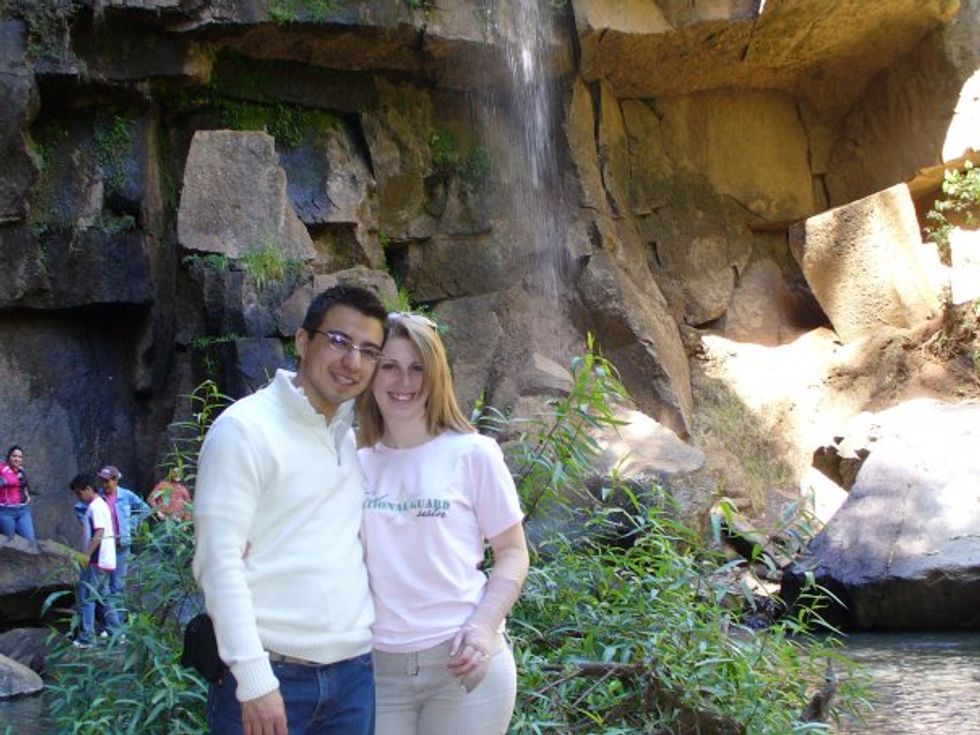 Mexico, 2008 (during our time apart) (Mary Ramirez) 
I sunk down in the big leather chair, defeated.
The lawyer went on to explain the whole sordid process, all of which he could have handled for us at a hefty price.
I laughed silently as I thought about the pitiful state of my bank account. I'd just have to do it myself.
And so we began.
We spoke every day; we went on "dates" that consisted of renting the same movie and watching it at the same time; we sent each other packages and letters.
I did a lot of crying.
The entire time, there was no one I could talk to about the status. Sure, I could call the 800 number provided on the United States Customs and Immigration (USCIS) website, but it never went anywhere beyond an endless circle of prompts and recordings.
We eventually found blogs where communities of people just like us would share how they were finally able to get through to a human being to find out about their case.
Sometimes it worked, sometimes it didn't.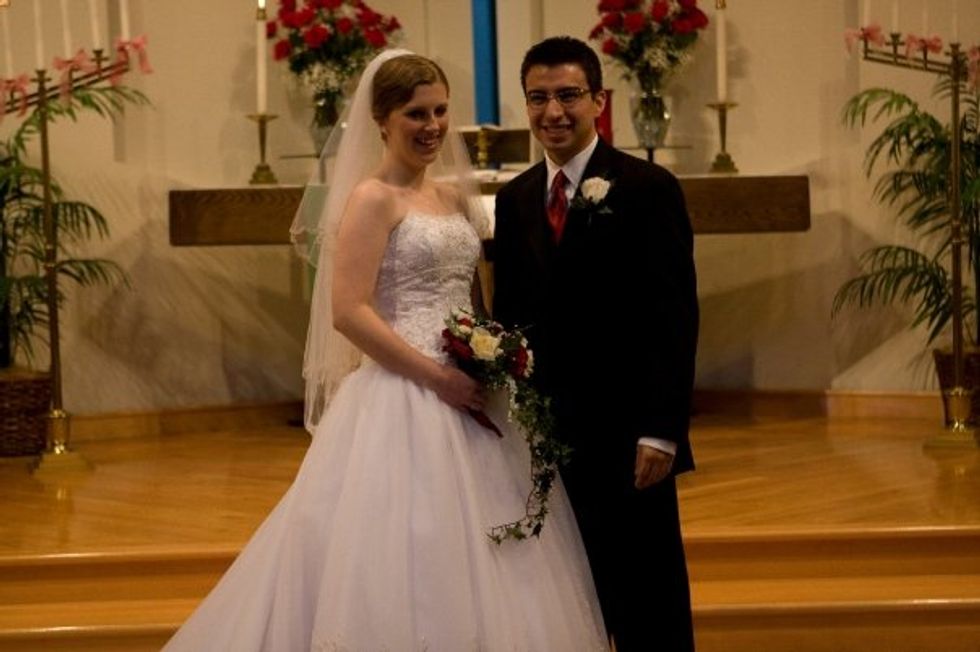 Ramirez Wedding, 2008 (Mary Ramirez) 
Most of the time we were just in the dark, with absolutely no guarantee that anything was happening, let along being approved.
Meanwhile, as part of the process, my husband had to fly up to the U.S. consulate in a place called Ciudad Juarez, which, for those who aren't aware, was once the murder capital of the world. Rape, theft and assault were also extremely common.
And consider this: Everyone knows that people going to the consulate are going with money—which makes them sitting ducks.
His appointment was in the morning and I was about to spend a whole day without knowing where he was, or if he was ok.
They didn't tell us it would take all day, and that he couldn't make a phone call until he left the consulate.
For all I knew he was in trouble.
No—he was experiencing the joys of an immigration medical exam (think: cattle) and waiting for hours in a crowded room, watching applicant after applicant be turned down.
Fortunately for us, he wasn't—and after months of paperwork, affidavits, thousands of dollars, and missing each other terribly, the coveted USCIS approval letter finally came.
Unfortunately, it didn't end there—and it wouldn't for several more years.
You see, we weren't told that his work permit would expire before his temporary permit resident card came. That meant he had to stop working for four terribly long months, and we spiraled into debt.
You see, we didn't realize that the permanent resident card that he would finally get would only be temporary (yes, a temporary permanent resident card), and that in just a short while we'd have to re-apply, pay again, and wait. Again.
We were the lucky ones, though.
We had family to lean on. We had relatives who made our earlier-than-planned wedding and honeymoon something beautiful for us. We had a loving grandfather who was willing to sign an affidavit swearing he'd support if we couldn't ourselves—since you're not allowed to request state or federal assistance.
Today, coming to this country is talked about by people (i.e. Jorge Ramos) like it's a human right. Worse still, that breaking the law is equally a right.
And as the wife of an immigrant, I'm here to tell you it's not a right. My husband doesn't think it is either. And even though we'd love to see the process improved, when we have to sit and listen to millions DEMAND that it be given to them—and watch politicians hold up example after example of illegal immigrant as some kind of hero to be praised, it gets immensely frustrating.
So what's the intent of this series?
Relevance.
Let's give relevance to the stories people who waited, toiled, sat alone oceans apart in order to do it the right way.
From the people like my husband and I, who spent months or even years apart, to people still dreaming of coming here—these stories have relevance.
Despite their political uselessness to those wishing to win votes or push open borders agendas, these stories are relevant. And every month I'm going to bring one to you.
Why?
Because they remind us to celebrate the law-abiding. Because they remind us to thank those who adopted this country as home, and respect it.
Because, as I've said in the past, doing the right thing takes courage, especially when so much of the world tells you that you not only should take the easy route, but that you actually deserve the easy route.
It takes real guts.
Let's tell their stories.
For our Liberty Loving Latinos en Español, click here!
Mary Ramirez is a full-time writer, creator of www.afuturefree.com(a political commentary blog), and contributor to The Chris Salcedo Show (TheBlaze Radio Network, Saturday, from noon to 3 p.m. ET). She can be reached at: afuturefree@aol.com; or on Twitter: @AFutureFree
–
TheBlaze contributor channel supports an open discourse on a range of views. The opinions expressed in this channel are solely those of each individual author.