President Barack Obama has chimed in now on the Colin Kaepernick protest, and he, too does not get it.
Saying that Kaepernick "has the Constitutional right" to not stand for the National Anthem completely misses the point of why so many are upset.
No one who is outraged at Kaepernick's selfish antics want to deny him the right to free expression or speech. Far from it, many veterans and military would proudly confirm that lives and limbs were sacrificed for those very freedoms.
We are upset because his actions disrespect those who have made and are making that sacrifice.
I can only speak to my 22 years of experience in the Army as an example of why this is true. Civilians couldn't possibly know this unless it was explained to them by someone in the military.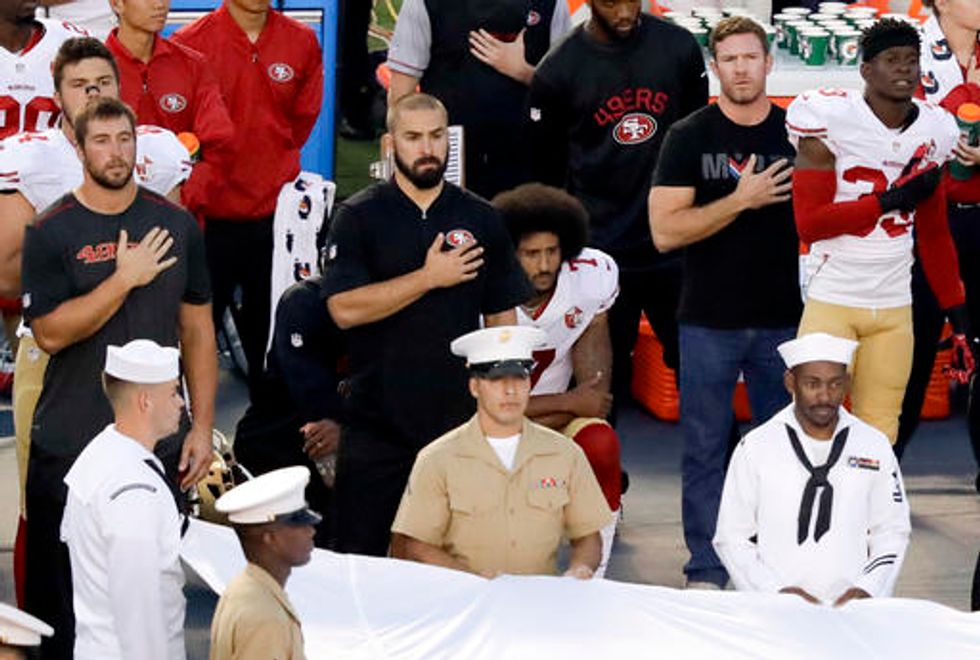 San Francisco 49ers quarterback Colin Kaepernick, middle, kneels during the national anthem before the team's NFL preseason football game against the San Diego Chargers, Thursday, Sept. 1, 2016, in San Diego. (AP Photo/Chris Carlson)
All service members swear an oath to defend the Constitution. We also learn and are expected to abide by the military Code of Conduct, which instructs us to never give up, and to resist capture among other edicts.
But the one thing that eats away at our soldier's soul at the sight of someone disrespecting the flag or our national anthem is that it is disloyal.
Loyalty is the first of the Army Values, followed by Duty, Respect, Selfless Service, Honor, Integrity and Personal Courage. There is an acronym there that spells "LDRSHIP." Loyalty is the first Army value in leadership. The American Army expects all of its soldiers to display leadership qualities through the Army values, 24/7/365.
Sitting, not removing one's hat, carrying on a conversation during the National Anthem will draw the ire of a loyal soldier any day of the week.
Furthermore, if one listens to the words of the National Anthem and one has at least an ounce of patriotism, the song stirs great emotion.
When I hear the Anthem I think of my comrades who never made it home from the battlefield. I think of those who sacrificed limbs and souls. I think of those who came home looking and sounding whole, but who left pieces of themselves in faraway places. I think of those who could no longer stand the pain of traumatic brain injury and post traumatic brain disorder and committed suicide. I think of my homeless veteran brothers and sisters.
It's OK not to think about those things, how would a non-military-connected-civilian know of them or care? We don't ask for sympathy or pity, we ask for one thing, respect.
Colin Kaepernick did not sit during the National Anthem of his last NFL pre-season game, he knelt. I suggested that maybe when he felt things were getting better he would "kneel or squat."
Kaepernick met with a former Green Beret Nate Boyer prior to the last game. Boyer explained why it upset him that Kaepernick did not stand for the Anthem, and then Boyer listened to Kaepernick's concerns.
The compromise was kneeling.
The next game the San Francisco 49ers play will be on Monday night, September 11, the 15th anniversary of that tragic day. More Americans were killed on 9/11 than during either the Imperial Japanese attack on Pearl Harbor on Dec. 7, 1941, or on D-Day, June 6, 1945, on the beaches of Normandy.
What will Kaepernick do during the National Anthem at this game?
For soldiers, the expectations of conduct are high. Those in the military are subject to myriad policies, procedures, regulations and laws, including the Uniform Code of Military Justice. In these laws is a catchall: conduct unbecoming. Even the perception of impropriety can doom the career of military personnel who are even thought to be on the wrong side of regulations.
Soldiers give up civil and other liberties for the privilege of serving this great nation. While in uniform a soldier may not march in a protest or political rally, and yes, every soldier is expected to stand at attention, face the flag and proudly salute it upon hearing the National Anthem. Even out of uniform veterans are authorized to salute the flag. Look for them next time you're at an event where it's played.
The National Football League and 49ers are taking a PR beating because their anti-American nonchalance over the disrespect Kaepernick has shown towards the flag and Anthem.
In uniform, Colin Kaepernick represents not only himself, but the 49ers, its fans and the NFL. Why would the 49ers, its fans and the NFL allow conduct detrimental to the team and league, political correctness?
Why won't the NFL model their policies after those of the military or even the NBA, which requires players to stand for the National Anthem? The players should be about TEAM and the NFL while in uniform. Political and other non-football related statements can come out of uniform, just like in the military.
Race also has nothing to do with why many Americans are upset at Kaepernick's refusal to stand. To say it does is race-baiting. Bigotry and hatred from any race is unacceptable. This is not about race, gender, religious persuasion, age or any other distinguishing factor. It is about respect.
Black Lives Matter may try to jump on this train, but they'll need to get up to speed first to make sure they don't get run over. This attempt by Kaepernick and a few others to politicize his behavior is only an attempt to hijack the peace train with an intellectually dishonest false premise.
It's only racial if you want it to be. And enough with the complaining and whining about how disadvantaged some people are, it's pandering and insulting, especially coming from someone of mixed black and white heritage who was raised by a wealthy white family in a wealthy white suburban neighborhood. Black guilt?
Maybe it's better to just leave that one alone, nothing to gain by looking through a spectrum of colors when all you want is a mixture of red, white and blue.
I remember during red carpet interviews at the last Academy Awards, when protestors decried the lack of lead actors and actresses of color nominated for performances in major Hollywood films.
A few black Americans attended despite the passionate requests from militants for them to boycott the Oscars.
Louis Gossett, Jr., who chose to attend, was asked what he thought, and I'll never forget his answer.
"We are all one family, the American family." The stunned interviewer paused in shock at that statement. I never heard or saw it repeated in the mainstream media, as if it were never said.
That's a shame, and so is Kaepernick's attitude.
Maybe if he thinks more about other people and how we are affected by his insensitivity he will act the gentleman. According to John Wooden, "A gentleman is one who considers the rights of others before his own needs, and the needs of others before his own rights."
Wooden also said, in reflection of Kareem Abdul Jabbar's stint on several of Wooden's NCAA men's basketball championship teams (10 in 12 years), "The main ingredient of stardom is the rest of the team."
#Stand4Anthem
I am the author of "Saving Grace at Guantanamo Bay: A Memoir of a Citizen Warrior," and three times mobilized U.S. Army Reserve Major (Retired). Author web page: http://sbpra.com/montgomeryjgranger/ Twitter @mjgranger1
–
TheBlaze contributor channel supports an open discourse on a range of views. The opinions expressed in this channel are solely those of each individual author.