With the recent fall of Ramadi, observers are asking whether Islamic State has matured in terms of its tactical and operational sophistication. The answer seems to be both yes and not.
On the one hand, Islamic State consists of many mature, battle-tested resources. On the other hand, it is clear, and frightening, that Islamic State is flexible, adaptive, and ruthless. This is a threat that is not going to go away.
Why did the fall of Ramadi ring so many new alarm bells?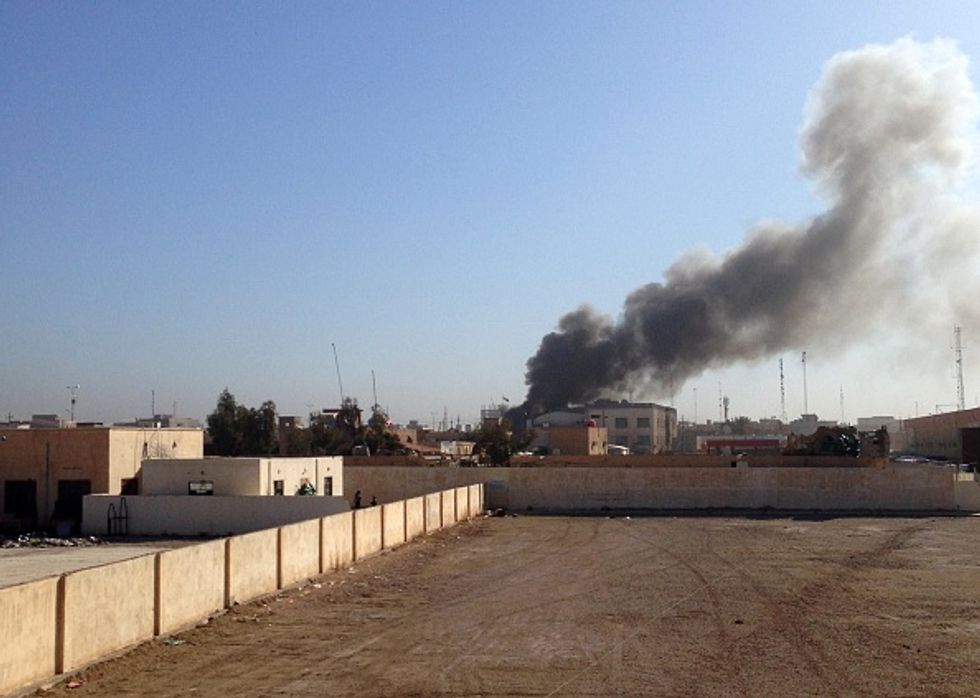 A picture taken on March 11, 2015 shows smoke billowing after the building of the Anbar Governorate was hit by a mortar shell in the Hosh district of Ramadi as the Islamic State jihadist group launched a coordinated attack on government-held areas of the western Iraqi city, involving seven almost simultaneous suicide car bombs, police said. At least 10 people were killed and 30 wounded in the attack, according to initial reports by police and hospital sources in the city, capital of Anbar province. (AZHAR SHALLAL/AFP/Getty Images)
Ramadi is a city of nearly a half million people just 70 miles from Baghdad and it is the capital of al Anbar province. It is the heart of the Sunni heartland. Its loss, and the loss earlier of Iraq's second largest city, Mosul, demonstrate that Islamic State is determined and capable.
What does the fall of Ramadi tell us about the sophistication of Islamic State?
In the blame game following the loss of Ramadi, the U.S. Secretary of Defense blamed the Iraqi military for turning tail and running: "the Iraqi military had no will to fight." If the Iraqi military really just dissolved before Islamic State, that says much more about Iraq's capacity and will to fight than it does about Islamic State.
It has been widely reported that Islamic State's intended assault on Ramadi was clear for some time. Unlike other battlefronts, Islamic State put a media blackout in the Ramadi area, transferred troops from Syria, and built up a sizable force that included heavy equipment and trucks. This suggests that Islamic State has learned to be careful about operational and information security so that Western eyes and ears (e.g. satellite, drones, mobile phone surveillance) were limited. In short, Islamic State is nimble and adaptive.
Nonetheless, the attack began with a whimper, not a bang. As the Wall Street Journal reported, for an hour prior to the assault, a single Islamic State bulldozer cleared the roadway into Ramadi of obstructions so that the vehicle-born improvised explosive devices could maximize their destructive potential.
Then 27 VBIEDs attacked Ramadi. Many were armored vehicles left behind by the U.S. military. Some had the destructive power of the Oklahoma City bombing. The results were shock, awe, and devastation. More chilling, during the same week Islamic State had captured the Syrian city of Palmyra, hundreds of miles away.
Ramadi and Palmyra make it clear that Islamic State has four crucial elements for any successful military campaign: mission, strategy, will, and execution.
A successful politico-military organization must have a clearly defined mission. Islamic State's mission is clearly defined: To establish an Islamic caliphate at the very center of the historic Sunni caliphate of the past, which was centered in Baghdad. In more practical terms, Islamic State's primary strategy is to win oil-rich, Sunni-dominated territory on the ground in the chaos of what used to be Syria and Iraq. Islamic State's strategy includes purging the land of undesirable elements and inspiring jihadists worldwide, whether as foreign fighters to join its ranks or international affiliates waging their own jihad (e.g. Nigeria's Boko Haram, Philippines' Abu Sayyeff).
This file image made from video posted on a militant website Saturday, July 5, 2014, which has been authenticated based on its contents and other AP reporting, purports to show the leader of the Islamic State group, Abu Bakr al-Baghdadi, delivering a sermon at a mosque in Iraq. (AP Photo/Militant video, File)
Islamic State has been effective in executing this strategy, which should be little surprise. Its leaders and their lieutenants have been battle-tested over the past decade. Many were trained by Coalition forces or served in Saddam Hussein's military. The same holds true of many of the foreign fighters in its ranks, who learned their skills in Libya, Syria, and Central Asia.
The Washington Post interviewed a Libyan fighter named Abu Saleh who said, "Sometimes I joke around and say that I am a fighter made by America." These fighters have overrun Syrian army depots and Iraqi weapons storage installations, and thus have high quality Russian and Western tools at their disposal.
Islamic State also demonstrates a ruthless, energetic will. Islamic State wants to win and it is audacious in pursuit of its goals. That will was demonstrated at Ramadi as 27 suicide bombers tore open the city. In other places, Islamic State fighters have shown tenacity and endured hardship.
What is unclear, however, is which of Islamic State's enemies have a similar combination of mission, strategy, execution, and willpower. On the ground, it is clear that Syria's President Assad is equally determined to fight to maintain his regime, and Iran is increasingly willing to fight on the front lines against Islamic State. The Kurds are determined and have fought well despite tremendous limitations, but their partners in Baghdad seem flummoxed and impotent. Arab capitals in the region are loud in their denunciations of Islamic State but more concerned about looking over their shoulders are restive populations than sending boots on the ground to fight Islamic State.
It goes without saying that the Eastern great powers, Russia and China, will do little to beat Islamic State. What of the West? Sen. John McCain and others have long argued that the Obama Administration lacks a strategy (and by implication a clearly defined mission) in this conflict.
If it is true that Islamic State was able to calmly bulldoze down the entrance to Ramadi without the least interference by airstrikes, this suggests a lack of Western will or a lack of the ability to execute the mission of supporting the Iraqi military, or both. Islamic State is nothing if not observant—what did they learn from Ramadi? That is the question that should trouble Baghdad, and Washington.
Eric Patterson, Ph.D. is Dean of the Robertson School of Government at Regent University. He is the author of Ending Wars Well (Yale University Press, 2012) and Ethics Beyond Wars End (Georgetown University Press, 2012).
–
TheBlaze contributor channel supports an open discourse on a range of views. The opinions expressed in this channel are solely those of each individual author.