As usual with Obama's policies let's start with the lie:
"We've always made it clear that there's no equivalence between an international development worker imprisoned for more than four years for doing nothing more than helping Cuban citizens gain access to the Internet, and convicted Cuban intelligence agents. - Pooja Jhunjhunwala, a State Department spokeswoman, Dec. 1, 2014
But 16 days later this equivalence was made manifest. Fidel Castro's U.S. hostage, international development worker Alan Gross, was exchanged for three convicted (one for conspiracy to commit murder) Cuban intelligence agents. Given that "negotiations" between Obama's bumbling functionaries (one a speechwriter, the other a Foreign Service bat-boy) and Castro's snickering KGB-trained apparatchiks had been ongoing for 18 months by the time of that State Department press release, it's obvious that the U.S. had long established the equivalence.
"It wasn't State Department officials," an astounded Marco Rubio disclosed regarding our negotiators. "It was National Security Council officials…You sent unqualified people to negotiate with hardened, brutal spies and representatives of tyrants. It was negotiated at a secretive level involving agencies under the complete control of the White House, as a political move… And that mismatch is apparent in this sort of deal that was made."
In this Dec. 3, 2013 file photo, supporters of Alan Gross, on poster at left, mark his fourth year in a Cuban prison with a protest in Lafayette Park, across from the White House in Washington D.C. Two U.S. senators said Tuesday, Nov. 11, 2014 that they're optimistic that the imprisoned American government contractor will be freed. Sens. Jeff Flake of Arizona and Tom Udall of New Mexico said in Havana that they met Gross for about two hours during a trip that included meetings with Cuban officials. Gross was detained in December 2009 while working to set up Internet access as a subcontractor for the U.S. government's U.S. Agency for International Development. He was tried and sentenced to 15 years in prison. (AP Photo/Charles Dharapak, File)
Our crack negotiators, you see, were up against Josefina Vidal, a Castroite spy who was expelled from the U.S. in 2003 for espionage. Such credentials apparently made her a "good-faith" partner in the eyes of the Obama administration.
Here's the reaction of Cuba's leading dissidents to the Christmas gift from Obama to the Stalinist dictator who tortures them [emphasis added]:
"Sadly, President Obama made the wrong decision. The freedom and democracy of the Cuban people will not be achieved through these benefits that he's giving -- not to the Cuban people -- but to the Cuban government. The Cuban government will only take advantage to strengthen its repressive machinery, to repress civil society, its people and remain in power."- Berta Soler, leader of The Ladies in White, Cuba's biggest dissident group.

"[Alan Gross] was not arrested for what he did, but for what could be gained from his arrest. He was simply bait and they were aware of it from the beginning... Castroism has won." - Yoani Sanchez, Cuba's most internationally famous dissident.

"I feel as though I have been abandoned on the battlefield." - Dr. Oscar Elias Biscet, former Cuban political prisoner awarded the U.S. Presidential Medal of Freedom by President George W. Bush.
The list of back-stabbed and outraged Cuban dissidents is much, much longer.
Historically speaking, decorum calls for the victorious party in international disputes-to keep poker-faced in his moment of triumph. (Think Gen. Douglas Mac Arthur on the USS Missouri Sept. 2, 1945.)
But the shellacking taken by U.S. interests in the recent "normalization" deal with the Castro regime made this impossible. So decorum was adjourned.
Almost instantly after the announcement, Castro was gloating and snickering in his triumph. On top of his spies (convicted by U.S. juries of everything from murder to spying on U.S. military installations) he got diplomatic benediction from the world's most powerful nation, escaped scot-free with stealing $7 billion from U.S. businessmen and stockholders accompanied by the murder and torture of a few Americans who resisted in 1960.
 In this Dec. 10, 2013 file image from TV, U.S. President Barack Obama shakes hands with Cuban President Raul Castro at the FNB Stadium in Soweto, South Africa, in the rain for a memorial service for former South African President Nelson Mandela. Obama on Wednesday, Dec. 17, 2014 declared the end of America's "outdated approach" to Cuba, announcing the re-establishment of diplomatic relations as well as economic and travel ties with the communist island — a historic shift in U.S. policy that aims to bring an end to a half-century of Cold War enmity. (AP Photo/SABC Pool, File)
All this for grabbing a U.S. hostage (Alan Gross) and holding him in a KGB-designed prison cell for five years. In brief, the Alan Gross hostage-ploy worked like a charm.
Obama claims his move was to improve the lot of the Cuban people. But recognizing they had the Obama team's number (bumbling saps) from the minute "negotiations" began, Castro's police unleashed a wave of terror over their subjects, brazenly arresting a record 13,000 Cubans during the span of "negotiations," purportedly designed to ease their suffering.
"We won the war!" Raul Castro trumpeted on Cuban television shortly after the White House announcement, while stressing that his regime would remain as Stalinist as ever.
At this point what do Castro and his military cronies who own Cuba have to lose vis a vis the U.S.?
"Hasta la Victoria Siempre!" (Ever Onward to Victory!) Che Guevara's famous slogan certainly applies to Castroite negotiations with the Obama team. "You Can't Have it all?—Says WHO?!" might be a better one.
Now let's consult another Cuban dissident who actually serves up some red meat for Red-State Americans many whom (quite understandably) find all this human-rights stuff regarding a foreign country utterly irrelevant.
"If the U.S. allows financing towards Cuba, it will be the U.S. taxpayers who would sustain the Castro regime. Since it has run out of doors to knock on (for credit), the Castro regime is now focused on the United States." - Cuban dissident and three-time Amnesty-International prisoner of conscience, Rene Gomez Manzanoin.
Understandably, the U.S. Chamber of Commerce, the farm lobby, the Council on Foreign Relations and Castro's agents of influence (but I repeat myself) avoid this issue like the very plague, hence its invisibility in the mainstream media recently. But for over a decade the so-called U.S. embargo, so disparaged by President Obama, has mostly stipulated that Castro's Stalinist regime pay cash up front through a third–party bank for all U.S. agricultural products; no Ex-Import (U.S. taxpayer) financing of such sales. And that's what infuriates Castro, and motivates his U.S. agents of influence.
Enacted by President George W. Bush in 2001, this cash-up-front policy has been monumentally beneficial to U.S. taxpayers, making them among the few in the world not rooked by the Castro regime, which per capita-wise qualifies as the world's biggest debtor nation, with a foreign debt estimated at $50 billion, a credit rating nudging Somalia's and an uninterrupted record of defaults. Just last year the Russians wrote off almost $30 billion Castro still owed them.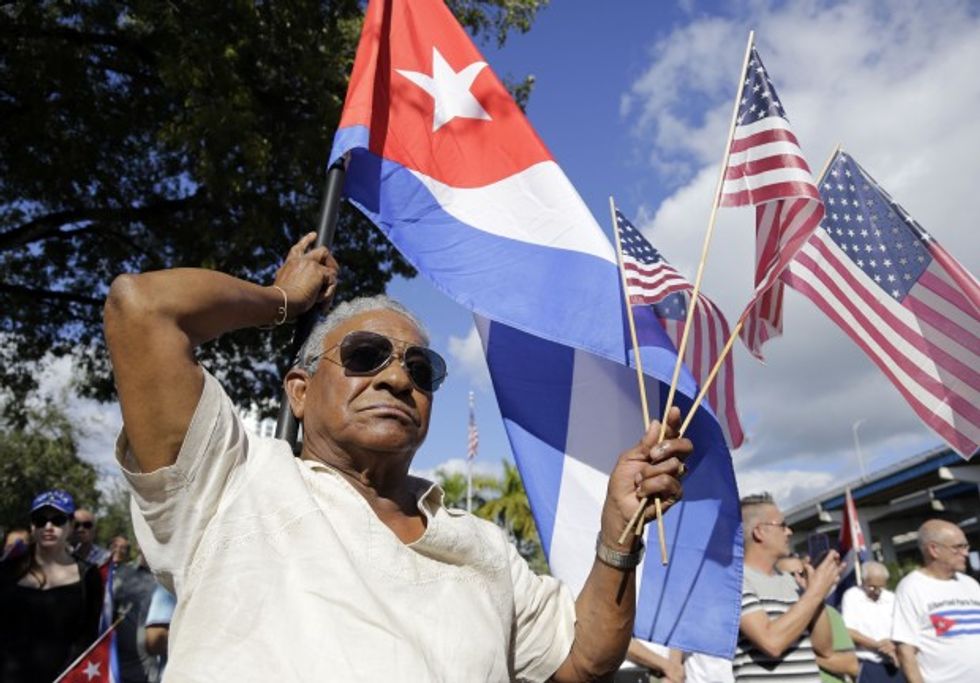 Evilio Ordonez holds Cuban and American flags during a protest against President Barack Obama's plan to normalize relations with Cuba, Saturday, Dec, 20, 2014, in the Little Havana neighborhood of Miami. Florida newspaper editors voted President Barack Obama's mid-December move to normalize relations with Cuba as one of the top stories of the year. (AP Photo/Lynne Sladky)
Interesting that a Cuban dissident should plumb this matter more accurately than those "champions of the U.S. taxpayers," Rand Paul and Jeff Flake, who loudly applauded President Obama's Christmas present to Castro. From the White house "Fact Sheet; Charting a New Course on Cuba:"
The regulatory definition of the statutory term "cash in advance" will be revised to specify that it means "cash before transfer of title"; this will provide more efficient financing of authorized trade with Cuba.
Though still a bit sketchy, it certainly sounds like we're moving in the direction Rene Gomez warned against. This matter was recently explained in more detail by me on Canada's SunNews network.
Humberto Fontova holds an M.A. in Latin American Studies from Tulane University and is the author of five books including his latest, "The Longest Romance; The Mainstream Media and Fidel Castro."
–
TheBlaze contributor channel supports an open discourse on a range of views. The opinions expressed in this channel are solely those of each individual author.