Donald Trump is the millennial dream candidate and with the right team and strategy in place he can win the youth vote for Republicans.
Let the scoffs and judgments ensue.
Okay, did you get it out of your system?
I'm doubling down on the above statement.
Donald Trump will win the youth vote and sweep the presidential election in 2016 as the second coming of Ronald Reagan, or should I say, Donald Reagan.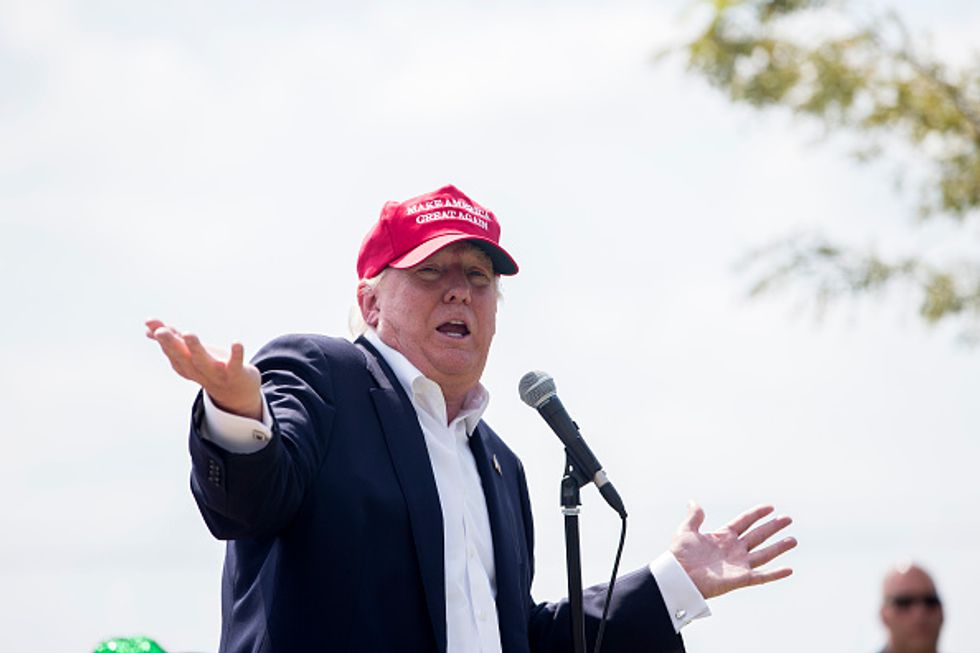 Republican presidential candidate businessman Donald Trump speaks with reporters after arriving at the Iowa State Fair on August 15, 2015 in Des Moines, Iowa. (Aaron P. Bernstein/Getty Images)
Millennials (and most Americans) are done with politics as usual. We are done with the lies ("You can keep you doctor"); we are done with the bad deals (Iran and every trade deal in the last several decades); we are done with politicians messing with the economy through "regulation and reform" (worst recovery since World War II); we are done with the moral direction of country (Planned Parenthood); we are done with our government spying on us (Edward Snowden); and we are done with weak, gimmicky, and stupid foreign policy (Hillary Clinton and John Kerry).
Take serious note that the millennials of 2016 are not the same millennials of 2007.
Back in the glory days of Barack Obama mania millennials self-identified themselves as 33 percent liberal and 16 percent conservative. Now, 40 percent of millennials say they are liberal compared to 33 percent conservative, narrowing the margin from 17 points to to a stunning seven points.
In 2007 the hashtag issues for millennials were war and peace, terrorism, and national security. Millennials wanted the United State out of Iraq and Afghanistan and less intervention in foreign affairs.
Now, a majority of millennials, 35 percent, care more about the economy and jobs. Cue the "Apprentice" theme song; money, money, money! While millennials once vigorously cared about social issues like same-sex marriage, healthcare, and mary-J, they now are in favor of cutting taxes to promote economic growth by a two-to-one margin.
And Dub-ya is making a comeback. Millennials are craving a more aggressive foreign policy. Now, almost 60 percent favor putting ground troops in the middle east to combat Islamic State. This is something Donald Trump has said he would seriously consider. And to top it all off, there has been a seven point increase in support of the George W. Bush Doctrine.
Although, a majority of millennials believe they will have a difficult time finding employment worthy of their expensive college degrees after graduation they are more optimistic in the country and their personal futures. This is why "Make America Great Again" is the perfect campaign slogan for millennials. It represents optimism with an undertone of hard work, practicality, and, most importantly, a reversal of current policies.
Donald Trump, first and foremost, represents trust. He is not guided by pollsters and beastly headlines but by his beliefs in what is right for America. Therefore, Mr. Trump says what he believes and what he will do as president, otherwise known as his personal truth. This instills great trust and respect from millennials. Currently, fewer than half of all millennials trust the president, Congress, government, Wall Street, or the media to do the right think most of the time.
Donald Trump also exudes strength in his body language, policy, and blunt remarks. He isn't afraid to over and over again call our leaders stupid, this is disrespectful to some but a true sentiment many voters agree with. He didn't back down on immigration or women's issues, which has made him a target and a frontrunner. When the mainstream media attacks someone for politically incorrect statements it only strengthens their standing with the folks outside the beltway.
Most importantly, The Donald has a vision to make America great again. It is a captivating message that invokes the spirit of actual hope of a rebirth of American exceptionalism and a feeling of change away from destructive policy. A real "Hope and Change" millennials can get behind.
Donald Trump is set up to sweep the youth vote in 2016 just by the pure nature of his beliefs, strength, and vision for the country.
For media inquires: Sal.Lamastra@me.com. Follow Salvator on Twitter: @SalvatorDMD
–
TheBlaze contributor channel supports an open discourse on a range of views. The opinions expressed in this channel are solely those of each individual author.