Genocide.
That's the abhorrent act the Islamic State is committing right now against Christians. The Christian population in Iraq in 2003 was approximately 1.5 million. Today, that number has fallen as low as approximately 200,000.
The Islamic State carries outs heinous acts daily. They behead; they sell women and children into sex slavery; they burn and stone dissenters; they throw enemies into acid; they've even tied explosives around dissenters necks and, unbelieveably, more.
That's where Dwekh Nawsha comes in.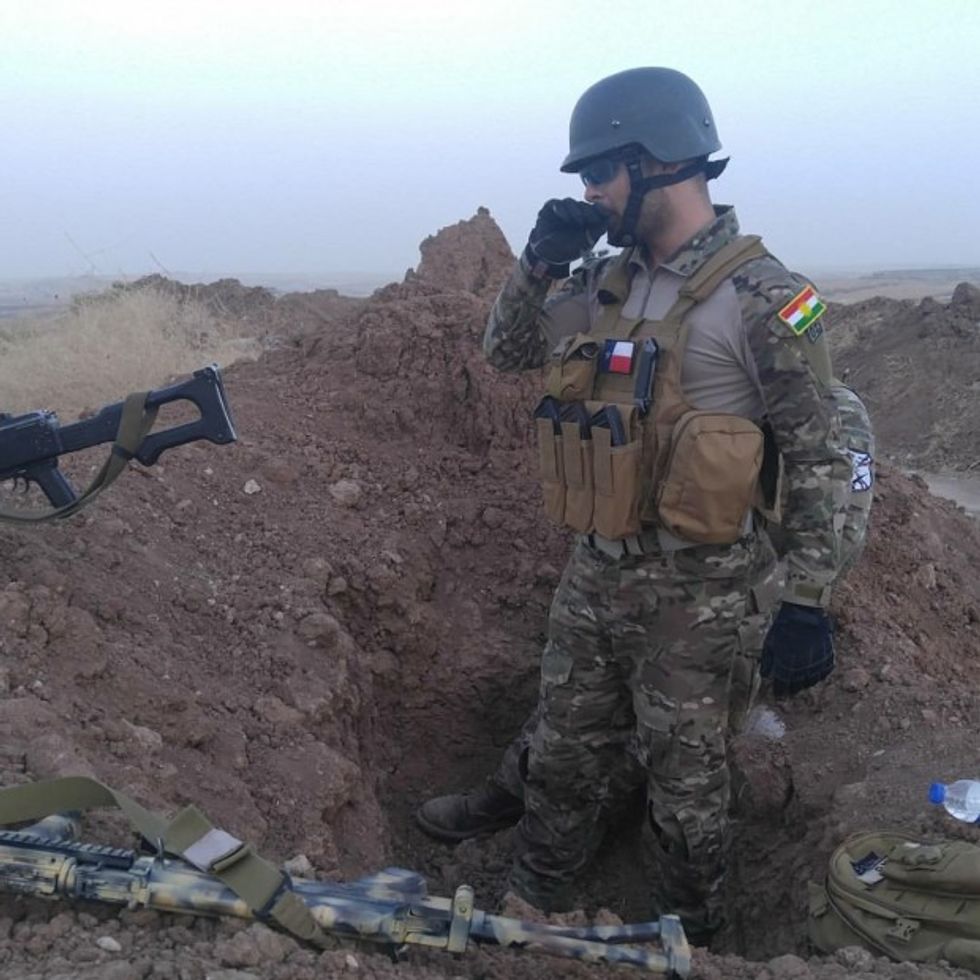 Louis Park, native-Texan and USMC veteran fighting Islamic State with Dwekh Nawsha. (Louis Park)
Dwekh Nawsha, established by the Assyrian Patriotic Party in 2014, is an Assyrian Christian militia taking the fight to the Islamic State. The goal of Dwekh Nawsha is to defend the Assyrian towns from the Islamic State in Iraqi Kurdistan. The militia operates in cooperation with the Peshmerga, who serve as the armed forces of Iraqi Kurdistan. Aside from the Syriac Military Council, and their affiliates, Dwekh Nawsha is the only other active Assyrian force on the front against Islamic State.
Among these fighters are western volunteers. One of these volunteers is Louis Park.
Louis Park is a man of many different talents and traits. He's a United States Marine veteran, a writer, a fan group leader and a volunteer for Dwehk Nawsha. Park is a native Texan, who describes himself as a "hard CORPS Conservative." Park served with Golf Company, 2nd Battalion, 5th Marine Division and is a veteran of Operation Enduring Freedom - Afghanistan.
"I hold a lot of belief that those with ability hold a responsibility to help with whatever they can. To me, this was something I felt called to do," said Park. "I immediately made my decision to make contact with whoever was willing to take me in Iraq or Syria, and fly over to help with whatever money I had in savings."
Park, a Christian, felt that Dwekh was his best option to take the fight to the Islamic State,
"Dwehk appealed to me, being a Christian force, and being in a part of Kurdistan that seemed a bit more stable," he said.
A westerner, according to Park, represents power.
"You are subject to the limitations of the regional government you are in. It is not the wild west over there. It's very locked down and controlled. You can't go over in some big group and 'hunt Daesh [Islamic State],'" he said. "You need to be taken in by a commander or group, where under their responsibility, you can contribute to the fight. Don't expect to have a major effect or win the war. You'll be very disappointed, and waste your time and money."
Park stressed that if you have nothing to contribute to the fight, you should stay home.
"They don't need untrained men with guns anywhere, all factions in the region already consist primarily of that," he said. "I was able to help with mortars, educate soldiers on proper use of U.S. weapons they had received that I was trained with, and teach basic medical knowledge. I also did my best to pass on my experience from the service, but it doesn't go far there."
Dwekh Nawsha is small, too small to maintain a large group of westerners. The most Park has seen is just over eight at a time.
"You are subject to many limitations," he said. "You must provide your own funding mostly for gear and weapons, and even some of your food."
On top of the tribulations any volunteer faces on a daily basis on the front against the Islamic State, Iraq is currently going through an economic crisis, which previously left many Peshmerga soldiers unpaid by the Iraqi government.
"Many have had to return home and find other jobs, effectively deserting, unable to otherwise provide for themselves. Westerners need to be aware of this," Park emphasized.
To this day, along with Park and the western volunteers, Dwekh Nawsha still continues to serve and fight against Islamic State.
"Be aware, know that it's Daesh [Islamic State] that inspire all these terror attacks worldwide," he said.
If you're able to, Park encourages anyone who feels compelled to reach out to him via his Instagram account, "Louis_tex", and talk to him about how you can donate to the fight against Islamic State.
Ian Ballinger is a follower of Christ Jesus. A young Constitutionalist Conservative, Ballinger born and raised in Kansas, and is an aspiring filmmaker and writer. He can be found on Twitter @IanBallinger925
–
TheBlaze contributor channel supports an open discourse on a range of views. The opinions expressed in this channel are solely those of each individual author.